Practicing Our Faith: A Way of Life for a Searching People, edited by Dorothy C. Bass (Jossey-Bass, 232 pp.; $22.50, hardcover);
The Empty Church: The Suicide of Liberal Christianity, by Thomas C. Reeves (Free Press, 276 pp.; $25, hardcover). Reviewed by Robert W. Patterson, a frequent contributor to Christianity Today.
When I was growing up in the 1960s, Sunday—the Lord's Day—was special. The family routine said it all. On Saturday evening, we would get ready for the big day, laying out our Sunday-dress clothes and shining the shoes, while Mom ironed shirts and dresses and Dad gave us boys haircuts. On Sunday morning, we would head off for Sunday school and church in the station wagon, then return home for a big dinner, often with the grandparents, which took the lion's share of the afternoon. We returned to church in the late afternoon for youth groups followed by evening worship—where we learned almost every song in the hymnal. Absolutely nothing interfered with that sacred schedule. We would never darken the door of a store; most of them, including the shopping mall, were closed in any case. Later, when my high-school swimming team would occasionally practice on Sunday night, I had to explain to my coach that I would be in church with my family.
Today, with a family of my own, we still attend Sunday school and worship faithfully every Sunday morning, but the Lord's Day is just not the same. We rarely have a big leisurely dinner, as our extended family lives at a distance. Nor do we return to church in the evening, as many churches have axed Sunday-evening worship services. So I am left with teaching my kids the classic hymns of faith in the family room. On occasion we patronize a commercial establishment—few stores are closed on Sundays now—and at times we have allowed sporting events for our three children to crowd the day.
While some might be tempted to say my childhood Sundays were too restrictive and that my family today has simply adjusted to the frantic realities of the 1990s, I think our weakened observance of the Sabbath is not unrelated to the weakened character of today's Christians, including yours truly. Granted, evangelicals are more educated and sophisticated than they were a generation ago, but something is clearly missing in the fabric of our lives.
A similar observation represents the core of Practicing Our Faith, a collection of essays that seeks to recover not just the Lord's Day, but 11 other spiritual disciplines and ancient practices of the church that, when "woven together, suggest the patterns of a faithful Christian way of life for our time." Edited by Dorothy Bass, an Indiana clergywoman of the United Church of Christ who grew up a Presbyterian in my hometown, the book addresses primarily a mainline rather than an evangelical audience. Nevertheless, by focusing on the connection between faith and practice, Bass's Lilly Endowment-funded project highlights the anomaly of professing Christians, evangelicals included, whose lives differ very little in form and practice from those of their pagan neighbors.
The book does a fair job reflecting upon and suggesting ways to recover the visible expressions of the Christian life—neglected habits such as practicing hospitality, singing hymns, and living in moderation. Bass's essay, "Practicing Sabbath" (CT, Sept. 1, 1997, p. 38), is especially welcome, arguing that honoring the Sabbath makes for good Christians and good societies. Amy Plantinga Pauw's chapter, "Dying Well," is equally strong, exploring ways "the Christian community can offer a depth of spiritual and practical support for the sorrowing that the funeral home can never match."
Two factors, however, may limit the book's ability to deliver on its promise. While the volume boasts religious and ethnic "diversity," eight of the thirteen contributors represent all but one of the Seven Sisters of the mainline; evangelical representation is sparse. The more serious weakness is the lack of a solid theological basis that would give the essays their needed punch. The book oozes with vague and sentimental affirmations of Christian doctrine that will offend no one, as reflected in a chapter on forgiveness that struggles to talk about sin, grace, and redemption in clear biblical categories. At times the book is preoccupied with the merely trendy, not to say bizarre; the lead essay, "Honoring the Body," encourages mothers to help daughters come to terms with their bodies by turning baths into baptismal re-enactments.
So while Practicing Our Faith raises important questions, Bass provides ammunition for another midwestern historian with mainline credentials, Thomas Reeves, whose The Empty Church looks at the challenges to the Christian faith at the end of the twentieth century from a different, yet related, angle. Reeves, a history professor at the University of Wisconsin known for his probing books on Sen. Joseph McCarthy and President John F. Kennedy, is more concerned with the decline of orthodoxy than orthopraxy in the mainline. This respected scholar and—at the time he was writing The Empty Church—active Episcopal layman confirms what evangelicals, from Gresham Machen to Alister McGrath, have contended about the mainline for decades.
Lacking experience in church politics as a clergyman, however, Reeves's prescriptions for the dying patient seem a bit na. He stresses the importance of recovering "the truths of the ancient faith" and training clergy "to preach and live them," calling for the creation of new seminaries to bypass denominational seminaries captivated by "radical feminists, political activists, [and] multicultural relativists." Yet this has been the conservative strategy for at least three generations—from the founding of Westminster in 1929, Fuller in 1947, and Gordon-Conwell in 1969—and the results in terms of mainline reform have been marginal at best.
Indeed, since completing The Empty Church (first published in the fall of 1996), Reeves himself has come to despair over the prospects for reform within the mainline. Shortly after Episcopalians held their seventy-second general convention in Philadelphia in July of this year, Reeves joined the Roman Catholic Church.
In retrospect, Reeves's book offers clues that he was on the road to Rome. As much as he commends evangelicals in these pages, he does not believe that they offer compelling alternatives for conservative mainliners. He is particularly scornful in dismissing the theory that evangelical growth in recent years is primarily due to mainline defections: "Warehouselike buildings, sobbing pop gospel soloists, garish theatrics, shouting preachers, and boisterous worshippers," Reeves writes, "cannot appeal to many of us" who value "dignity, reverence, beauty, learning, tradition, and a sense of the numinous."
Does The Empty Church hold lessons still for orthodox believers—mainline and evangelical—who are not inclined to follow Reeves's example? Yes. Across the board, Reeves contends, American believers maintain a superficial Christianity that allows them to pick and choose the terms of faith, living practically the same way as those who claim no faith at all. "Christianity in modern America is, in large part, innocuous," he writes. "It tends to be easy, upbeat, convenient, and compatible. It does not require a zeal for souls, a fear as well as love of God."
How to move from a shallow, cultural Christianity to a serious faith that affects the everyday life of here and now is indeed the challenge of our time. Perhaps evangelicals might begin with the recognition of the vital connection Saint Paul draws in Titus 2 between sound behavior and sound doctrine, drawing upon the orthopraxy of Dorothy Bass without neglecting the orthodoxy of Thomas Reeves. Since the time of Israel, God has demanded from his people a pattern of daily life that sets them apart from unbelievers. Where weak theology has led to a neglect of these practices in the mainline community, evangelicals are today threatened by the process in reverse. Only as evangelicals give as much attention to what they do as what they believe can they expect to remain a holy people set apart for the Lord.

Short Notices
The Early Church Fathers: Their Writings and Teachings
on CD-ROM ($99.95, Segen Corporation, www.segen.com).
Want to know what the Fathers said about the "Mother of God"? After a recent Newsweek article about Mary, we did. Using the review copy of this CD-ROM, we located all 431 references to Mary in the first nine volumes of the Eerdmans edition of the Ante-Nicene Fathers in an instant. (It took five hours to read all those passages.) The full 37-volume set will be released in thirds, and purchasers of this first CD-ROM will receive upgrades for $10.
Copyright © 1997 by the author or Christianity Today International/Christianity Today magazine. For reprint information call 630-260-6200 or e-mail cteditor@christianitytoday.com.
Have something to add about this? See something we missed? Share your feedback here.
Our digital archives are a work in progress. Let us know if corrections need to be made.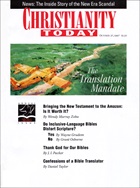 This article is from the October 27 1997 issue.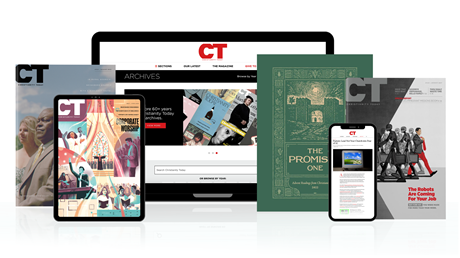 Annual & Monthly subscriptions available.
Print & Digital Issues of CT magazine
Complete access to every article on ChristianityToday.com
Unlimited access to 65+ years of CT's online archives
Member-only special issues
Subscribe
Putting Belief and Practice Back Together
Putting Belief and Practice Back Together