Steve Gray reached a crisis point in his ministry in March 1996. Although Gray had built up the Smithton Community Church from 13 to 180 people in a dozen years, he wondered whether he had missed a calling higher than being a rural pastor in a community of 532 souls.
Bruised by squabbles within his central Missouri congregation, Gray regretted that lives had not been transformed as he had hoped. Broken and in despair, Gray drove 1,000 miles to Pensacola, Florida, to the Brownsville Assembly of God revival (CT, March 3, 1997, p. 54). But while in Brownsville, contemplating leaving the ministry, Gray says he heard God telling him that revival would come to his own church. "I thought that sounded ridiculous," Gray, 45, told CT. "I was in a shambles myself. How could a broken man have a revival?" He would soon find out.
Two weeks later, just as he returned from Pensacola to a Smithton Community Church Sunday evening service, Gray says he experienced the power of God as never before. He began twirling and jumping, both new sensations. The presence of the Lord spread contagiously throughout the congregation, and continuous praise lasted for 45 minutes. People openly confessed their sins and repented. Others, "slain in the Spirit," fell to the floor.
In the aftermath, Smithton's church members realized that a watershed event had occurred in the life of their nondenominational church. They agreed to meet nightly. Within three weeks, news of the revival spread, and outsiders began to flock to the revival meetings.
TRANSFORMED TOWN: Two years and hundreds of services later, the church continues to hold revival-oriented meetings five times a week: Wednesdays for corporate prayer, Thursdays for leadership training, and Fridays, Saturdays, and Sundays for services.
The worship is marked by joyful shouting and high-octane praise choruses. Their jumping shakes the floor.
On average, about 300 visitors from throughout the United States and 250 members attend worship services, which routinely last three hours or more. Nearly all the members—from first graders to retirees—attend every service. Most have a job to do: leading worship, running the sound system, caring for infants, helping direct traffic, ushering, praying, interceding, and catching those who fall down.
Gray grew up in Sedalia, a city of 19,000, seven miles west of Smithton. He and his wife of 23 years, Kathy, spent seven years in a traveling music and evangelistic ministry before a few Smithton residents in 1984 convinced him to reopen the church that had closed four years earlier. The prospect of worshiping in a church sanctuary that smelled like dead mice did not make much sense, but Gray believed the Lord told him to restart the congregation.
HELPING HURTING PASTORS: In an unexpected way, the Smithton revival has given Gray that higher purpose he had been seeking. Gray has found himself becoming a pastor to pastors.
"Many people who come here are pastors who need to be ministered to, who need life to come back into their ministry," he says. "We want to try to help the devastated pastor." The church sometimes helps pay for airline tickets and motel rooms for bonafide pastors who want to visit but who do not have the money.
Near the end of each service, Smithton members pray specifically for pastors. "Hundreds of pastors have come and told me how terrible they've been treated by their congregations," he says. "This is a safe place for people to be restored."
Pastor Kent Kelso of the New Life Christian Church in Stillwater, Oklahoma, is one of Smithton's success stories. Kelso had struggled with many of the same problems that beset Gray, including internal church strife, depression, marital stress, and thoughts of leaving the ministry before he visited. Kelso says, "The sermons and prayers really touched my life. Steve and Kathy are good counselors." In the past year, Kelso's church has been touched by revival, and services are held there five nights a week.
MUSIC MINISTRY: The Smithton revival has stimulated intense spiritual growth in church members. Worship leader Eric Nuzum, 28, drove a forklift for a local factory before becoming associate pastor.
"I didn't want to give up my Friday and Saturday nights at first," Nuzum says. "But now the joy of the Lord sustains us."
Nuzum and Gray, who has a bachelor's degree in music education, write many of the praise choruses. The fervor has attracted the attention of Integrity Music creative director Don Moen, who visited in February and committed to making an on-site recording. "We want to go where revival is happening, even in unlikely remote places," Moen says. "As with other 'revival' churches, there is a real repentance." Moen notes that the recording of live music from the Pensacola revival was Hosanna! Music's third-biggest seller last year.
CHURCH AS HOME: The small-town environment helps keep people committed to the Lord and to each other.
"We're doing something eternal here," Gray preached at a February service. "The things people are living for are temporary. We don't have time to run out for the latest video."
Indeed, attendees are not watching the clock. Worship, preaching, and prayer each takes at least an hour at services.
Testimonies tell of transformed lives. Terese and Mark Richards of Aberdeen, South Dakota, explained how they had trekked to Smithton in November in a last-ditch effort to save their marriage. "God's building our house, and it won't fall again," a tearful Terese Richards told the crowd.
Kudakwashe Mushaninga wants to take some of the fire back to Zimbabwe after she graduates from the University of Kansas at Lawrence. Every weekend she drives 110 miles to attend services.
Nola Lampe moved to the area from Centralia 85 miles away just to be near the church. She had suffered with fibromyalgia for seven years until a healing during the praise time a year ago. "I was in a wheelchair and I couldn't sleep from fatigue and pain," she says. "Now I can do all the things I used to do. It's been the best year of my life."
In addition to changes in individual lives, Smithton no longer looks like a backwater country church. A huge sound board sits in a high-tech loft. Overheads are computer-generated. Worship leaders wear wireless microphone headsets. An elaborate light-tracking system illuminates the stage. For ten years Gray had no support staff, or even an office telephone. Now there are six full-time workers.
Gray has no plans for upgrading his lifestyle—changes that Brownsville leaders have found to be controversial (CT, Feb. 9, 1998, p. 81). He lives in the same house he did when he began preaching 14 years ago. And he has not sought a raise since revival began.
Whenever Gray is tempted to think of Smithton's accomplishments, there are town residents who remind him that they do not appreciate the attention, noise, and traffic that revival has brought. He expects services will continue only as long as needy people keep visiting. On the other hand, Gray is open to additional meetings. "The early church in Acts met every day," Gray says. "We're not doing that—yet."
Have something to add about this? See something we missed? Share your feedback here.
Our digital archives are a work in progress. Let us know if corrections need to be made.
This article is from the April 6 1998 issue.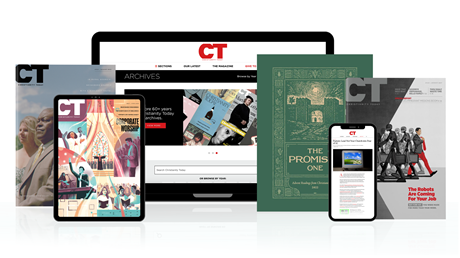 Subscribe to Christianity Today and get access to this article plus 65+ years of archives.
Home delivery of CT magazine
Complete access to articles on ChristianityToday.com
Over 120 years of magazine archives plus full access to all of CT's online archives
Subscribe Now
Missouri: The Cornfield Revival
Missouri: The Cornfield Revival