He is not yet a household name among evangelical Christians worldwide, but he could well become one. At 48, Vishal Mangalwadi is India's foremost Christian intellectual. The author of seven books, including Truth and Social Reform and Missionary Conspiracy: Letters to a Post-Modern Hindu, Mangalwadi is also an inveterate evangelist and political activist in his home province of Uttar Pradesh in India's north. He has been held briefly in prison several times for his evangelism and social activism among India's rural poor. Educated at Allahabad University and Indore University, Mangalwadi served in the national headquarters of India's ruling Janata Dal party, overseeing agricultural reform.
It was through reading Francis Schaeffer's book Escape from Reason that he became a convinced Christian. He studied for a short time under Schaeffer in 1973, then continued investigating Hindu gurus and dissecting everything from ufos to tantric sex for his masterly book When the New Age Gets Old (InterVarsity).
Mangalwadi's most recent work, India: The Grand Experiment (U.S. distributor, The MacLaurin Institute), coincides with India's ongoing celebrations of the fiftieth anniversary of its independence from Britain. In it, he provocatively maintains that India would never have been able to develop institutions and a self-understanding capable of sustaining independence without the social, political, educational, and judicial reforms forced upon the subcontinent by the British, particularly in the second half of the nineteenth century when the British evangelical revival had profoundly influenced attitudes in the British Parliament. (In a recent ironic salute to history, Mangalwadi lectured on E. M. Forster's A Passage to India in the author's alma mater of Eton College, where Princess Diana's son William is a student.)
Mangalwadi was interviewed for CHRISTIANITY TODAY by former Time magazine senior correspondent and the author of Hope: The Heart's Great Quest (Servant, 1995), David Aikman.
Despite all kinds of problems, India has somehow managed to keep its democracy functioning for half a century. Why are you so pessimistic about India's democratic future?
For all practical purposes, democracy (as an ideal) is finished. There is hardly anyone who would fight for democracy now. It continues because there is no consensus on what to replace it with. Essentially, the days in which we are living resemble the end of the Mogul era (1707-57) when the British Empire began in India. The human-rights violations in India are pretty terrible. A Punjabi superintendent of police not long ago committed suicide because it was about to be revealed that he had actually killed up to 3,000 people.
But what about the popular image outside India of Gandhian nonviolence and India's democratic ways?
Gandhi in the movie is fictionalized. Even Mrs. [Indira] Gandhi, the prime minister who suspended democratic freedoms during 1975-77, said, "We wrote the constitution, and we can change everything in it." She and others considered knowable moral law as an absurd thing that liberal democracies believed in, not realizing that the system worked as well as it did in America because of the impact of the pulpit on the habits of ordinary people. Human rights may seem "natural," but Mrs. Gandhi said that human rights are what the state gives.
I see the idea of human rights and human dignity as being a peculiarly biblical concept. In Mussolini, Hitler, and Stalin, a Catholic Italy, a Lutheran Germany, an Orthodox Russia succumbed to totalitarianism because of liberal humanist ideas that man can create a utopia. Joseph Campbell [the late renowned scholar of comparative mythology] and Carl Jung were both shocked after they came to India. They realized that the natural law is not natural. The fact is there are consequences to teaching that human beings are nothing but animals. This "truth" destroys the entire basis of civilized political life.
How did you become a Christian?
My parents were both Christian, but it wasn't until my last year of college that I became convinced of Christianity. At first, I didn't feel that I could believe the Bible as God's Word. The turning point was reading Schaeffer's Escape from Reason. By the time I had finished college, I knew that the philosophers knew that philosophy didn't know the truth and couldn't know the truth. Truth only comes through revelation. It seems a foolish idea, after all, that we can speak but that the Creator cannot say anything.
The two Books of Kings and Chronicles in the Bible really began to hit me—this was God's Word written from God's point of view. God was telling his people how their society was disintegrating. Here I was, an Indian reading Jewish history, but it made sense that God had promised that all the nations of the world would be blessed through the seed of Abraham. It was Jewish history written for me to bless my nation. I began to see that it was my only hope. Eventually I wrote to Doctor Schaeffer and asked to study under him, which I did for six months in Switzerland in 1973. He became a model to me of how someone can be a blessing to the whole world.
Why did you return to the countryside rather than, say, try to influence the next generation through teaching?
I wanted to understand how the gospel related to poverty and to understand how young people could serve the poor. I founded an association for cooperative rural assistance. This involved both church planting and socioeconomic development. When it became apparent that there was a real possibility that we might be developing a mass movement after we had baptized 100 converts, we had a number of conflicts with the local Hindu establishment. I was jailed for a few days four different times. Each time the press stood up for me, and the authorities had to let me go. I started writing Truth and Social Reform while in prison.
Your name is associated with the fight to stop the practice of widow burning. How did that happen?
In the 1980s, I talked to a German follower of the Hare Krishna movement who was glorifying sati [the traditional Hindu practice of burning widows alive after the deaths of their husbands; while officially outlawed under the British, it is still practiced]. I had never heard a man defend widow burning before. I then wrote a story for the Indian press about how half a million people in one Indian province were lionizing a widow for having submitted to sati. In this case, the outcry forced the prime minister to arrest the family members, but they were acquitted in 1997. I resigned from the Janata party on the issue of widow burning, which some party members approved of. I was then invited to join the party of the lower castes, Bahujan Samah Party (BSP) and organize its wing in our part of the country.
What was the beneficial impact on Indian economics after the British began their rule that you write about?
British evangelicals brought to India the intellectual, moral, legal, and technical resources needed for economic emancipation. Before the British came, we did not even have the concept of banking or usury in India. Indians buried their money under the floor. The moral and spiritual transformation that Christianity brought about created a situation where you could trust a bank with your money. But there has been a decline of trust in Indian society since.
What is the condition of Christianity in India today?
In some pockets we have a vital church which could become a real hope for India, though much of the institutionalized leadership doesn't have the credibility because of corruption. My one prayer is that we would see that same sort of phenomenon happening in India that we all see in South Korea. That is essentially what I am working for and praying for. Even my sitting down and talking to you threatens a number of Indian Christian leaders. When they come here they are raising money for their projects. But I don't have an empire, and I don't raise any money.
Do you have any hope for democracy in India?
Not without the gospel. The breakdown of liberal democracy and the new fascism of Hinduism is leading them toward a German-style "nationalism." We have religious sects importing planeloads of arms for civil war [a reference to a planeload of arms brought to India by a Hindu sect from Pakistan]. There is enough high- explosive material stored up in every Indian city to blow up all of India.
I am hoping that my book will reawaken people. India's future is as great as the promises of God. Ultimately, the hope comes from faith in a transcendent God. As you look around India and see the failure of the institutions, you can sink into despair, but as you look at God, then you have a basis for hope.
Have something to add about this? See something we missed? Share your feedback here.
Our digital archives are a work in progress. Let us know if corrections need to be made.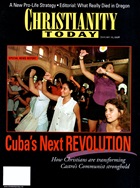 This article is from the January 12 1998 issue.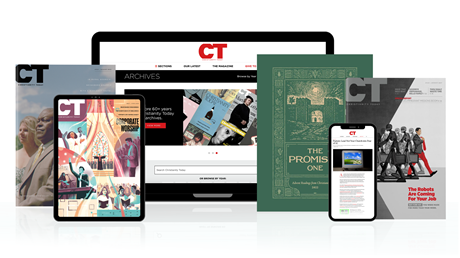 Subscribe to Christianity Today and get access to this article plus 65+ years of archives.
Home delivery of CT magazine
Complete access to articles on ChristianityToday.com
Over 120 years of magazine archives plus full access to all of CT's online archives
Subscribe Now
Vishal Mangalwadi
Vishal Mangalwadi