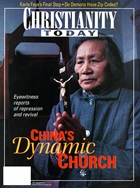 This article is from the July 13 1998 issue. Subscribers can read all of CT's digital archives.
Recently my wife started reading Winnie the Pooh to me. She had read it to our children 35 years ago, and I had overheard parts of it. But she thought it would be good if I got it whole and firsthand before it was too late.
One evening while she was reading, I was watching the autumn light leak out of the mountain lake that is our front yard and letting the words of the story drift through my consciousness. Suddenly I was fully awake: the blurred world in which I teach and write on Christian spiritual theology came into crisp focus. I saw the people I was working with in a fresh way.
Jan had just completed chapter 8 in which the childlike animals had been assembled by Christopher Robin for an adventure—they were off to discover the North Pole. It is a meandering tale in which everyone takes everything with complete seriousness, although no one understands much of what is going on. Each character contributes something essential to the quest. The world is large with meaning, and no one is left out—but no one is sure what the North Pole is, not even Christopher Robin who proposed the expedition.
Along the way little Roo falls into a stream and needs rescuing—everyone pitches in. Pooh picks up a pole and fishes him out. The emergency over, the animals talk it over while Pooh stands there with the pole in his hands. Christopher Robin then says,
"Pooh … where did you find that pole?"
Pooh looked at the pole in his hands.
"I just found it," he said, "I thought it ought to be useful. I just picked it up."
"Pooh," said Christopher Robin solemnly, "the Expedition is over. You have found the North Pole!"
"Oh!" said Pooh.
The animals go on with their ...
1
In the Word: What's Wrong with Spirituality?
In the Word: What's Wrong with Spirituality?