The sky turned first an eerie yellow, then the color of charcoal. A gritty rain began to fall, coating windshields, sidewalks, and clothing with damp spots the color and consistency of white clay. It was Libya we were feeling, its sands swept up in a freak storm, the worst in a quarter-century, and blown across the Mediterranean to be deposited on Cyprus. I was attending a conference of Christians involved in media, and the sandstorm seemed a poignant symbol of the siege mentality of Christians in the region.
To the south and east, Cyprus faces hundreds of millions of Muslims; from the north, Turkey has invaded and now occupies a third of the island. Flags emblazoned with the Muslim crescent flap defiantly over church buildings seized from the hilltops around Nicosia. Only a thin line of un peacekeepers keeps the two sides from breaking into war again.
Christian workers at the conference had gathered to discuss new ways of reaching the Muslim world. They used pseudonyms to throw off Muslim agents who might be tailing them. In restaurants and public places they spoke in hushed tones and glanced around frequently. They left no notes lying about after their closed meetings.
Like inverted mushrooms, satellite dishes have sprouted on Arab rooftops, and Christian programs are now beaming into places like Saudi Arabia, Iraq, and the slums of Cairo. Syria recently resigned itself to the inevitable, and Internet providers are now bringing Christian Web sites into private homes there. Christian ministries receive letters like this: "Should I tell my parents that I have become a Christian? It is a capital crime here to convert, and they could have me executed. What do you advise?"
The region's largest nation, Egypt, has long tolerated a strong Christian minority. As I visited, evangelicals were celebrating the success of a nontraditional Luis Palau crusade. Unable to rent stadiums for an evangelistic event, they organized hundreds of churches to run proxy crusades by videotape. Palau himself appeared at a large Presbyterian church in Cairo; after a hectic night's work by volunteers, videotapes of that service were shown the next day in churches, halls, and open courtyards at more than 500 sites across Egypt.
Ironically, young Christians see some advantages to living in a Muslim culture. As one told me, "We have restrictions, yes, but we and the Muslims have lived together for centuries. I have gone to the U.S. to study, but certainly I would not want to raise a family there. Here we have no pornography, little premarital sex or alcohol, and I feel safe walking on the streets. As long as I have the freedom to worship, I prefer living in Egypt."
The same young person, though, admitted that he seldom attends the Coptic church in which he was baptized. The service, after all, is conducted in Old Coptic, a language no one in the congregation understands. It lasts several hours, during most of which the congregation stands, and it is filled with obscure iconic symbolism.
Lebanon, like Egypt, was once known for its amicable coexistence of different faiths. That was before religious groups formed private militias and began killing each other. Over 150,000 died in a civil war that lasted 15 years, and the vast majority of buildings in Beirut still bear the scars of shrapnel and bullet holes.
Psychological scars go much deeper. A visiting American told me he attended a basketball game that referees had to interrupt because of fighting—among the opposing fans, not the players. "They cleared the entire arena, except for a handful of us foreigners. The players resumed the game and the fans went into the street to continue their brawl."
A 20-year-old in Lebanon has known little but war. Every time she drives to a church event she must pass through two or three army checkpoints. Even without those reminders, she's not likely to forget the sight of a decapitated head mounted on the hood of a Mercedes, or of a sniper being dragged through the streets, his feet tied to a bumper, his head bouncing grotesquely on the pavement.
"Christian" militias were as notorious for their cruelty as their Muslim counterparts. Today in Beirut the most prevalent Christian shrines are devoted to Elijah. You see the prophet in churches, at intersections, on street corners, always portrayed with a sword in his hand. Pilgrims bring him flowers and kiss the statues. Elijah, after all, slew 850 false prophets (at a site just down the highway). He makes a formidable militia mascot.
In Lebanon I met a woman who had pored over my book Disappointment with God by candlelight in the basement as bombs were destroying her building. And another who is actively trying to apply principles from What's So Amazing About Grace? to her neighbors: "squatters" who commandeered her apartment and who regularly siphon off her water and electricity supplies. As I remember my trip to the Middle East, I think how easy it is to write about the gospel from my serene perch in Colorado, and how hard to put it into practice on its home turf—now the literal frontier of faith.
Have something to add about this? See something we missed? Share your feedback here.
Philip Yancey
Philip Yancey is editor at large of Christianity Today and cochair of the editorial board for Books and Culture. Yancey's most recent book is What Good Is God?: In Search of a Faith That Matters. His other books include Prayer (2006), Rumors of Another World (2003), Reaching for the Invisible God (2000), The Bible Jesus Read (1999), What's So Amazing About Grace? (1998), The Jesus I Never Knew (1995), Where is God When It Hurts (1990), and many others. His Christianity Today column ran from 1985 to 2009.
Previous Philip Yancey Columns:
Our digital archives are a work in progress. Let us know if corrections need to be made.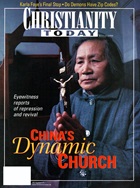 This article is from the July 13 1998 issue.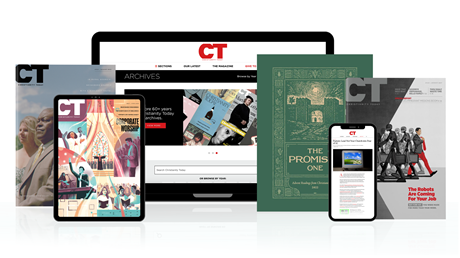 Annual & Monthly subscriptions available.
Print & Digital Issues of CT magazine
Complete access to every article on ChristianityToday.com
Unlimited access to 65+ years of CT's online archives
Member-only special issues
Subscribe
Fear and Faith in the Middle East
Fear and Faith in the Middle East