When "Lefty" Rosenthal was owner of the Stardust Hotel and Casino in Las Vegas, he lustily embraced a gambler's lifestyle. Although it made him rich and powerful, he is today an embittered man. Last year, in discussing Las Vegas gambling on public television, he said that "99.9 percent of the public, including myself, have two chances to win; one is slim, the other is none, and slim's out of town."
Gambling is an ancient vice that has soured lives and destroyed families for generations. American reformers by the end of 1910 succeeded in banning nearly all gambling. But since 1978, gambling has made a breathtaking comeback. Last year, Americans legally wagered more than $550 billion, which is more than three times the revenues of General Motors, the country's largest corporation.
As gambling has become socially acceptable, the voice of the church, which once condemned gambling as immoral and destructive, has been drowned out. Gambling, American style, has been cleaned up, civilized, licensed, government approved, and transformed into supposedly family-friendly entertainment. But the gambling industry is a family-killing enterprise if there ever was one.
Corporate America, state and local governments, and the media have all played a part in shifting public opinion toward the belief that gambling is largely harmless, mostly fun, and certainly not immoral enough to warrant prohibition. Church leaders in communities such as Tunica, Mississippi, where gambling now dominates the economy and the culture, feel helpless in confronting the highly buffed largess of gambling potentates, who employ their church members, donate generously to local charities, and provide a strong influx of new tax revenue (see "None Dare Call It Sin," p. 34). But if Christians look beyond the gambling industry's guile and guise, they will find within their grasp the ability to turn the public's perception of gambling toward reality and away from fantasy.
First church of the co-opted
A first step for churches to recover a prophetic voice against gambling is to confess that the theology of chance has infected the lifeblood of many congregations. The theology of chance, putting us at the mercy of blind fate, violates our Christian understanding of how God as Creator interacts with us. One aspect of this pathogen within the church is shown by the prevalent attitude that low-stakes gambling is benign. Charity raffles may be a mostly harmless fundraising activity, but they condition us to to think that gambling can be fun, exciting, and socially acceptable. Whose heart would not beat quicker in anticipation of winning admission to an NBA playoff game for the price of a $1 raffle ticket?
Another symptom of this infection is the fevered logic in which gambling winnings and revenues are counted virtuous when put to good purposes. Under such a rationale, churches in Alberta, Canada, have since 1993 accepted $3.7 million in video lottery proceeds for community-development projects.
But their willingness to take gambling-tainted funds may be ending. After Alberta's Catholic bishops issued a call for banning video lotteries because of an increase in gambling addictions, a leading Canadian politician suggested that churches were hypocritical to accept lottery money while criticizing gambling. To their credit, two congregations have sacrificed in response: One returned a check for $80,000, and a second has refused the state's annual gambling payoff of up to $125,000 per organization.
Make visible the invisible social cost
Why are the consequences of gambling so hard to see? American culture has long celebrated the winning gambler as a hero and the losing gambler as an untutored fool, presuming that skill makes the difference between winners and losers. But experts tell us that casino gambling gives the "house" an unbeatable mathematical advantage, and the longer anyone plays the more he loses.
When it comes to the social cost of gambling, Americans have an acquired blindness. In embracing a philosophy of individualism, we have rightly valued personal achievement, but we too easily view an individual's failure as limited to his or her own life and family. Unfortunately, the cumulative effect of thousands of failed marriages and careers, poisoned by compulsive, addictive gambling, brings with it dire symptoms from which all of us suffer.

The dishonesty theology
of gambling violates relations
between God and humanity,
because God's perfect will for
each of us cannot be had
for the price of a lottery ticket.

The gambling industry has put a false spin on the issue of gambling addiction. It argues first that the problem is very small, and second that the problem is treatable. But the industry's reasoning fails to acknowledge the many lives that are shattered when just one member of a household becomes a gambling addict. Recovery may take a lifetime. "Lefty" Rosenthal shamefully relates how one head of household lost $18,000, a life's savings, after being lured into Rosenthal's casino, which advertised a 49-cent farmer's breakfast.
Where should the church position itself in dealing with gambling's victims? Certainly, the church's function as a social and emotional safety net for gambling's victims must be maintained. But there is a more pronounced role for churches: In communities where gambling does not currently exist, churches should not ignore gambling issues. In regions where gambling has been approved, church leaders must overcome historic denominational and racial barriers and organize, strategize, and speak out jointly at every opportunity. The first place to make visible the invisible consequences of gambling is within the walls of our churches.
Do moralistic arguments work?
Frank Fahrenkopf, president of the American Gaming Association, is one of the nation's leading gambling promoters. Lately, he and other gambling proponents have been talking about morality in the gambling debate. Arguing that morality is mostly a private matter, he says, "Most Americans resent religious leaders or others trying to tell them what they should and should not do."
But Fahrenkopf does not accurately locate the sources of resentment. In large measure, Americans do not object to moral guidance itself, but to moral dictates without moral instruction. Moral dicta in a values vacuum invite rebellion. Persuasive reasoning, however, leads people to consider the issues. The recent successes of the National Coalition Against Legalized Gambling show that voters can think clearly for themselves when encouraged to do so (see "How to Fight Gambling," p. 39—not online).
However, in those communities where gambling already is allowed, Christians are having great difficulty in beating back the gambling industry through the use of moral suasion. In South Carolina, Gov. David Beasley, a Baptist, is waging war against video poker, calling it a "cancer" on the citizenry. His metaphor is appropriate, because the solution to the state's gambling problem is not regulation and taxation but excision. Even though moral arguments may starkly frame the gambling issue, they are not likely to be decisive in rolling back gambling because of its strong hold on the human psyche.
There are two underlying reasons to prohibit gambling. First, if the social purpose of gambling is entertainment for the masses, the price tag is just too high. Gambling is like illicit drug use: people may value the entertainment and escapism, but the social cost far outstrips any putative value. Second, casino gambling guarantees a win-lose situation. With the odds firmly stacked in favor of the house, such gaming violates our commitment to fairness and falsely advertises itself as a short-cut around thrift and hard work—values rooted in Christian teaching and practice. Gambling seduces us into believing in gain without pain and earnings without effort. The explosive growth of gambling reveals how Americans embrace money as the ultimate lifestyle guarantee.
Pursuing the 'peak experience'
"People gamble, whether it is legal or not, because it helps them face the world more successfully than they could without the spark which it gives," says English professor Felicia Campbell of the University of Las Vegas. Campbell correctly identifies the emotional and spiritual dynamic at work in a gambler's heart. However, the argument that gambling provides a ready emotional charge rests on the false premise that any peak experience is good. Like all lusts, the promise of gambling is energizing. But sin entraps us rather than equipping us for life's challenges.
The deceitful economics of gambling violate relations between people, because neither goods nor services are exchanged. The dishonesty theology of gambling violates relations between God and humanity, because God's perfect will for each of us cannot be had for the price of a lottery ticket.
When Christians focus on not only the physical toll, but also the spiritual toll that gambling takes, they are well positioned to take the upper hand in the gambling debate.
Have something to add about this? See something we missed? Share your feedback here.
Our digital archives are a work in progress. Let us know if corrections need to be made.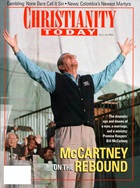 This article is from the May 18 1998 issue.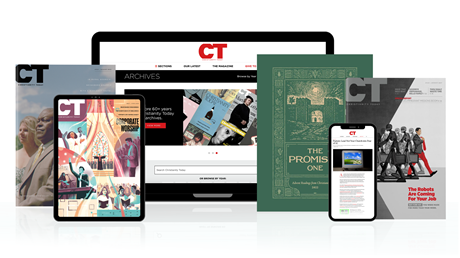 Annual & Monthly subscriptions available.
Print & Digital Issues of CT magazine
Complete access to every article on ChristianityToday.com
Unlimited access to 65+ years of CT's online archives
Member-only special issues
Subscribe
Gambling with the Enemy
Gambling with the Enemy