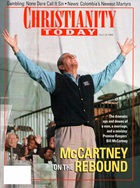 This article is from the May 18 1998 issue. Subscribers can read all of CT's digital archives.
Ten U.S. senators, unhappy with a proposed House bill on religious persecution, are supporting rival legislation that they believe will do a more effective job of protecting religious freedom globally.
On March 25, the International Relations Committee sent the Freedom from Religious Persecution Act, also known as the Wolf-Specter Bill, to the full House. The measure, which has undergone many revisions, would cut off U.S. aid to countries that tolerate or engage in religious persecution (CT, April 27, p. 25).
The next day, assistant Senate majority leader Don Nickles (R-Okla.) introduced the International Religious Freedom Act. His legislation has the backing of Senate Foreign Relations Committee chair Jesse Helms (R-N.C.), as well as support from Catholic, Jewish, mainline, and evangelical representatives. Those backing the bill include Joseph Lieberman (D-Conn.), Connie Mack (R-Fla.), and Mike DeWine (R-Ohio).
A BROADER BILL: Critics of the Wolf-Specter Bill believe that it defines religious persecution too narrowly in focusing mostly on threats to life and limb. They say under the definition of "widespread and ongoing torture" in the Wolf-Specter Bill, limited sanctions could be applied only to Sudan.
By contrast, the Nickles bill would:
Include a broader definition of religious persecution.
Create an ambassador at large for religious liberty in the State Department, rather than a director of an office for religious persecution.
Allow more flexibility in choosing from a range of 16 different economic or diplomatic sanctions.
Provide federal financing for promotion of religious freedom.
Include limits of choice to economic sanctions for gross violators.
Rep. Bob Clement (D-Tenn.) says the State Department last year reported that ...
1
Our digital archives are a work in progress. Let us know if corrections need to be made.
Senators Champion Rival Bill on Religious Persecution
Senators Champion Rival Bill on Religious Persecution