Journal entry, August 19, 1996: Where is my son?
This question began what became a steady stream of notations documenting the disorienting passage in my life when one of my children left the world in which my husband and I had reared him—the world of faith. An unexpected aspect of this painful season has been the equally forbidding sojourn his pilgrimage has meant for me.
Before our son was born, my husband and I took "natural" childbirth classes. The pain was supposed to be "managed" by breathing techniques. But by the time I was pushing that boy through my loins (after 36 hours of labor), the classes didn't mean a thing: Nothing could have prepared me for what that felt like. In the same way, nothing in all the parenting books I had dutifully read prepared me for the stages of pain and grief that having a prodigal child brought to my otherwise well-ordered, biblically packaged, evangelical world.
Early on, when I first began to wonder what was happening in my son, I pictured the saucer-eyed, silky-haired little helper who used to come to me as a four-year-old with pen and paper in hand and ask, "Mom, draw me an Ewok" (the furry creatures from The Return of the Jedi). I drew so many of them I could have marketed them.
Our son was the same age when he told us he was afraid of dying. We talked to him about his fear and tried to help him understand that, when we belong to Jesus, we don't have to be afraid. He wanted that assurance, and my husband, Bob, on the spot, helped him pray. Our son prayed the words after my husband, asking the Lord to come into his heart and free him from his fears. He prayed loudly, clearly, without mumbling.
When he was 10, he took Communion for the first time. He said he felt like he "was growing in God" when he took it. A year later, he asked his dad (a pastor) to baptize him. He was nervous at first, he said, but afterward he was "excited."
When confusing things started to happen during his later teens—things that signaled a departure from our unwritten family "covenant" (the details of which do not pertain here)—I brought assumptions to the situation that operated out of the Ewok-era model of who my child was to me. (This is where mothers tend to lose all grounding in reality.) So the first leg of my sojourn as a prodigal's mother involved general disorientation: I was trying to reconcile who this person is in relationship to who he was. What went wrong? What had I done to turn my son against me?
I found comfort in the prophet Isaiah, who became the mouthpiece for God's own laments over his wayward Israel: "This is what the LORD says, 'The children I raised and cared for have turned against me. Even the animals—the donkey and the ox—know their owner and appreciate his care. But not my people Israel. No matter what I do for them, they still do not understand' " (Isa. 1:23 NLT; all Scripture references are from the NLT unless noted otherwise).
I thought that if God experienced this kind of heartache, then perhaps my son's wanderings were not necessarily attributable to my failures alone.
My disorientation evolved into spiritual resolve to do battle for my son's soul—to wage a campaign to rescue him from the Devil. I arose early in the mornings to be alone with God, first to right myself in his presence, and then to storm the gates of heaven on my son's behalf. I fasted. I prayed. I even went so far as to go into his room and face down the myriad freakish posters and photos he had posted on his walls. I defied these people to try and steal my son's soul out from under me.
For all my resolve, I was shocked at my emotional disequilibrium: I was unable to predict or control my own tears, which erupted effusively at unexpected moments. Isaiah spoke to me again, revealing a similar intensity in the Lord's resolution: "Because I love Zion, because my heart yearns for Jerusalem, I cannot remain silent. I will not stop praying for her until her righteousness shines like the dawn, and her salvation blazes like a burning torch" (62:1).
I was soon to discover, however, that the problem with the all-out combat mode is that battle fatigue sets in before results. The more I prayed, fasted, and otherwise pulled out the stops in spiritual warfare, the more I expected measurable effects. When it became painfully evident that results were not part of this picture (at least at this point), the peaks of inspiration eventually were followed by troughs of dejection. This sense of powerlessness framed the third phase of my sojourn: discouragement.
Journal entry, October 1, 1996: "Surely in vain have I kept my heart pure; in vain have I washed my hands in innocence" (Ps. 73). I am so utterly discouraged. I don't go right to sleep at night so it is hard in the mornings to get up. Almost consistently, I am not rested. I hear the Devil whisper in my ear: "It doesn't do any good. Why not just sleep in and be rested?"
My son's increasingly frequent and unaccounted-for late nights meant that sleeplessness became a way of life. This only exacerbated the many conflicting emotions that assaulted me. My disorientation at times degenerated into hostility; my resolve metamorphosed to dejection. All of these emotions conspired to weigh me down with doubt about God's "intimate acquaintance" with my distress.
Again, late one night (always late at night) I got up and found an old copy of Augustine's Confessions. I saw in the contents the section titled "Grief of his mother Monnica at his heresy and prayers for his conversion."
Thou sentest Thine hand from above, drewest my soul out of that profound darkness, [as] my mother, thy faithful one, weeping to Thee for me … discerned the death wherein I lay. And Thou heardest her, O Lord; Thou heardest her and despised not her tears when, streaming down, they watered the ground under her eyes in every place where she prayed; yea, Thou heardest her.
The Lord sent Monica a dream showing her a vision of a "shining youth coming towards her, cheerful and smiling upon her, herself grieving, overwhelmed with grief." Augustine recounted that the dream assured his mother that "where she was, there was I also." She told her son the dream and he contradicted her interpretation, suggesting that it meant she would one day be where he was—without faith. "She was not perplexed by the plausibility of my false interpretation," he said. Her assurance "moved me more than the dream itself."
"Now more cheered with hope," he wrote, "yet no whit relaxing in her weeping and mourning, ceased not at all hours of her devotions to bewail my case unto Thee." A bishop comforted Monica, promising he would speak to her son: "Go thy way and God bless thee, for it is not possible that the son of these tears should perish." And in fact, when her son was 32 years old, many years after the dream, he finally stood "where she was" in the Lord.
I had no visions like Monica's to comfort me that night. But reading a former prodigal's own account of his mother's travail enabled me to drop off to sleep hearing the words he recounted repeatedly in his remembrances: Thou heardest her, O Lord.
Momentary light
There were moments when the darkness lifted and God momentarily gave me his eyes. These moments were like lighthouses in a heavy fog—I was able to see past the immediacy of the pain and instead capture a glimpse of my son as a searching and wandering soul. Once when my heart had been so quickened I got up (long after everyone had gone to bed) and drew an Ewok. Scribbling in a frenzied flurry, the pen followed the same strokes and shading it had 14 years earlier, when my son would curl up next to me exulting in the near-perfectly rendered fuzzy arms, wrinkled boots, draping hood, and rustic spear. That night I captured just the right sparkle in the Ewok's eyes and the exact curl in the dark little lips.
I attached a letter to the picture of the Ewok and left it on my son's pillow. I told him that even though he no longer asks me, I would gladly draw him all the Ewoks he could ever want.
But for all the fleeting blessedness of these glimmers of light, they were not sufficient to quell the force of the pain of his course. My "combat fatigue" and discouragement eventually gave way to acquiescence. By his eighteenth year, it had become painfully apparent that the circumstances of our respective existences were incompatible. We arranged for him to study abroad for his first semester of college, giving us all some needed relief and distance from our turmoil. He was ready to go; I was ready to send him.
Journal entry, December 20, 1997: He leaves in a few weeks. At this stage of our relationship so much has been darkened by confusion and alienation that I don't know how it can be fixed short of both of us being miraculously wiped clean and given a fresh start.
We said good-bye in mid-January. The drive to the airport was quiet with only sporadic superficial chit-chat. He walked 10 steps ahead of us through the many corridors we had to trek to get to the ticket counter, passing through a corridor where glass tiles formed a wavy wall and a free-lance saxophonist was playing a sloppy version of "Somewhere over the Rainbow."
We stayed with him at the gate for the hour and a half prior to his boarding. Airport CNN was on, and I heard more than I wanted to about Oprah's trip to Amarillo, Texas, to take on the beef industry and Al Gore's antigenetic-discrimination legislation.
Marla Maples appeared on Larry King Live, and for a few minutes her blather lulled me into temporarily forgetting what I was there for. She talked about her conversation with Ivana after she and Donald Trump broke up; about how having a child out of wedlock disgraced her Southern Baptist sensibilities; and about how she was "really happy" about her new movie career (movie career?). Then, with shocking suddenness, the boarding call for our son's flight interrupted her mesmerizing inflections. Everyone started shuffling.
"Well, son, are you ready?" his dad asked him.
He was.
He hugged his dad and thanked him for sending him. I honestly didn't think I was going to cry because there really hadn't been a lot of emotion welling up inside me up to that point. But my heart started pounding when he hugged me and thanked me too. I told him I loved him and he said it back. I handed him a note I had written him, and then I started to cry; but I kept it inside.
He passed by the ticket checker and started down the ramp. Then he dropped his tickets and had to interrupt the flow of people to pick them up. (I couldn't pick them up for him.) He gathered them and walked on. Bob yelled over the heads of several people, "Good-bye, Son!" Our son turned back and saw me waving. There was no stopping the tears. I didn't even try.
My husband put his arm around me and we walked back through the corridors. Marla Maples said that you just have to keep putting one foot in front of the other, no matter how hard it seems. ("Life is full of ups and downs.") So we walked, one foot in front of the other, past the saxophonist (playing "Has Anybody Seen My Gal?") and beyond the wavy glass wall. "If you are walking in darkness, without a ray of light, trust in the Lord and rely on your God," Isaiah says (50:10).
A friend of Ruth Graham's once told her: "You have the right to ask the Mighty One to do more for your children than he could if you were with them. Open thy mouth wide." I decided to stop focusing on my son's choices and start focusing on God's trustworthiness.
This ushered in the next stage of my sojourn as a prodigal's mother: release and trust.
When I read Luke 15 and "The Parable of the Two Lost Sons" (as my husband calls it) soon after that moment, I approached it not as a seminary graduate, but as a struggling mother looking for some help. I was struck by the complete omission of any reference to the Prodigal's mother in that parable.
Where is she?
Thinking about it from the vantage of a mother who, at times, has felt as lost as her son, her absence made perfect sense. Prodigals, I would think, by definition, assert their autonomy in a way that most dramatically severs the intimate parental bonds. And in many cases, that intimacy goes back to the heart of their mothers. That severing leaves mothers like me without a role. So we retreat, emotionally disoriented, physically fatigued, spiritually embattled. (Fathers probably do, too, but that's another article.)
I realized that I needed to subsume my role as tormented mother under that of being a trusting daughter—waiting on God in faith. That didn't mean I stopped praying and weeping for my son. But it helped me understand why, perhaps, "the mother" is not a player in this parable.
My guess is that she was there. She was probably where I have found myself throughout all stages of this sojourn: behind a closed door, looking out a window, waiting for her son to come home.
Have something to add about this? See something we missed? Share your feedback here.
Our digital archives are a work in progress. Let us know if corrections need to be made.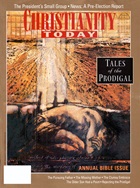 This article is from the October 26 1998 issue.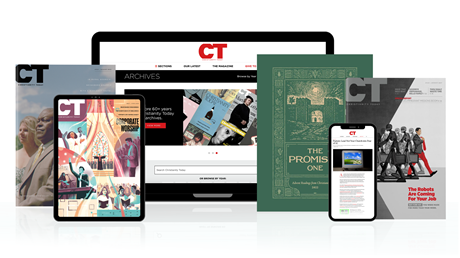 Subscribe to Christianity Today and get access to this article plus 65+ years of archives.
Home delivery of CT magazine
Complete access to articles on ChristianityToday.com
Over 120 years of magazine archives plus full access to all of CT's online archives
Subscribe Now
The Missing Mother
The Missing Mother