After 13 years of relatively low-profile outreach to professional athletes, the Austin, Texas-based Champions for Christ (CFC) ministry received big publicity in a blitz that included Sports Illustrated, espn, and several newspapers and magazines.
Under other circumstances, the ministry would have welcomed the attention, but CFC has been accused of demanding a tithe from its members and improper involvement in contract talks between players, agents, and teams. "Ludicrous and untrue," says Dave Jamerson, CFC national representative, adding that the allegations reflect "a lack of understanding of Christian culture."
COMPLAINTS FILED? The brouhaha started with summer contract negotiations involving Chicago Bears rookie Curtis Enis, who, after being converted to Christianity in a CFC outreach, fired his agent, former Raiders' safety Vann McElroy, and hired a Christian financial planner who is a friend of CFC leaders.
By some accounts, McElroy's firm lodged complaints with the National Football League (NFL) about CFC's influence and tactics. By other accounts, the Chicago Bears and Jacksonville Jaguars asked the league to investigate the ministry out of concern that CFC was asking players to give huge amounts of money to the organization.
The management of both teams declined interview requests, but NFL vice president of public relations Greg Aiello says CFC is "not an issue with this office—we don't deal with them." Aiello says the NFL has more concern about finances than faith issues. "There is a history of athletes being taken advantage of financially," he says.
Both the charges that CFC officially represents players and that it requires tithing from members have rankled the leadership of the nonprofit ministry, which emphasizes it does not negotiate contracts and makes no financial requirement for membership.
"Our sole mission is to promote the gospel of Jesus Christ to athletes and to build disciples for Christ," says Jamerson. "The majority of the athletes we do minister to never give a dime to us."
CFC's 1996 tax filings show that the ministry received $805,249 in donations. Jamerson says the 1997 figures are still being audited. "But it's probably around a million dollars," he reports. Though it is not a member of the Evangelical Council for Financial Accountability, Jamerson says CFC is in the process of joining the watchdog organization and does follow its guidelines, submitting to an independent board and an annual audit. "Everybody who gives to CFC, we give them a year-end report," he says.
CFC has 20 chapters with 300 college athletes from 27 campuses. CFC began as a campus ministry, Jamerson says, and one of the first fruits of its efforts was the National Basketball Association's A. C. Green, a former Los Angeles Laker and current Dallas Mavericks forward, now a CFC vice president.
Jamerson asks, "Why not reach athletes out there not only to be champions on the fields, but champions in life?"
So why has CFC attracted this scrutiny? Washington Redskins cornerback Darrell Green, a nonvoting CFC board member and a part of the ministry for more than ten years, says it is a spiritual battle. He says "the enemy" does not "like the advance of the kingdom in an area where the Devil has ruled for years—professional athletics. I've done an in-depth investigation of Champions and these people are right [standing]," Green says. "This [controversy] is all about money—greed and money."
Greg Feste, founder of the Malachi Group in Sugar Land, Texas, is the new agent for Enis. The Malachi Group consists of three separate operations providing financial planning and investments, career management, and a venture capital corporation. Feste's publication, Wealth: By the Book, explores biblical views on money. He says sports media have misunderstood that his various operations promote biblical financial stewardship and principles. "They're thinking I'm this religious Bible thumper who's using that to promote his own agenda," Feste says.
Feste says he is not affiliated with CFC, although he and CFC founder Greg Ball are good friends. Feste says referrals have brought him the two pro athletes he represents in contract negotiations, the four he has for marketing and endorsement deals, and the 45 he has helped with full-service financial planning. "Clients breed clients," he says. "What is wrong with being referred by godly men and women?"
PAST PROBLEMS: Enis and Feste both had problems in their pasts before becoming Christians. Last year, Penn State declared Enis, now 22, ineligible to play in the Citrus Bowl because he illegally accepted a $1,000 suit from an agent and lied about it.
Most recently, Enis faced charges of a sexual assault alleged to have occurred on May 29 in Irving, Texas, but the charges have been dropped. But Jamerson says Enis is holding steady. "He's doing great," Jamerson says. "It's unfortunate that in the midst of all the positive things God is doing, that's being overshadowed by these allegations." On Independence Day, Enis married his girlfriend, who was then three months pregnant with his child.
Darrell Green says, "There's a tremendous need for groups like Champions, because sometimes athletes think more of themselves than they ought to."
As for Feste, he freely acknowledges his 1989 suicide attempt, a Chapter 7 bankruptcy, and a one-day suspension in 1992 by the National Association of Security Dealers. But all of that happened, he says, before he became a Christian, the result of being evangelized by CFC's Ball.
EVANGELISTIC ZEAL: CFC's involvement with members of the Jacksonville Jaguars has attracted scrutiny, too, but more for evangelistic zeal.
Jamerson says Jaguars quarterback Mark Brunell, a CFC member, attended a couples' Bible study in Jacksonville in 1996, which led to eight team members converting to Christianity and being baptized. At the time, Ball discipled Brunell and often spoke to the group of new Christian gridiron converts, which had originated from a small group started by the Fellowship of Christian Athletes.
That year, Jamerson says, 11 Jaguars came to CFC's annual conference for professional athletes (this year's conference attracted 60 pros from various teams and their wives). Ball eventually began leading weekly meetings in Jacksonville.
"Last fall, there were 60-some people coming to the meetings, and literally a church was being planted there," Jamerson says of the meetings being held at the Jacksonville Marriott. "It's still growing now."
Don Walker, Jaguars team chaplain and a member of the Fellowship of Christian Athletes, says he sees no problem with CFC. "The product of the Champions ministry is that a lot of guys have come to Christ, [but] some are walking and some aren't," Walker says. "Most people are rather offended that the media have even brought it up. They feel it's really none of their business if these guys want to be good, clean guys."
Have something to add about this? See something we missed? Share your feedback here.
Our digital archives are a work in progress. Let us know if corrections need to be made.
This article is from the October 5 1998 issue.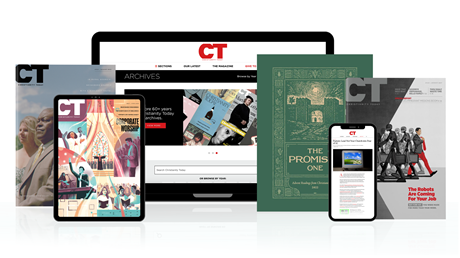 Subscribe to Christianity Today and get access to this article plus 65+ years of archives.
Home delivery of CT magazine
Complete access to articles on ChristianityToday.com
Over 120 years of magazine archives plus full access to all of CT's online archives
Subscribe Now
Champions for Christ Pulled into NFL Convert Controversy
Champions for Christ Pulled into NFL Convert Controversy