One of the earliest prayers in the Bible is Abraham's prayer for his other son: "If only Ishmael might live under your blessing!" (Gen. 17:18). I believe that if more Christians will pray this prayer today, we will begin to have an impact for Jesus upon the world of Islam.
Today many of us have created an enemy image of the Muslims. They are all terrorists who hijack our planes, blow up our embassies, and take innocent people hostage. Not only is this untrue, but the very minute we view them this way we make it impossible to reach them with the gospel. God cannot use us.
Every trip I've made to the Middle East, beginning with my earliest visits to Israel and Jordan in the mid-1960s, has been an education. More often than not it has been a reeducation, because I've had to unlearn so many of the things I've been taught by Western church leaders. By being there, seeing the situation for myself, and talking with many people face to face, I've gained an entirely new perspective on this part of the world and its various peoples. Let me give a few examples.
I learned that there are many Christians among the Palestinians. When I took time to speak with these fellow believers, they poured out their pain to me—specifically the pain of not being recognized by the Western church as part of the body of Christ.
I learned that the percentage of Christians in the Middle East is shrinking at an alarming rate. For a variety of reasons, large numbers of them have emigrated during this century, and the trend continues.
I learned that just as Christians come in many varieties, so do Muslims. There are many Muslim groups and sects, and they disagree and fight with one another in much the same way Catholics and Protestants have fought over the centuries. Some interpret the Muslim teaching of jihad, or holy war, to mean literal war and even terrorism, while others believe it simply means they should strive to obey qur'anic teachings.
I learned that the church in the Middle East has not figured out how to handle Muslim converts. The problem is that in many Muslim countries, conversion to Christianity is illegal. Muslims who accept Christ can be dismissed from their families, can have their wives and children taken from them, can be sent to jail or to their death. As more and more Christian missions begin to reach out to the Muslim world, this matter of "convert care" will become a key issue.
I have seen that there is a genuine openness to Jesus among some Muslim groups. The Qur'an considers Abraham, his sons, Moses, David, Solomon, and Jesus to be prophets, and it recognizes the Torah, the Psalms, and the Gospels as holy Scriptures—though the Qur'an is considered to be the last revelation.
We've seen that there is a startling openness to the gospel among some of these people. But unless we go to them now in love and influence them in a Christian direction, the ongoing cycle of violence and revenge will force them to take hard-line, extremist positions. They will come to us—the "Christian" West—in judgment.
Though most of my recent travel has been in the Middle East, I have also visited other Muslim countries. Usually the body of believers I found was small and badly in need of encouragement, but very much alive.
The situation in Iran remains very tense, for example, because of the rise of Muslim fundamentalism and radicalism and polarization. And the church is learning how to resist fear and grow in boldness and confidence. Maybe because of all the suffering the country has endured, Iran will be one of the first countries to reap the benefit of the gospel.
A recent experience I had at the Israeli airport in Tel Aviv symbolized both the problem in the world today and the solution that can be found only in Christ.
"So where have you been?" the uniformed [inspector] said sternly.
"I have been to Bethlehem," I said, knowing she wouldn't be happy about it. (Bethlehem is in the West Bank, Palestinian territory occupied by Israel.)
"Where else?"
"Kiryiat Arba."
Her eyes flashed in disbelief. (Kiryiat Arba is a very rightist Jewish settlement.) "What were you doing there?"
"The son of a Dutch friend of mine lives there, and he was recently shot by a Palestinian terrorist. I wanted to console the family."
"Bethlehem one day and Kiryiat Arba the next—that is quite a change in location, Sir."
"Yes," I said, "but they are both about people who suffer."
Muslims are not a vast, faceless ethnic group to project our hatred upon, not a new enemy to replace the Communists, but children of Abraham, people created in the image of God, people in need of a Savior whose name is Jesus.
Excerpted from The Calling, by Brother Andrew with Verne Becker, published by Moorings, © 1996. Used with permission from Open Doors International, P.O. Box 27001, Santa Ana, CA 92799.
Have something to add about this? See something we missed? Share your feedback here.
Our digital archives are a work in progress. Let us know if corrections need to be made.
This article is from the October 5 1998 issue.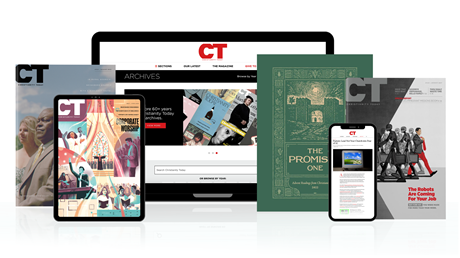 Subscribe to Christianity Today and get access to this article plus 65+ years of archives.
Home delivery of CT magazine
Complete access to articles on ChristianityToday.com
Over 120 years of magazine archives plus full access to all of CT's online archives
Subscribe Now
The Muslim Challenge
The Muslim Challenge