At a prayer meeting last year at Missionary Baptist Church in Carlisle, Iowa, Kenny McCaughey asked fellow members to petition God on behalf of his wife, Bobbi, that fertility therapy would be effective. Upon learning that the prayers for his wife to conceive had been answered sevenfold, McCaughey turned to pastor Robert J. Brown with questions on how he could handle such a brood. Brown prayed that God would be glorified by whatever happened.
Since that time, life has not been the same for the McCaugheys, Brown, or Missionary Baptist Church. The birth of the world's first surviving septuplets on November 19, 1997, changed the dynamics of the church immensely. Besides living through periods of intense media scrutiny, the 100-member congregation has rallied to become a model of what the church is designed to be: a support in time of need, even if the circumstances are overwhelming.
"When Bobbi and Kenny found out they were expecting seven, we said, 'You don't have to do this by yourselves,' " says Brown, 49. "The response from families in the church has been to commit ourselves to do anything we can do, no matter how long the haul may be."
Preparation began long before Kenneth, Alexis, Natalie, Kelsey, Brandon, Nathan, and Joel came into the world. Church members began bringing meals three times a week when a doctor ordered bed rest for Bobbi McCaughey in her ninth week of pregnancy—21 weeks before delivery. There have been 70 volunteers from their church to aid in caring for the septuplets—and their two-year-old sister, Mikayla—as well as in cleaning the home and preparing meals. Many on-site helpers take one shift a week, ranging from four hours in the morning to eight hours overnight.
Compassion not coincidental
Such devotion is not a new phenomenon at Missionary Baptist Church. "Their giving attitude did not start with Bobbi's pregnancy," says her father, Robert Hepworth. "It's a natural extension of what had been going on before. They are very giving to anyone who has need." Hepworth and his wife, Peggy, both 53, attend the church, as does Kenny McCaughey's father, Kenneth George, 53, and his stepmother, Val, 42.
"It's not unusual for people in this church to help people in need," Val McCaughey says. "Of course, there's never been a need like this before."
Indeed. Bobbi McCaughey prepares 45 bottles of formula herself every day, but the task of feeding, bathing, and changing diapers for seven babies around the clock—while trying to attend to other household chores—is beyond any one person. Although the McCaugheys have many relatives in the area, it has been their extended family—the church—that has seen them through.
Even if the McCaugheys feel a bit awkward relying on the assistance of others to raise their family, they know it is part of God's plan. "The help has been simply outstanding," Bobbi McCaughey says. "If it was just me, the laundry wouldn't get done and the meals wouldn't be made."
The church in Carlisle, a town of 3,400 people 10 miles southeast of Des Moines, has been at the center of the lives of Kenny and Bobbi McCaughey both before and after the birth of the septuplets. Before the big event, they had been active at Missionary Baptist Church, which is affiliated with the General Association of Regular Baptist Churches, by working in the children's ministry and singing in the choir. Both Kenny, 28, and Bobbi, 30, attended Bible college before he became a billing clerk at the local Chevrolet dealership and she became a seamstress.
The McCaugheys continue to attend Sunday school, morning worship, and Sunday evening services faithfully, with their eight children in tow. Church members are there to help them unload and load the safety seats in the van. Friends often hold the septuplets during services.
The day of delivery, Brown led intercessors in prayer at the hospital. McCaughey chose the church sanctuary as the site of a press conference to announce the births. A prayer chain formed when newborn Joel came perilously close to death and needed a blood transfusion.
At times, Brown has been enamored with the adorable septuplets. "If I had my druthers I'd be at their house almost every day," Brown says. "But that's not my calling. I'm the pastor."
Before the births, a three-woman church committee that includes Brown's wife, Ginny, 47, formed to organize a volunteer schedule to meet the practical day-to-day needs of the McCaugheys. They initially identified three paramount needs: housing, transportation, and income.
But generous American individuals and companies have taken care of many of the needs, including free diapers, clothes, and baby food. A consortium of area businesses is putting the finishing touches on the most amazing gift: a 5,000-square-foot house being constructed with donated labor and materials. The ten-member family has lived in a 770-square-foot house the first year. Chevrolet bestowed on them a 15-passenger van to take care of transportation.
That left basic at-home needs, and two-thirds of the families from the church have helped. A volunteer is at the McCaughey home overnight for an eight-hour shift, seven days a week.
"Pastor Brown and Ginny are the right people for this," says Val McCaughey. "They are great organizers and they know how to handle the media."
Managing the publicity
Maintaining equilibrium has not been easy. While the birth of the septuplets has provided a marvelous opportunity to demonstrate to the world that God can work miracles through a faithful church, the attention heaped upon the McCaugheys at times has been consuming. "This is a whole new dimension of ministry we've never had before," Brown says.
Brown and his six-member deacon board have been careful to make sure other congregants are not slighted because of the immense attention that has been showered upon the McCaugheys. After much agonizing, Brown and the deacons decided to allow crews from NBC's Dateline and ABC's PrimeTime Live to film in the church. Concerns about disturbing the holiness of God's house and invading the privacy of members dissipated when the news programs both portrayed church members as loving and devoted.
The births have had a unifying effect on the congregation, according to Ginny Brown. "This has enabled other people to grow," she says. "Other people are being blessed by helping out."
Brown appreciates his faithful flock. "These people are really committed," Brown says. "Many have jobs 40 hours a week. But they see this as ministry."
One such volunteer is Ken Bailey, a 47-year-old commercial artist in West Des Moines. "I like to take care of these babies," Bailey says. "It's neat to see them grow and how their personalities develop."
For 40-year-old Craig Milligan, a farmer nine miles south of Carlisle, helping the McCaugheys is a way to thank Bobbi McCaughey, who brought his wife, Joy, meals when she broke her arm while eight months pregnant.
"It's our turn to give back," Milligan says. "God has watched over this family. Every one of these children is so precious."
Bobbi McCaughey hopes the volunteer shifts at their home will be phased out by early next year. "We don't anticipate having help forever," she says.
Nevertheless, Brown vows that assistance will continue as long as it is needed. "We're just a local church trying to do what God has told us to do," he says. "Two years ago we never dreamed we would be a part of something like this. It humbles us and causes us to be in awe."
Have something to add about this? See something we missed? Share your feedback here.
Our digital archives are a work in progress. Let us know if corrections need to be made.
This article is from the October 5 1998 issue.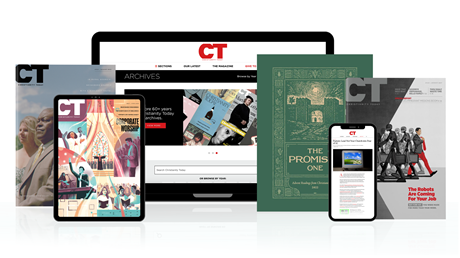 Subscribe to Christianity Today and get access to this article plus 65+ years of archives.
Home delivery of CT magazine
Complete access to articles on ChristianityToday.com
Over 120 years of magazine archives plus full access to all of CT's online archives
Subscribe Now
Bringing Up Babies
Bringing Up Babies