"There is a need for the light of the gospel to permeate the arts community, … to reverse the tide of a poisonous, self-destructive attitude," says Douglas Yeo, bass trombonist for the Boston Symphony Orchestra. "The problem really is spiritual, an unwillingness to fulfill the role that we have clearly defined for us in the symphony orchestra."
Audiences would be amazed at the attitudes among symphony members, Yeo thinks.
Christian musicians as role models
When one thinks of unreached people groups, classical musicians aren't likely to spring to mind. But hundreds of musicians are aiming to reach the world of classical music with a Christian witness. Yeo openly shares the gospel and his views on the brutal competition in classical music, employing his Web site (yeodoug.com) as a forum.
He believes Christian musicians can be role models, pointing to Paul's description of the body with each member having its part. His part is third trombone, and he is content with it—an attitude apparently rare in the competitive world of classical music.
John Kasica, percussionist with the St. Louis Symphony, says he applies Christ's servant philosophy to his fellow professionals. "If you serve your colleagues and give them the first opportunity to have the best part, and encourage them and help them sound better rather than compete with them—let them be the best—you reap what you sow. God will position you to do the best work. Now that takes a lot of faith in God—to die to your own talent—but that's what it takes."
"With the arts, you have an opportunity to bring the gospel to people in creative ways. We don't always have to use words." notes Kasica's wife, Paula, a professional flautist.
The desire to communicate God's glory through beautiful music was a motivating force behind the founding of the Christian Performing Artists' Fellowship (CPAF), which got its start in Washington, D.C., by holding professional classical music performances by Christians. Since its inception in 1984 with six founding members, CPAF has grown to about a thousand members, mostly professional musicians and academicians in the performing arts, including music, theater, and dance.
Members of CPAF study the Bible and grapple with everyday applications of biblical teachings to their craft. They also go to great lengths to learn the language of their "people group" extraordinarily well. While excellence in art is an end in itself, they believe their musical credentials must be beyond question in order to gain a hearing for the gospel with their colleagues, as well as witness to paying audiences who expect the best. All this takes hours of daily practice.
Summer camp for musicians
Two years ago, in its quest for virtuosity, CPAF debuted the MasterWorks Festival, a summer camp for promising Christian music students ages 14 to 24. The faculty includes musicians from major orchestras such as the National Symphony (D.C.), the New York Philharmonic, and the Pittsburgh Symphony, and instructors from leading schools of music, including Juilliard and Eastman in New York State.
Held annually at Houghton College in rural western New York, the festival is designed to help young musicians hone their skills to the highest level in preparation for classical music careers, while at the same time providing spiritual instruction to help them avoid compromising their Christian character. One morning, Alan Harrell, cellist with the Cleveland Orchestra, led campers in a clapping exercise to demonstrate how hard it is to go against the beat—as Christians in a worldly environment must do all the time. On another day, Roslyn Langlois, a pianist from Tasmania and resident camp counselor, gently addressed the issue of competition: "If we have a sneaking fear or a worry about someone being better than us, the Holy Spirit is there to say, 'Love them, bless them, give thanks for their gifting. Don't worry, I'll look after yours.' "
Many seasoned symphony players, including Yeo, come for a day or two to conduct master classes at the four-week festival, providing both musical and spiritual instruction. Other faculty, like the Kasicas, come for one or both two-week sessions, offering private lessons and playing alongside students in the orchestra. Participants give weekly concerts, free to the public, featuring major orchestral works, and almost daily performances and recitals for fellow campers.
"The MasterWorks Festival is a chance for Christians from these various orchestras to get together and encourage and inspire each other with their playing," says John Hodges, a MasterWorks guest conductor from Memphis. Unlike professional symphonies with their sturdy hierarchies of players, seated in order beginning with the most proficient, MasterWorks takes a radically egalitarian approach.
"We make it an educational experience for anyone. We put some good players in the back, and we seat professional musicians right with the kids," says Patrick Kavanaugh, CPAF's executive director and founder. "When Stephen Clapp, the dean of Juilliard, was here, he asked, 'Do you mind if I go to orchestra rehearsal and sit in back with the second violins?' A young high school kid was sitting in the back of the section by himself. The night before he had prayed for a stand partner—and it turned out to be the dean of Juilliard!" John Kasica notes, "It's exciting for students to be working with so many players of excellence, and they rise to the occasion."
Many of the musicians at MasterWorks admit they feel like fish out of water, performing in secular organizations, and finding the church not terribly encouraging about their calling. "I think [the church] has often misunderstood how it can be effective in the culture, and it's lost its view of itself as the cutting edge of cultural accomplishment," observes Hodges. "Since the Enlightenment, the church has decided that the arts are so un-Christian that it's given them over to the unbelieving world.
Although many Christian musicians long for the church once again to embrace fully their musical genre, CPAF is most concerned about the secular profession of music. Kavanaugh urges musicians of faith to "be right there in the marketplace. The music world will listen to our people who are well-trained musicians more than they're going to listen to preachers and evangelists. We speak their language. I can go down to the Kennedy Center and talk about Jesus and Beethoven in the same sentence, and they respect that."
Being salt and light
Kavanaugh wants to expand MasterWorks to new locations in the U.S., Europe, and Asia. He also envisions a Christian music conservatory—but wonders whether Christian students might be better salt and light in secular academies.
MasterWorks students and CPAF musicians believe the rigors of endless practice and often unaccepted outreach constitute their peculiar calling. Opera student Ruth Crumley, a Bob Jones University student, says her musical training is for God's purposes: "He's given us talents to use for him. That's the one goal I've learned so much about here. Our music is not just for ourselves, but it's primarily to glorify God, and to uplift others and bless them."
By Sara Pearsaul. For further information on the Christian Performing Artists' Fellowship and the MasterWorks Festival, call 888-836-2723 or visit www.Christian PerformingArt.org
The White Robed Army of Westminster
Unveiled July 9 at Westminster Abbey, London: Ten modern martyrs are commemorated in niches that have been empty since the facade's construction in the fifteenth century. Some of these martyrs died unheralded at the hands of their own Muslim or animist families or were executed for the sake of political expediency. Some, like Archbishop Oscar Romero, made chillingly prescient statements about their imminent deaths: "You can tell them, if they succeed in killing me, that I pardon and bless those who do it. But I wish they would realize that they are wasting their time. A bishop may die, but the Church of God, which is the people, will never die." From left: Maximilian Kolbe of Poland (Franciscan), Manche Masemola of South Africa (Anglican), Janani Luwum of Uganda (Anglican), Grand Duchess Elizabeth of Russia (Orthodox), Martin Luther King of the United States (Baptist), Oscar Romero of El Salvador (Roman Catholic), Dietrich Bonhoeffer of Germany (Lutheran), Esther John of India (Presbyterian), Lucien Tapiedi of Papua New Guinea (Anglican), Wang Zhiming of China (evangelical).
Have something to add about this? See something we missed? Share your feedback here.
Our digital archives are a work in progress. Let us know if corrections need to be made.
This article is from the October 5 1998 issue.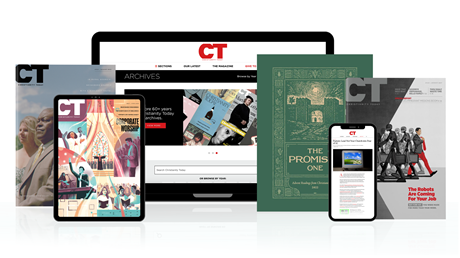 Subscribe to Christianity Today and get access to this article plus 65+ years of archives.
Home delivery of CT magazine
Complete access to articles on ChristianityToday.com
Over 120 years of magazine archives plus full access to all of CT's online archives
Subscribe Now
Unreached People Group: Classical Musicians
Unreached People Group: Classical Musicians