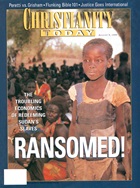 This article is from the August 9 1999 issue. Subscribers can read all of CT's digital archives.
Q: When a friend asked me what being an "evangelical" Christian meant, I wasn't sure how to answer. What is an evangelical?
—Roger Brandeberry, Montpelier, Ohio
A: Evangelicals are a worldwide family of Bible-believing Christians committed to sharing with everyone everywhere the transforming good news of new life in Jesus Christ, an utterly free gift that comes through faith alone in the crucified and risen Savior. To put it more simply, evangelicals are gospel people and Bible people. We do not claim to be the only true Christians, but we recognize in one another a living, personal trust in Jesus the Lord, and this is the basis of our fellowship across so many ethnic, cultural, national, and denominational divides.
Seen historically, evangelicalism is a renewal movement within historic Christian orthodoxy. Its theology and piety have been enriched by many diverse tributaries, including Puritanism, pietism, and Pentecostalism, but its sense of identity as a distinctive faith community, what we might call the evangelical tradition, has been shaped decisively by three major episodes: the Protestant Reformation, the Evangelical Awakening, and the Fundamentalist-Modernist Controversy.
The Reformers of the sixteenth century rediscovered a theology of grace that had been obscured, though not completely lost, in the medieval church. They wanted to reorder that church on the basis of the Holy Scriptures, God's Word written. Though they differed among themselves on many issues, the Reformers held fast to what later became known as the material and formal principles of the Reformation: justification by faith alone and the sufficiency of the Bible as the normative rule of belief and practice.
The Evangelical Awakening of the eighteenth ...
1
If I'm an Evangelical, What Am I?
If I'm an Evangelical, What Am I?