The crowds attending revival services at Brownsville Assembly of God in Pensacola, Florida, are no longer as large as at their peak two years ago, when more than 5,500 people crammed into sanctuaries, a choir room, a cafeteria, and a back yard where they watched the proceedings on a large screen draped over a church wall (CT, March 3, 1997, p. 54).
The lines of people waiting to enter Wednesday-through-Saturday evening meetings no longer stretch a block to the nearby bingo parlor, and those who want to guarantee a pew seat do not have to show up at the church parking lot before dawn (CT, Feb. 9, 1998, p. 80).
But worshipers such as Martin Vaca, who says God guided him and his family from Tillar, Arkansas, to the Pensacola church through a series of visions, still come by the thousands to sing and sway, cry and pray, and seek a special encounter with God. When pastor John Kilpatrick asks for a sign from those who are first-time visitors, hundreds of hands rise. When evangelist Steve Hill gives an altar call, a crush of humanity moves forward to the church's massive platform. And the extended periods of worship that begin each service are more intense than ever.
The Brownsville revival, now three and a half years old, has attracted an estimated 3.5 million visitors to this once-staid church in the Florida panhandle. Despite the Pensacola area being buffeted by hurricanes and heat waves in 1998, and even though the revival itself has received plenty of heat from its hometown newspaper and a small army of Christian critics, there is no end in sight for an event leaders are calling the longest-running church-based revival in the twentieth century.
"I will stay at the Brownsville revival as long as lost souls keep coming here and being saved," says the 44-year-old Hill, who has preached nearly 700 sermons since the revival began in June 1995.
REVIVAL IN THE LAND: Revival leaders are not waiting for the lost to find them, though. Instead, they are launching a number of initiatives that will take them and their message around the globe.
This year they will initiate a two-year program called the Millennial Million-Soul Harvest, designed to reach more cities than in the past two years combined. The campaign will take two-day Awake America rallies—which feature daytime schools for pastors and evening revival meetings—to a dozen U.S. cities, including Baltimore, Denver, Chicago, Cincinnati, Minneapolis, Tulsa, and Albuquerque.
Plans are under way for a series of television broadcasts, which will enable millions of homes to receive a one-hour revival special and live coverage of the Awake America rallies. And discussions are in the works for a dozen arena and stadium crusades next year in North American cities such as Dallas, Miami, Vancouver, and Toronto, and overseas in South Korea, Singapore, New Zealand, Denmark, and Chile.
"God has spoken to my heart about accelerating all our efforts to reach as many people with the gospel as possible," Hill told CT.
GRADUATES GO FORTH: Even before the revival hits the road, members of the first graduating class from the Brownsville Revival School of Ministry will travel to U.S. churches for weekend ministry and abroad for ministry-intensive internships with churches and missionaries.
Founded in January 1997, the school opened with 120 full-time students. By last fall, enrollment numbered 1,035. In December, 90 graduated from the two-year school, with half of these signing up for optional third-year internships emphasizing hands-on ministry.
Brooke Lash spent much of her youth in church, but her faith never caught fire until she attended revival services three years ago. By 1997, she had enrolled in the revival school's inaugural classes. Now the recent graduate is going to India on an internship. "The Lord has taught me a lot, both in class and out of class," says the earnest, enthusiastic 21-year-old.
Michael L. Brown, the president, says the school's focus is "preparing qualified workers for the harvest," not producing Christian intellectuals. "We are not pretending to be a seminary, or trying to take the place of a traditional four-year school."
He sees no reason for the Brownsville revival to end but says it will have a lasting legacy even if services stop tomorrow. "Regardless of which way things turn in the weekly revival services, Brownsville will continue to be a revived sending base, and the school will continue to send workers to the ends of the earth."
CRITICISM CONTINUES: Still, the revival has its share of critics.
Last June, a distraught father put his dead six-week-old baby in a picnic cooler and brought her body to Brownsville for prayer, hoping she would be raised.
Kilpatrick, 48, says church employees urged the father not to take such action. "The last thing we needed was for somebody to come here with a dead baby, stirring up controversy," Kilpatrick told CT.
But the father brought her anyway. And even though Kilpatrick says he had "no expectation" that the child would be raised through prayer, he ushered the despondent dad into a church office, took the cooler into the church's sanctuary, and spent a half hour praying alone. The baby did not revive, but Kilpatrick believes he acted correctly under the circumstances.
"Whenever my feet land on the shores of heaven, I don't want to have to look at God and say, 'I didn't think you could do it,'" he says.
Three months later the Pensacola News Journal published a story about the episode and raised questions about the revival's teaching on miracles. The newspaper also criticized David Hogan, a missionary in Mexico who had spoken at the School of Revival in 1997 and claimed to have raised dead people to life.
Kurt Goedelman, founder and executive director of Personal Freedom Outreach in Saint Louis, an anticult ministry, recites a litany of problems he sees with the revival, including the way leaders handle Scripture, the way they "inflate" statistics about converts by counting repeat repenters, and the ways they "play on people's emotions and give them false expectations and false hopes."
An editorial in the latest issue of his ministry's Quarterly Journal repeated charges originally published in the News Journal that Pensacola leaders have unethically enriched themselves from the millions of dollars that have flowed into church and ministry coffers. "[We have] long contended that the revival was more commodities and merchandising than biblical sanctification," the editorial stated.
ECFA APPROVAL: Last fall, however, the Evangelical Council for Financial Accountability (ECFA) approved two revival-related ministries for membership in the evangelical financial watchdog organization: Kilpatrick's Feast of Fire Ministries and Hill's Together in the Harvest. ECFA President Paul D. Nelson told CT, "They made the changes we required of them, and they also made changes we recommended as well."
Nelson says there is no evidence that either ministry has done anything unethical or illegal. "These were small organizations that suddenly got a lot of voltage through them," he says. "Whatever problems they had at the very beginning, the idea that they were unlawfully or unduly benefiting from this was not the case." Nelson adds that Kilpatrick and Hill "make fine salaries, but that's not the same thing as doing something wrong."
Meanwhile, ministries operated by Brown and church worship leader Lindell Cooley are still seeking ECFA approval.
Have something to add about this? See something we missed? Share your feedback here.
Our digital archives are a work in progress. Let us know if corrections need to be made.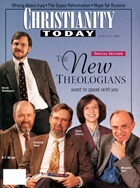 This article is from the February 8 1999 issue.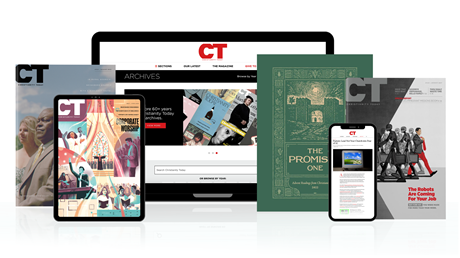 Subscribe to Christianity Today and get access to this article plus 65+ years of archives.
Home delivery of CT magazine
Complete access to articles on ChristianityToday.com
Over 120 years of magazine archives plus full access to all of CT's online archives
Subscribe Now
Revival: Pensacola Outpouring Eyes Global Goals
Revival: Pensacola Outpouring Eyes Global Goals