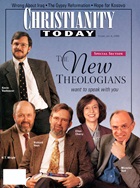 This article is from the February 8 1999 issue. Subscribers can read all of CT's digital archives.
Let us declare at the outset: Saddam Hussein is a despicable despot, not to mention a polecat and a poltroon. A mid-January commentary from the official Saudi news agency called him the "Baghdad tyrant" and urged an Iraqi revolution to overthrow him because he has killed and tortured thousands of his own people. About the same time, the Egyptian foreign minister said Saddam is "shaming the entire Arab region through his politics."
Clearly, Saddam, who doesn't love his neighbors, is not loved by them. Nevertheless, just one day after they called Saddam the "Baghdad tyrant," the Saudis led the foreign ministers of six Persian Gulf states in a statement of cautious support for lifting the embargo on Iraq, except for goods that can be used for military purposes. (True to form, Saddam immediately rejected the overture because it was the Saudis who suggested it.)
Having agreed that Saddam is a tyrant, at CT we find ourselves sharing the Arab States' compassion toward the Iraqi people. They continue to suffer a slow and agonizing death—of their country, their culture, their children, and their future—eight years after the end of the Gulf War. But although the Clinton administration drew our attention to Iraq with a brief December display of raw power—designed, many say, to distract us from the Commander in Chief's impeachment hearings—we are likely to see the fickle news media ignore the ongoing suffering. When the bombing stops, the Iraqi people are invisible once more.
A strategy that misfires Because of the United Nations sanctions imposed on Saddam, and held in place at U.S. insistence, sewage-treatment facilities and water-treatment plants are broken and cannot be repaired, chlorine for water purification ...
1
Our digital archives are a work in progress. Let us know if corrections need to be made.
A Silent Holocaust in Iraq
A Silent Holocaust in Iraq