DATA
AGE
50
POSITION
Professor of New Testament at The Divinity School, Duke University
NOTABLE BOOKS
Echoes of Scripture in the Letters of Paul (Yale, 1989)
The Moral Vision of the New Testament: A Contemporary Introduction to New Testament Ethics (Harper-SanFrancisco, 1996)
First Corinthians: A Bible Commentary for Teaching and Preaching (Westminster John Knox, 1997)
To use a baseball image (and Richard Hays is a serious fan of the minor league Durham Bulls), Hays has hit a home run every time he has stepped to the plate. His Ph.D. thesis, on the correct translation of a phrase in Galatians, sparked theological discussion that continues to this day. His book Echoes of Scripture in the Letters of Paul helped reverse the long-standing belief that the Old Testament was of little importance for Paul's theology. Greg Jones, dean of Duke Divinity School, calls that book "a stunning achievement," and says it was "one of the few books I can remember reading and thinking, 'This is going to change a lot of my thinking.' "
Hays's latest book, The Moral Vision of the New Testament, may well become the standard work in New Testament ethics. Fuller Seminary President Richard Mouw says of Hays, "Richard is a triple threat: a gifted interpreter of biblical materials, an expert on the history of early Christianity, and a first-rate ethicist." In Moral Vision, Hays not only takes up crucial issues in a compelling way, he carefully shows every seam of his argument, so that reading Moral Vision becomes an education in how to reason biblically about ethical issues.
Hays pulls no punches, applying the New Testament texts as morally authoritative on such contentious concerns as homosexuality and divorce. As such, he is bound to please conservatives. Yet when I called around I heard divided opinions about how much of an evangelical Hays is. Hays himself was hesitant about being interviewed for Christianity Today. "I've got such a funny package of diverse ecumenical religious connections," he muses. "The Methodist Church, William Sloan Coffin, Francis Schaeffer, a charismatic, Anabaptist house church community … "
Hays considers himself an evangelical, and he unquestionably has the deep commitments to Jesus and the Bible that are associated with evangelical faith. He resists, however, any attempt to harmonize the divergent views of New Testament authors. That sometimes means he sets one Gospel at odds with another, even concluding that one is historically inaccurate when it seems to run contrary to another. He is not in tune with an understanding of Scripture as inerrant, not because he has trouble believing in miracles or obeying scriptural commands, but because he thinks inerrancy as a theory tends to blind one to the realities of the texts themselves. His version of evangelicalism—a more Wesleyan version, he says—is interested in the living effects of Scripture more than in theories of inspiration.
There is no denying the heartfelt evangelical orientation. Hays has a testimony, as they say. He grew up in and around a large Methodist church in Oklahoma City, where his mother was the organist. As with so many children of mainline churches, Hays's faith evaporated during his high-school years. By the time he began Yale University, he had stopped going to church altogether.
It was the era of Vietnam War protests and earnest searches for meaning. Hays grew fascinated by the antiwar ministry of Yale Chaplain William Sloan Coffin. He took literature and philosophy courses addressing "big issues." No clarity emerged from his confusion, however. A Wellesley student he was dating told him of Francis Schaeffer, who had greatly influenced her InterVarsity-related Christian fellowship. At his girlfriend (now his wife) Judy's behest, Hays traveled to Cambridge to hear Schaeffer, reacting ambivalently. "On the one hand, I said, 'Boy, this is superficial. He's painting with such a broad brush that this is not intellectually serious.' But on the other hand, I said, 'But you know, he's right about a lot of stuff.' "
While home on holiday, waiting for a Christmas Eve service to begin, Hays reached a spiritual turning point. "I was sitting there reading a pew Bible, and the text my eye fell on that just transfixed me was in Mark 8:34-35, a passage that says, 'Whoever tries to save his own life will lose it, and whoever loses his life for my sake and the gospel's will find it.' I was riveted by the recognition that my intellectual quest had been trying to work out some way to save my own life. For me it was a turning, to say, okay, I'm going to lay down my life to follow Jesus and trust that I'll be led into an understanding that will make sense of the world."
Even so, he floundered trying to find a Christian community. After graduation and marriage in 1970, Hays and his wife, Judy, spent two weeks at Schaeffer's L'Abri—Hays remained ambivalent—and then proceeded to Perkins School of Theology in Dallas, where Hays intended to study for Methodist ordination. In a very short time, he realized he had made a mistake. Mainstream Methodism felt intellectually mediocre and institutionally stifling; Dallas seemed to be a million miles from Yale. "My wife and I said, this is awful, we can't stand this; what are we going to do? Through friends I got a job teaching high-school English in Massachusetts. But the really important thing that happened was that we met up with other people who were interested in forming Christian community."
Six people moved into a house together, sharing possessions and launching a fledgling house church. Coached by a Mennonite house-church community in Evanston, Illinois, they grew to 50 members and took the name Metanoia Fellowship. It was a deeply serious experiment in Christian communalism where Hays began to find his vocation.
"I was doing a lot of teaching of Bible studies for the community and repeatedly had people affirm that I had real gifts as a teacher. Eventually we were sent out by the community so that I could go to school full-time." He applied to Gordon-Conwell Theological Seminary, but the school would not waive residency requirements. Instead, he began at Yale Divinity School.
"I was immediately excited by what I was learning, but I was also frustrated by what I saw happening in the academic study of the Bible. I continued to feel, 'I can do better than this.' If I were the one researching these problems or writing these articles, teaching these classes, I could present ways of understanding and appropriating Scripture that were more life-giving, more edifying for the church. So that was a very intentional part of my agenda—I felt called to wade in and fight some of those intellectual battles to reclaim Scripture for the church.
"The first thing that struck me was the way in which biblical scholars would end up fragmenting the text. Having been an English major at Yale, I had been very much shaped by the perspectives of the New Criticism. All of my instincts as a reader were to trace and savor and appreciate internal tensions and ambiguities in texts as essential to their overall literary sense. Whereas the tendency for biblical critics, particularly coming out of Germany, was to assume any time there was a tension in a text it must be a seam that showed it had come from some other source. I was genuinely mystified and baffled by what I saw biblical scholars doing to texts—failing to read them whole. I think it's obvious that when you do read them whole the result is more spiritually edifying for the church.
"It had to do with a kind of tone deafness to metaphor and to literary effects of all sorts. But it also had to do with presuppositions that were a priori skeptical and hostile toward the claims of the text—about the possibility of God's action in history, about the possibility that spiritual powers might actually operate in historical events. I would read things that would say, 'Well of course the resurrection is not a historical event,' and then go on to try to reconstruct the early church on the basis of that presupposition. That seemed to be getting it all backwards. It seems to me that the development of Christianity and the early church is explicable only on the assumption that the resurrection was a historical event."
Hays says he had never been an outstanding student, but now he found himself engrossed in biblical scholarship. His professors recommended more study, and he went to Emory for his Ph.D., supported through a John Wesley Fellowship—a program meant to encourage evangelical Methodist scholarship. Yale then took him back as a professor. "From day one at Yale Divinity School, I felt an astonishing joy and energy and rightness about what I was doing. I can't think of any way of talking about it except to say this is an outpouring of the Holy Spirit. This is what it's like to be exercising the gifts of the Holy Spirit. This is that for which I was put in the world."
Hays treasures a framed citation given him by his students when he left Yale for Duke; it speaks of his "inspired teaching which opened the Scriptures to us, making our hearts burn with their power" and "gentle prayers before each class which helped us remember God's presence with us amid the chaos of academic pressure." And yes, you read that right: Hays opens every class in prayer.
I asked Hays whether times are changing—whether an orthodox Christian message could receive a response in academia that would have been impossible 30 years ago. "Well, it's an interesting question," Hays said. "Maybe, only in this sense, that 30 years ago there was much more of a consensus in the academy that there was something called the 'historical critical method' that could produce objectively verifiable results. The fact that the consensus has collapsed has contributed to the splintering and fairly chaotic state of the discipline. I suppose it's opened the door a crack."
Hays seems less concerned by his reception within the academy than his ability to move the church. "Is anybody out there listening? Is the church listening? That's my concern, and it's the church that will have influence on the larger community. Nothing I or anyone writes commending the faith will have much of an impact unless there is a community living that faith."
It's quite a traditional role that Hays seeks to play: teaching future pastors to read the New Testament whole, with faith. What makes his approach hard for skeptics to resist is the quality of his mind: supple, clear, and persuasive, extremely well informed. It is hard to find a hole in his arguments.
Not that he expects to change many minds among those who, as he says, "find their community of discourse in a sort of antichurch." To conservative evangelicals, however, "I would want to make the point that they shouldn't be too quick to leap to judgment, to draw hard and fast lines. My experience has been that if one is willing and able to enter into dialogue within the university in a way that is rigorous and charitable, imaginative and open minded, one finds a lot of receptivity, a lot of appreciation even, for what evangelical scholars have to say. I think evangelicals sometimes have made the mistake of too quickly drawing a line in the dirt, and separating themselves in situations where there could be more mutual interchange."
Hays himself is certainly not about to withdraw into a small and protected niche. In the short run he is working on a commentary on Galatians (he published 1 Corinthians in 1997), and he hopes to extend the themes of Echoes of Scripture with a book examining the use of the Old Testament by the Gospel writers. Long-term, he aspires to write a one-volume Theology of the New Testament. When I asked him to explain, he cited Bultmann's Theology of the New Testament. "[Bultmann] proposed ways of structuring inquiries into the New Testament that have had enormous influence over 50 years. There's a need for a work that provides a paradigm. We haven't had one in a rather long time."
Have something to add about this? See something we missed? Share your feedback here.
Our digital archives are a work in progress. Let us know if corrections need to be made.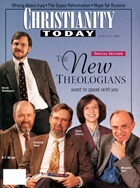 This article is from the February 8 1999 issue.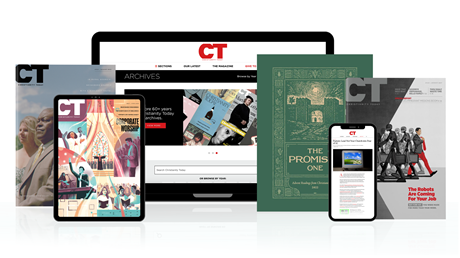 Subscribe to Christianity Today and get access to this article plus 65+ years of archives.
Home delivery of CT magazine
Complete access to articles on ChristianityToday.com
Over 120 years of magazine archives plus full access to all of CT's online archives
Subscribe Now
Richard Hays: Recovering the Bible for the church.
Richard Hays: Recovering the Bible for the church.