Seeking to stem the tide of violence in public schools, the parents of three 1997 murder victims in Paducah, Kentucky, have filed a $100 million federal lawsuit claiming a variety of "defective" media products—computer games, Internet sites, and a motion picture—triggering the fatal assault by Michael Carneal.
Named as defendants are the makers of computer games Quake and Doom, as well as of Sega and Nintendo game systems and the producers and distributors of The Basketball Diaries, a 1995 Island Films release based on Jim Carroll's 1978 novel. Both the novel—a recounting of the diary of a disaffected high-school student—and the film had scenes where the protagonist shoots a gun into a classroom of students, but the movie, which starred Leonardo Di Caprio, made the scene more graphic and violent.
In his trial, Carneal, who is serving a 25-year sentence without the possibility of parole for the murders of Jessica James, Kayce Steger, and Nicole Marie Hadley, relied on the testimony of Yale University medical professor Diane Schetky, an adolescent psychiatrist, who determined the killer had been "conditioned" by intensive exposure to violent games and movies.
The civil suit, filed by Coral Gables, Florida–based liability lawyer Jack B. Thompson and Bowling Green attorney Mike Breen, claims the products are "defective" because they taught Carneal how to kill effectively, without warning of their potentially deadly results.
"We have simply taken time-honored, adjudicated, reasonable-standard tort theory and applied it to these three categories of products," Thompson told CT. "The most understandable would be those theories applied to video games," which he calls "killing simulators" that teach advanced techniques on how to shoot.
Thompson notes that Carneal, at the time 14 years old, exhibited shooting be havior that belied traditional patterns for violent criminals. Where a shooter would normally fire several bullets at a victim and wait for them to fall before moving to the next target, Carneal, Thompson argues, used a far different learned behavior.
"Michael Carneal acted as if he were in a video game," Thompson says. "He was simply moving his arm back and forth, picking off targets with one shot."
Thompson says the rapid-fire technique is counterintuitive. "He must have learned it from a video game where you don't waste bullets."
DIRECT CONNECTION? The case drew renewed attention in the wake of the April 20 tragedy at Columbine High School in Littleton, Colorado, where Eric Harris and Dylan Klebold killed 13 persons and injured 23 before taking their own lives. Two victims, Cassie Bernall and Valeen Schnurr, were shot after answering affirmatively that they be lieved in God. Bernall died in the shooting while Schnurr survived.
In the wake of the Littleton tragedy, there have been manifest calls to urge Hollywood and video-game producers to set limits on what they depict and how they do it.
The notion that the same tactics used in training soldiers are at work in media and entertainment is not new (CT, Aug. 10, 1998, p. 31). And as the 2000 presidential election draws near, the theme likely will be repeated more often.
According to attorney Thompson, violent video games such as Quake and Doom are not "protected speech" under the Constitution.
"To suggest that a video game is First Amendment protected speech is incorrect," Thompson says. Rather, he contends the video game is a consumer product, which can be recalled if defective and could be subject to product liability claims.
"A Chatty Cathy doll that has a part a kid could choke on can be recalled," Thompson says. "The fact that it makes a sound doesn't make the doll First Amendment [protected] speech."
Video game producers have been notably silent on the question of whether their products induce or incite violence. John Carmack, whose Dallas-based company, ID Software, created Doom, says fan enthusiasm is what should determine the marketplace value of games.
"We make the games we like to play and throw them out into the world," Carmack told the Los Angeles Times. "We don't get involved in politics."
INTERNET TARGETS: Attorneys Thompson and Breen have also named a Web site and film as defendants in the suit. The Internet pornography site Persian Kitty is run by self-described "family-oriented" homemaker Beth Mansfield of Tacoma, Washington. Carneal apparently visited the site, which, by its own admission, "contains images of adult-oriented and/or sexually explicit material," even though such material should not be viewed by minors, according to Thompson.
"Some of what Carneal consumed [online] was obscene to minors, or indecent," Thompson says. "He should not have had access to this."
Thompson admits that his most difficult element to prove would be the claims against The Basketball Diaries, which he says "comes closer to the line of First Amendment–protected speech."
However, Thompson notes that the U.S. Supreme Court recently ruled that a suit against Oliver Stone's 1994 movie Natural Born Killers may proceed. The suit allows an "incitement clause" where a producer could be liable if a film incites violence, which Thompson claims happened in Paducah.
Have something to add about this? See something we missed? Share your feedback here.
Our digital archives are a work in progress. Let us know if corrections need to be made.
This article is from the June 14 1999 issue.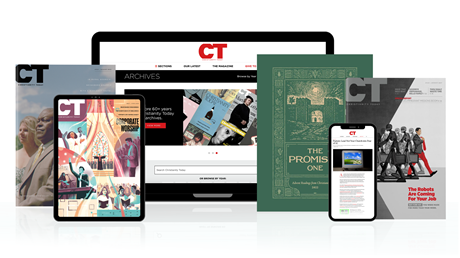 Annual & Monthly subscriptions available.
Print & Digital Issues of CT magazine
Complete access to every article on ChristianityToday.com
Unlimited access to 65+ years of CT's online archives
Member-only special issues
Subscribe
Shooting Aftermath: Parents Take Aim at Hollywood
Shooting Aftermath: Parents Take Aim at Hollywood