Gold Rush to Judgment
If there is one kind of advertising that has flooded the Christianity Today offices with angry letters in recent months, it is those "Y2K proof" gold ads. The November issue of Charisma contains an investigative piece on a different gold controversy reports of gold dust falling on revival services and dental amalgam fillings turning into gold. (CT covered the reports in our May 24 issue.) The writer, Elizabeth Moll Stalcup, was "a geologist for the federal government for 17 years" and began her assignment skeptically. But after discovering "two tiny bits of gold on [her] wrist," Stalcup became a believer. The article is quick to encourage readers to "focus on the Giver and not the gift," but ends with a classic Charisma wrap-up: "If people are being healed or converted to Christ, or if their faith is being strengthened, or if they are becoming more zealous in evangelism as a result of gold dust or gold fillings, then God is at work no matter how bizarre these miracles seem or how much they offend human reasoning." (Charisma's Web site only offers articles sporadically, but if it's up, you can find it here.)
Charisma

Warns Against False Profits

Also included in the Charisma issue, which devotes its cover story to Sudanese Christians, is a two-article package on financial abuse. The main article, "Fleecing God's Flock," recounts the latest church-affliliated financial scandals and encourages congregations to appoint a financial watchdog, write checks to companies, not individuals, and believe the saying about "If it looks too good be be true." All good reminders. Even more helpful is a sidebar condemning church leaders and not just pyramid schemers of manipulating Scripture to raise money. It attacks three common enticements: "If you don't give, God will curse your life," "You must give right now," and "Give, and you will receive instant solutions to the problems of life."
Theology Today

Examines Mary, "The Church's First Theologian"

Theology Today, Princeton Seminary's quarterly journal, is one of the most readable scholarly journals published today. A small measure of this is how the first three articles in the October issue begin in the first person. The journal usually has half a dozen articles or so on a given theme, followed by "Theological Table Talk," "Critic's Corner," poetry, and book reviews. This quarter, Theology Today is largely focused on Mary, whom editor Patrick Miller calls "the church's first theologian." "Mary, not Herod or Caesar, is God's revolutionary, imaginative way," Miller writes in his editorial. "She is the demonstration that nothing is impossible for the Lord." Subsequent articles address Mary's role in the Gospels, Catholic and Reformed views of the mother of God, a "feminist reflection on Marian piety" (which even nonfeminists will appreciate for its reclaiming Mary as a realistic, human role model), an examination of Our Lady of Guadalupe, and a look at Marian iconography.

This issue's "Table Talk" is yet another look at millennialism and the dangers of charting the future (I'll award a prize to the Christian publication least covering millennialism through the end of the millennium). The issue also contains a fascinating and unexpected look at The Prince of Egypt (an incredibly late review unless one remembers it was recently released on video). The film was nearly universally praised by Christian film critics, but the author of "The Prince of Darkness," a prison inmate, says the film is dangerous in its very nature. "Are we turning Scripture into the stuff of Greek mythology," he asks rhetorically, "Or worse, putting it on a level where it is comparable to such holiday TV fare as Santa Claus is Coming to Town?"
Focus to CCM industry: Stay off TV shows
Plugged In, Focus on the Family's media criticism magazine, censures in its November issue TV shows "Once and Again," "Popular," and "Get Real," films "Drive Me Crazy," "Fight Club," and "Blair Witch Project," and several CDs. Its back cover column, "The Last Word," even criticizes Christian bands for allowing their music on teen television: "Like it or not, [Grammatrain, the Newsboys, dc Talk, and Sixpence None the Richer] are partnering in the overall message of the series. In the case of shows like [Dawson's] Creek, Charmed, and Undressed, that message is either sexually or occultly driven. How can such involvement be condoned?" Associate editor Steven Isaac acknowledges that Jesus associated with "tax collectors and sinners," but adds, "at the risk of oversimplifying the issue, Jesus addressed sinners on their turf, but He would never have involved himself in an activity (a TV show or movie) that glamorized sin." On one hand, this seems like more all-or-nothing philosophy, a rejection of everything those bands are trying to accomplish. But part of me resonates with the argument. There's something horrifying about seeing a song's message perverted on screen like when U2's "Still Haven't Found What I'm Looking For" plays during the opening of The Runaway Bride.
Ted Olsen is the editor of ChristianityToday.com
Related Elsewhere
Previous Amassed Media articles:
Amy Speaks, but Doesn't Have Much to Say (November 8)
Why The New Republic Likes Millennialism (November 3)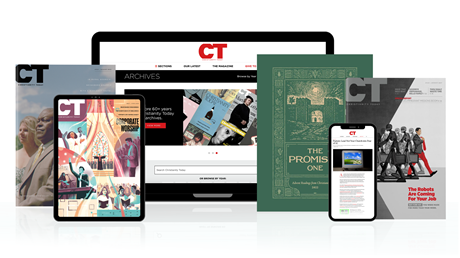 Annual & Monthly subscriptions available.
Print & Digital Issues of CT magazine
Complete access to every article on ChristianityToday.com
Unlimited access to 65+ years of CT's online archives
Member-only special issues
Subscribe
Amassed Media: There Be Gold in Them Thar Fills Claims Charisma
Amassed Media: There Be Gold in Them Thar Fills Claims Charisma