An estimated 2 million women around the world are victimized by sexual trafficking each year. But in Southeast Asia, a global hub for the sex trade, three Christian missionaries have created model programs to liberate prostitutes and keep young women out of the sex tourism industry.
One of world's largest recruiting grounds for prostitutes is in the mountains of northern Thailand. As many as 35,000 girls currently are enslaved in prostitution, according to Kevin Bales, author of the newly published Disposable People: New Slavery in the Global Economy (University of California Press). From Thailand, the girls are conveyed to Thai cities, Hong Kong, or elsewhere overseas. In New York, 30 Thai girls were released from their prisonlike bordello after one of them telephoned police for help.
Although local authorities have the legal power to curtail indigenous prostitution, they are ill-equipped to fight the underground network of sexual traffickers.
ESCAPING THE CYCLE: In the far northern mountains of Thailand, American Baptist missionary Zothan Siami Ralte, 39, battles the sexual traffickers with wooden loom, Bible, and chalkboard. Under her slogan, "Prevention is better than cure," Ralte has launched half a dozen enterprises to provide work, spiritual strength, and education to mountain-tribe girls who are at risk of falling prey to sexual traffickers.
Lasu is a typical example. As an orphan, she had little hope to marry or to learn enough to earn a living. Likely, she would have drifted into a coastal city where procurers scour the streets to "befriend" the lost and lonely. Ralte sprang into action when some relatives contacted her about Lasu. Ralte took her into her home, enrolled her in school, and started teaching her how to make mountain tribal cloth on a wooden loom. Today, Lasu tends to her flourishing family and teaches new lonely girls how to weave themselves a stable future.
In the Thai mountains, Bales says, some Buddhists are tolerant of prostitution, counseling resignation in the face of suffering, an attitude that puts girls of poor families at risk. The girls are also loyal to their families and may be willing to become prostitutes in order to provide for their families.
In addition, the lure of Western wealth draws girls. Human Rights Watch interviewed freed child prostitutes in Thailand and found that "wearing Western clothes in a restaurant" was the most common answer to the question: What does it mean to be a prostitute?
Tribal people have come to see Ralte as part warrior and part housemom as director of the Hilltribes Resources and Development Center. Born to Christian parents in a hill tribe in India, Ralte identifies with the young girls in northern Thailand. At age 26, Ralte went to teach in a Thai school. There she read newspaper accounts about young prostitutes. "I thought that if we could do something to prevent them from drifting into low-wage jobs in the city, we could keep them out of prostitution," she says.
But Ralte had no money, no experience, and few connections. At first, she rented a house and took in five at-risk girls, parentless or poverty-stricken, to live with her. Two of the now grown-up girls help Ralte with the Hilltribes Center ministry. Sula, one of those two, helps Ralte with cooking, teaching, and office work. "I hope to graduate from teacher's college, share Christ with my parents, and help the other girls," Sula says.
With help from Swedish Baptists in 1989, Ralte started by helping 25 girls from two provinces. She soon realized that the education and Bible studies needed to be supplemented by vocational training. So Ralte hatched her 14-village weaving combine in 1991.
Lately, Ralte has become concerned that there are not enough good Christian suitors for her girls. "Some of the boys were addicted to opium and brought problems into their marriages." So she brought 40 boys to her school and has been a mountain matchmaker. "I have not lost a girl to prostitution yet."
Like a mountain warlord, Ralte fights off the dangers of modern society. Now, she is extending her impact by training lay leaders from all over the region in her new Bible training institute.
RISK OF AIDS: But too many girls from the villages still slip down into Thailand's coastal plain to cities, such as Chiang Mai, about 325 miles from Bangkok.
Despite rumors of woe and the visible presence of aids, many mountain girls nonetheless end up as prostitutes.
Author and researcher Bales, who is a Quaker, vividly recalls one child prostitute, Siri, who told him that she was frightened of AIDS because of the number of young prostitutes from her village who returned home to die from AIDS after being sold into the brothels. Siri was living in a 5-by-7-foot room and would have sexual relations with as many as 15 men in one evening.
Another young woman, Miisa, ran away from slavelike conditions in the mountains to find work in Chiang Mai. There she came across Lauran Bethell, also an American Baptist missionary. Bethell, with her ministry team, combs the streets and brothels for girls at risk of being lured, tricked, or kidnapped into prostitution. "If you don't get to the girls within a couple of months of becoming a prostitute, they almost never make it out," Bethell says. "By that time they don't have much to lose and have be come addicted to the money and sex." Many believe that the only way they can become part of modern society is to make money by selling their bodies.
However, several hundred girls have been rescued by Bethell, a California native. Two-thirds of her staff are tribal women who themselves came from the brothels and streets.
In 1987, Bethell founded New Life Center in Chiang Mai by taking in 18 girls. Known as an anti-madam, Bethell now rescues, houses, and educates more than a hundred girls at a time.
"One of our very first girls, Miisa, came from a brothel," she recalls. "At first she didn't know whether to trust us. Here we are with a house of girls just like another brothel."
At age 13, Miisa ran away from her mountain home and fell into the hands of a brothel owner. "She cried every night and was used by seven or eight men a day in a tiny, dark room," says Bethell, who led police to raid the brothel.
"The girls have a spiritual vacuum inside and are searching for a spiritual answer," Bethell says. "Here they are treated like they have never been treated in their lives. New Life is the most secure place they have ever been. We share Jesus, and they absorb it like a sponge."
Bethell has been asked by the International Justice Mission (CT, Aug. 9, 1999, p. 34) to teach other groups around the world how to help girl prostitutes. Attention started to come to New Life Center as a result of a visit in 1996 by First Lady Hillary Clinton. "She enhanced the view of us in the eyes of the local Thai government," Bethell says. Earlier this year, Secretary of State Madeline Albright followed up Clinton's visit by asking Bethell and tribal members of her staff how she could help.
EXPORTING PROSTITUTES: The issue of Thai mountain girls is the subject of global concern because they are exported worldwide. In Hong Kong, some missionaries are desperately working against this sexual trafficking.
Jackie Pullinger, a legendary figure in Christian mission in Hong Kong, runs the Saint Stephen's Society like an intense family-run hospice for the sick and dying. But her ministries encompass prostitutes, people with AIDS, street people, drug addicts, the elderly, and Vietnamese boat people.
"First Stage House" at Saint Stephen's is the crucible of the ministry. There, opium addicts go cold turkey surrounded by people who hug, touch, and pray for them 24 hours a day. The immense bonding that results carries worker and ex-addict alike into an intense life with Christ and Christian community during the next nine months.
At any one time, Saint Stephen's may have up to 300 residents coming off drugs or looking after those coming off drugs in residential houses. Pullinger has a motherly demeanor, tempered by the harsh realities of Hong Kong's dark side. She started her ministry in the notorious Old Walled City of Kowloon, a place ruled by gangs. In an alley, Pullinger rented a room to welcome Chinese gangsters, prostitutes, and drug addicts.
In her book, Chasing the Dragon (1980, Servant), Pullinger recalls one time she befriended a young prostitute and started to pray for her. To buy the prostitute out of her owner's hands, Pullinger, who had played for years in the Hong Kong Philharmonic Orchestra, sold her much-loved oboe. The prostitute's owner, accompanied by several armed henchmen, confronted Pullinger, calling her a fool for parting with her prized possession in an attempt to change the girl's life.
"I would rather be a fool and lose the money," Pullinger remembers telling him. "After all, what's losing the money? Jesus lost a life. I cannot change her life, but she has the opportunity. Jesus made that opportunity."
AMERICAN EFFORTS: The trio of missionaries is not alone in fighting prostitution. Volunteers and political activists in the United States are putting together a global strategy to fight child sex slavery.
For instance, Laura Lederer, who heads the John F. Kennedy School of Government unit on sexual trafficking, has joined with Rich Cizik of the National Association of Evangelicals in Washington to co-organize antisexual trafficking legislation in Congress (CT, Aug. 9, 1999, p. 18).
Lederer expects that the Freedom from Sexual Trafficking Act will come to a floor vote this fall. The bill, introduced by Reps. Christopher Smith (R-N.J.) and Marcy Kaptur (D-Ohio), would provide legal tools to punish sexual traffickers, pressure foreign governments to meet minimum standards for the elimination of sexual trafficking, and provide counseling and relief aid for the victims.
Susan Keil of New York City had plans to be a conventional missionary on a short-term trip to Thailand. But upon meeting Bethell, Keil gained a new vision. She left her job and entered Columbia University this fall to learn how to strategize against the sexual traffickers. Keil realized that preaching, economics, and law can work together.
Bethell's ministry "showed me that God has something for me to do," Keil says. "I saw how brothels had been closed down by police through Bethell's efforts. That's a sign of hope."
The three Christian missionaries are making an impact. A new corps of anti-madams is arising.
Have something to add about this? See something we missed? Share your feedback here.
Our digital archives are a work in progress. Let us know if corrections need to be made.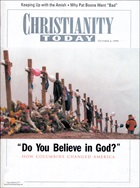 This article is from the October 4 1999 issue.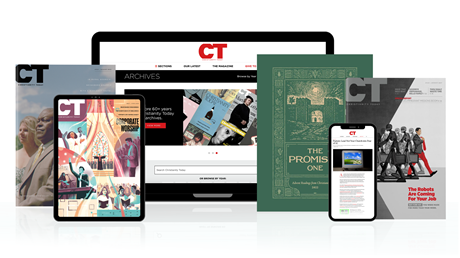 Annual & Monthly subscriptions available.
Print & Digital Issues of CT magazine
Complete access to every article on ChristianityToday.com
Unlimited access to 65+ years of CT's online archives
Member-only special issues
Subscribe
Asia: Christian Women Combat Sex Trafficking
Asia: Christian Women Combat Sex Trafficking