Men with long braids and rings in their eyebrows fill the Basie Ballroom at the Kansas City Marriott. A few women, hair peroxide-blonde or tar-black, sport skimpy halter tops that reveal tattoos of flowers and colorful butterflies. The country's most acclaimed body-piercing artist shows off pictures of his new house outside of Albuquerque and tells a story about going hiking clad only in cowboy boots, socks, and skull-and crossbones boxer shorts. ("I like to buy my underwear around Halloween.") Welcome to Tattoo Rendezvous '99, where 40 or so tattooists have gathered to tout their wares. It's an unlikely place to find a strong Christian witness. But along the back wall, under a banner advertising Cherry Creek Flash, sits Rand Johnson, vice president of the Christian Tattoo Association. He hasn't come to do any tattooing, though he does decorate plenty of skin at his tattoo parlor in Willmar, Minnesota. Johnson has come to share the gospel with his fellow tattooists.
The Christian Tattoo Association (CTA) was born on a January night in 1998 in Willmar when Johnson and Daniel Ostrowski (a.k.a. Hoss, after the character on Bonanza) were sitting around lamenting the fact that there was no organization for Christian tattooists. "We were brainstorming about how many Christians in the business we knew, and we were really surprised we knew so many," recalls Hoss, now president of the CTA (he's also an ordained minister with the Association of Faith Church). Although there may be more Christian tattoo enthusiasts than one might expect—the CTA boasts about 100 members from Arkansas to Alaska, as well as from Guam, Norway, Canada, and South Africa—the vast majority of tattooists do not know the Lord. "There's probably a group that evangelizes bowling leagues," notes Johnson, "but there was no group that targeted tattooists. And this industry is in desperate need of evangelism."
Rather than tattoists' being hostile to Christianity, believers at Tattoo Rendevous find that it's Christians who are hostile to tattoos.
Johnson, who was a commercial artist for 25 years before he learned the tattooing trade, is an ordinary-looking man with a gray goatee and unfashionable aviator glasses. Compared to many other artists at Tat too Rendezvous, Johnson is lightly adorned—the only visible tattoo is a large cross on his right forearm. But he's something of a star in the tattoo world. When you walk into a tattoo parlor, the walls are covered with colorful art called "flash." If you want a rose, for instance, finger the one displayed on the wall and the tattooist will use it as his pattern. John son is the foremost flash artist in America. During the first day of the convention, at least half a dozen tattooists stop by Johnson's booth to tell him that almost everyone who steps into their shops wants a tattoo of one of his clowns or fish or stars.
The message the CTA presents to fellow tattoo artists is simple. Hoss, who once won a copy of The Message on a radio show contest for the strangest job ("No one could beat full-time pastor/full-time tattooist"), says the CTA is "just trying to get back to the basics." His Web site, which has about 1,500 hits a day, reminds visitors that "The Artist of the Universe loves you. Just as you are. Right now. His mercy opens the door. His grace invites you in. And His Son paid your bill." God's "Eternal Ink" is free—"It has to be free," the Web site re minds us, "be cause you can't be good enough to deserve the Master Tattooist's ink."
The CTA members are passionate about evangelism. "If Christians put their faith in their mouth, there'd be a big change in this country," says Johnson. Hoss concurs: "It's time for Christians to come out of the closet. Some Christians meet new people, and they are afraid the people they're meeting will find out they're born again; I'm afraid I'll meet someone and they won't know I'm born again. I want everybody I meet to know I'm nuts for Jesus."
Hoss does not aim to get every tattoo enthusiast he meets to say the sinner's prayer. "Just today on the plane down here I met a woman who was real hostile to Christianity. I had the opportunity to share my faith with her, and I know she left the plane a little more open. That was definitely evangelism, even though I didn't say, 'Kneel with me.' " Gesturing to the tattooed and pierced bodies in the ballroom, Hoss says, "Lots of people in here have been burned by Christians; so if we can simply get them to understand that not all Christians are going to judge them, then we've evangelized. Everybody everywhere is moving toward a decision about Jesus Christ or building on the decision they've already made. Our job is to help move them toward that decision, even if we're not there to see the decision made. If you start with someone who doesn't even believe in God, and after getting to know you, they are more open to the idea that there is a God, then you've evangelized."
While the group's main purpose is evangelistic, the CTA is also devoted to "encouraging and letting other Christians in this industry know, 'No, you're not alone.'" On that count, the CTA is a success. Glancing at the CTA fliers on John son's table, a young man in a Tattoo Rendezvous staff T-shirt hazards, "Are you a Christian?" When Johnson answers in the affirmative, the staffer introduces himself as Colby Hendrickson and declares, "I am too. Nice to know there are a few others here." On Hendrickson's right arm is a tattoo of a band of thorns; above the thorns is a large tree with a tombstone—Satan's—marked 2-6-98, the day Hendrickson was saved.
Sometimes Johnson's and Hoss's colleagues rib them about their faith, but usually they're respectful and curious. A few hours into Tattoo Rendezvous, a tattooist named Bubba approaches Johnson and tells about a Christian minister who called him up and threatened fire and brimstone if Bubba tattooed his 22-year-old daughter. "It was so judgmental," Bubba spits, disgusted. But he's interested nonetheless. "I grew up Catholic and then I kind of fell away. Well, I did fall away. Then I moved; I did a lot of reading about Native [American] stuff. I think of myself as spiritual."
Johnson seizes the moment, explaining gently that while lots of Americans are spiritual or believe in God, "it comes down to his Son, Jesus." Bubba is due back at his own booth, but before he leaves, he gathers a stack of CTA paraphernalia and jots down Johnson's phone number, with a promise to call.
Rather than tattooists' being hostile to Christianity, the believers at Tattoo Rendezvous find that it's Christians who are hostile to tattoos. Hoss is a devoted fan of Philip Yancey's—next to the Bible, What's So Amazing About Grace? changed his life "more than any other book except the Bible." That's why it was all the more disappointing for him to read Yancey's paraphrase of the Old Testament prophetic writings in his newest book: adopting the voice of God, Yancey describes how God feels when Israel rebels against him. "I feel like a parent," Yancey writes, who adopts a baby girl, feeds her, showers her with jewelry, pays for the finest education. Then the girl runs away, and God hears that "she's a drug addict somewhere, covered with tattoos."
"There is a lot of bias against tattoos out there," Johnson warns prospective clients, despite the fact that tattooing has "become much more mainstream" in the last eight years, with middle-class, educated young folks shelling out big bucks in record numbers for body art. Christian parents shouldn't overreact, Johnson says, when their daughter comes home from college with a hummingbird emblazoned on her shoulder blade or a moon on her ankle: A tattoo does not mean your teen is wandering into a foreign subculture of drugs and debauchery. "If that's your child's rebellion, rather than drinking heavily or getting into marijuana and cocaine, then you don't have much to worry about." Nor do CTA members have much patience for the reproach that Leviticus 19:28 forbids tattooing. They tackled the question in the second issue of their newsletter, Eternal Ink. "So you're going to hell if you get a tattoo. And if you eat pork or shrimp," sighs Johnson, noting that Leviticus 19 also prohibits trimming one's beard and mixing linen and wool in fabric. "Fortunately, there's a New Testament."
Christians have other questions about tattoo theology. One asked Johnson: Will we still have our tattoos on the resurrected body? "Well, sometimes I imagine that every tattoo I've ever put on somebody else will be on me," Johnson jokes. "The ink sure will be radiant."
For more information about the Christian Tattoo Association, check out Hoss's Web site, which has a link to the official CTA site, at http://home.dwave.net/~hoss
Have something to add about this? See something we missed? Share your feedback here.
Our digital archives are a work in progress. Let us know if corrections need to be made.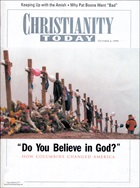 This article is from the October 4 1999 issue.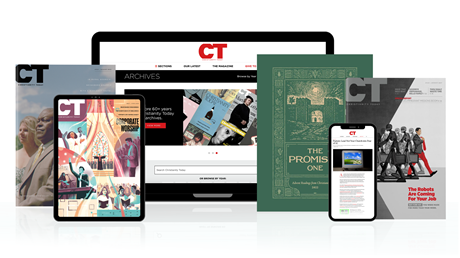 Subscribe to Christianity Today and get access to this article plus 65+ years of archives.
Home delivery of CT magazine
Complete access to articles on ChristianityToday.com
Over 120 years of magazine archives plus full access to all of CT's online archives
Subscribe Now
Eternal Ink
Eternal Ink