The Might of a Dandelion

Saints are never giants
Who hoped to do God favors.
They are only souls
Whose needs took root
In shallow dust,
Becoming redwoods grown
From dandelion spores.

—Calvin Miller in Symphony in Sand

Down Before Up
Growing spiritually can be like a roller coaster ride. Take comfort in the knowledge that the way down is only preparation for the way up.

—Rebbe Nachman of Breslow
in The Empty Chair

When All Else Fails
Faith is what you have in the absence of knowledge.

—Flannery O'Connor,
quoted in Refresh My Heart
We Know Who Holds the Future
When was the last time you thanked the Lord for not showing you the future? I'm convinced that one of the best things God does for us is to keep us from knowing what will happen beyond today. Just think of all the stuff you didn't have to worry about just because you never knew it was coming your way!

—Charles Swindoll in
David: A Man of Passion and Destiny

The Chisel's Pain

We must offer ourselves to God like … a piece of stone. Each blow from the sculptor's chisel makes it feel—if it could—as if it were being destroyed. As blow upon blow descends, the stone knows nothing of how the sculptor is shaping it. All it feels is a chisel chopping away at it, cutting it, and mutilating it. … [I]t might [say]: " … I have no idea what he is doing, nor do I know what he will make of me. But I know his work is the best possible. It is perfect and so I welcome each blow of his chisel as the best thing that could happen to me, although, if I'm to be truthful, I feel that every one of these blows is ruining me, destroying me, and disfiguring me."

—Jean Pierre de Caussade,
quoted in The Inner Treasure

Move on Ahead
Don't stay locked in your past. Don't keep focusing on yesterday with its heartaches and problems. It's not important how many people have disappointed you, failed you, and done you wrong. The crucial issue now is not what they did, but what God has done … and what He's going to do. Go forward. Keep believing. Keep moving!

—Andrew Merritt in
My Faith Is Taking Me Someplace

Use the Right Standard
The best way to show a stick is crooked is not to argue about it or spend time denouncing it, but to lay a straight stick alongside it.

—Ugandan Archibishop Janani
Luwum when challenged about
his "friendship" with
tyrant Idi Amin;
shortly afterward he was
abducted and executed

Beyond Hypocrisy
It is not well for a man to pray cream, and live skim milk.

—Henry Ward Beecher
in Life Thoughts

A Superior Royalty
Christ brought to the world a new conception of royalty. He rules by love and not by force. That, as he expressly said, is the difference between his Kingdom and the kingdoms of this world. His most regal act was the supreme self-sacrifice whereby he would draw all [people] to himself and make them willingly obedient to him forever.

—Archbishop William Temple,
from "Inasmuch,"
sermon at Westminster Abbey,
August 17, 1919

Keep on Keeping On
God grant me the courage to change the things I can change; the serenity to accept those I cannot change; the wisdom to know the difference—but God grant me the courage not to give up what I think is right even though I think it hopeless.

—Adm. Chester W. Nimitz,
quoted in You Can Say That Again
(after Reinhold Niebuhr)

Loving God
Some people want to see God with their eyes as they see a cow, and to love Him as they love their cow. They love their cow for the milk and cheese and profit it makes them.

This is how it is with people who love God for the sake of outward wealth or inward comfort. They do not rightly love God when they love Him for their own advantage. Indeed, I tell you the truth. Any object you have in your mind, however good, will be a barrier between you and the inmost truth.

—Meister Eckhart,
quoted in Heirlooms
Our digital archives are a work in progress. Let us know if corrections need to be made.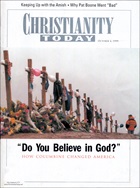 This article is from the October 4 1999 issue.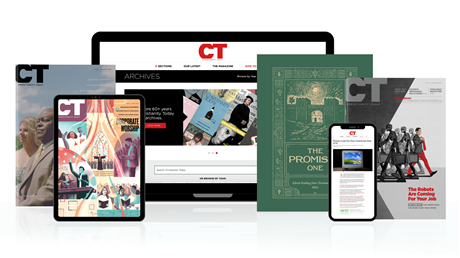 Find hope and historical insight. For a limited time, explore 60+ years of CT archives for free!
Daily devotions from Timothy Dalrymple during this pandemic.
Hundreds of theology and spiritual formation classics from Philip Yancey, Elisabeth Elliot, John Stott, and more.
Thought journalism that inspires you to think more deeply about your faith.
Classic & Contemporary Excerpts from October 04, 1999
Classic & Contemporary Excerpts from October 04, 1999