How young I was at the period of my crisis, I do not remember. Young enough to crawl beneath the pews. Short enough to stand up on the seats of pews, when the congregation arose to sing hymns, and still be hidden. Old enough to hold womanhood in awe, but much too young to tease women. Old enough to want to see Jesus. Young enough to believe that the mortal eye could see Jesus.I wanted to see Jesus. There was the core of my crisis. I mean, see him as eyewitnesses are able to see: his robe and the rope at his waist, his square, strong hands, the sandals on his feet, his tumble of wonderful hair, and the love in his eyes, deep love in his eyes-for me!For it seemed to me in those days that everyone else in my church must be seeing him on a regular basis, and that I alone was denied the sight of my Lord. They were a contented people, confident and unconcerned. I, on the other hand, I felt like a little Cain among the Christians, from whom the dear Lord Jesus chose to hide particularly. No one seemed to tremble in the Holy House of the Lord. But I … Well, the knowledge of my peculiar exile came all in a rush one Sunday, when the preacher was preaching a mumblin' monotone of a sermon. One sentence leaped from his mouth and seized me: "We were eyewitnesses," he said. Eyewitnesses. We! I sat straight up and tuned my ear. This seemed, suddenly, the special ability of a special people to which the preacher belonged: to be eyewitnesses. Who's this we? What did they see? I glanced at my mother beside me, whose expression was not astonished. Evidently, eyewitnessing was familiar stuff to her. She was one of the we. I took a fast survey of the faces behind me. Sleepy-eyed, dull-eyed, thoughtful-eyed; but no one's eyes were dazzled. None widened in wonder at what the preacher said. So then, they all belonged to the we: eyewitnesses, every one of them! "We," the preacher was saying, "have seen the majesty of Jesus … "No!I didn't say that out loud. But I thought it very loud.No, but I haven't! This was a stinging realization. I haven't seen Jesus! My eyes were never witnesses!All at once the stained-glass picture of a praying Jesus wasn't enough for me. The Jesuses in my Sunday-school books were merely pictures and a kind of mockery. I did not doubt that the Lord Jesus was actually there in his house somewhere-but where?Even before the preacher was finished preaching, I dropped to the floor and peered through a forest of ankles, front and back and side to side-seeking Jesus perhaps on his hands and knees, a Jesus crawling away from me in a robe and a rope. But I saw nothing unusual, and earned nothing for my effort except the disapproval of my mother, who hauled me up by my shoulder, but who probably wouldn't understand my panic since she was one of the we.For the rest of that service I sought in the faces around me some anxiety to match my anxious heart. But everyone sang the hymns with a mindless ease. I searched my memory for some dim moment when I might have caught a glimpse of Jesus. There was none. No, he'd never appeared to me. But he must be here, for hadn't he appeared to these others? Then why would he hide from me? Did he hate me? And where, in this temple of the Lord, would he be hiding?Thus, my crisis.Sunday after Sunday I looked for Jesus. I ransacked the rooms of a very large church. I acquainted myself with kitchens and closets and boiler rooms-checking for half-eaten sandwiches, a vagrant sandal, signs of the skulking Lord.One Sunday, exactly when the preacher stood chanting liturgy at the altar, I experienced a minor revelation. It seemed to me that the bold bass voice of the chant was not the preacher's at all, whose speaking voice was rather nasal and whining. It seemed that someone else was singing instead. For the preacher faced away from us, and the altar was as long as a man is tall, and the wooden altar (ah-ha!) was built in the shape of a monstrous coffin. Therefore, the real singer was lying inside the altar. And who else would that secret singer be-but Jesus?I kept a shrewd eye on the altar for the rest of the service, to be sure that he didn't escape. And after the service I took my heart in my hands and crept into the chancel, crept right up to the altar, certain that the Christ was still reclining therein, waiting in his tomb, as it were, till all the people departed.Suddenly-Ah-ha!-I popped round to the back of the altar and peered inside its hollow cavity and saw … not Jesus. I saw a broken chair, a very old hymnal, and dust, dust, dust as thick as the centuries of human toil and misery.For my restless soul there was no peace. I was not suffering a crisis of faith; never once did I doubt the truth or the presence of Jesus. Mine was a crisis of love-or perhaps of knowledge. Either the Lord had decided to avoid me particularly, or else I was stupid, the only one who did not know in which room the dear Lord Jesus abided. There must be one holier than all other rooms, one room so sacred and terrible that no one mentioned it, except in whispers and elders' meetings - Not the preacher's office. Dreadful as that room was, I'd already scouted it. Not the sacristy, nor the loft for the organ pipes, nor the choir room (which smelled of human sweat). A holiest of holies, a … All at once I knew which room! My heart leaped into my throat with joy and fear at once. It was a room whose door I passed ever with a tingling hush, whose mysterious interior I had never seen. Horrified by my own bravery, but desperate to see my Jesus, I determine to venture the door of that room, and to enter.And so it came to pass that, during particular worship service during a very long sermon, I claimed the privilege of children and left my mother in the pew and crept downstairs all by myself to The Forbidden Room, the only room left where Jesus could be hiding: The Women's Rest Room.Oh, how hot my poor face burned at my own audacity, at the danger I was daring. If the holiest place of the temple in old Jerusalem might kill an unworthy priest, how would this room of taboos receive a little boy? I swallowed and panted and sweat. But I wanted to see Jesus. I lifted my hand and I knocked."Jesus? Are you in there?"No answer. None.So I screwed my little courage together, and I sucked a breath, and I pushed on the door, and it actually opened.'Hello? Hello? Jesus-?"I do not remember whether that was on a Maundy Thursday. It might well have been. It should have been.With a deep, funereal gloom I returned to my mother. With a deathly sense of finalities I took the pew beside her. I was as woeful as any disciple who heard the Lord say, "I am leaving you, and where I go you cannot come." Abandoned!Jesus does not abide in women's rest rooms. Mirrors are there, surrounded by lights and suffused by incense. But not Jesus.Jesus was nowhere in this church for me.I was a most sorrowful disciple. Lord? Is it I? Did I somehow betray you that You would leave me alone in the night?With grim, remorseful eyes, I watched the service proceed. Perhaps my senses were intensified by sorrow, for I saw things as I had not seen them before. Things moved slowly, burdened by unusual weight and meaning. The preacher-far, far in the front of the church, robed in black and white-was lifting bread and mumbling. Then he was lifting an enormous cup and mumbling some more, mysterious words I was likely never to understand: " … this cup is the New Testament in my blood. … "Blood. That seemed a grave word altogether."Do this," he was murmuring, "in remembrance of me."Then people began to arise and to file forward. There was the deep timbre of song all around me. People were devout. Incomprehensible things were happening.Then my mother got up. In marvelous docility, she walked forward down the aisle, away from me. My mother is a strong woman. She could haul me from the ground in one hand. This humility, then, was strange, and I stood up on the pew to watch her.Far in the front of the church my mother diminished, almost to the size of a child. And then, to my astonishment, she did childish things: She kneeled down. She bowed her head. She let the preacher feed her! This was my mother, who knew how to make me eat! Like a little baby, she let the preacher lower the cup to her lips and give her a drink. And then she stood, and they bowed to each other; and almost, as it were, upon a cushion of air my mother floated back to me.Oh, this was a different woman. My mighty mother seemed infinitely soft.And when she sat beside me and lowered her head to pray, I actually smelled the difference too. She had returned in a cloud of sweetness. I tasted this exquisite scent deep in my throat, and like a puppy found myself sniffing closer and closer to my mother's face-for the odor was arising from her nostrils, from her breathing, from within her.Suddenly she looked up to see my face just inches from hers."What's the matter?" she whispered, and a whole bouquet of the odor overwhelmed me."Mama!" I breathed in wonder. "What's that?"She wrinkled her forehead. "What's what?" she said with frankincense."That," I said. I wanted to tug at her mouth. "That smell. What do I smell?""What I drank.""But what is it? What's inside you?"She began to flip for a hymn in the hymnal. "Oh, Wally," she said casually, "that's Jesus. It's Jesus inside of me."Jesus!My mother then joined the congregation in singing a hymn with a hundred verses. But I kept standing on the pew beside her and grinning and grinning at her profile. Jesus! I put out my hand and rested it on my mother's shoulder. She glanced up, saw that my face was exploding with grins, gave me a pat and a smile, then went back to singing.But Jesus! She told me where Jesus was at! Not far away from me at all. Closer to me than I ever thought possible. In my mama! He never had been hiding. I'd been looking wrong. My mighty mother was his holy temple all along.So I shocked her by throwing my arms around her neck and hugging her with the gladness of any disciple who has seen the Lord alive again.So she hauled my little self down to the pew beside her and commanded silliness to cease; but I didn't mind. A boy can grin as silently as the sky.And so it was that two commands of our Lord, delivered on Maundy Thursday, the night before he died, were twined into one for me. "Do this," he said of his Holy Supper, "in remembrance of me"-and in so doing his death and his presence would be proclaimed to all the world. My mother did it; she ate and drank; and as her faith received her Savior truly, she bore the Lord in my direction, and I met him in her.And the second command was this: "Love one another." My mama did that too. And so there were two disciples side by side on the same pew. And one of them was grinning.
This article originally appeared in the March 17, 1989 issue of Christianity Today.
Walter Wangerin, Jr., is a former pastor and the author of the critically acclaimed Book of the Dun Cow (Simon and Schuster) and most recently The Book of God (Zondervan).
Related Elsewhere
Read our other articles in The Great Reversal:Good Friday | By Virginia Stem Owens Holy Saturday | By Eugene H. Peterson Easter Sunday | By Philip Yancey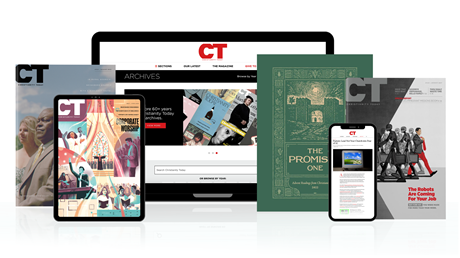 Annual & Monthly subscriptions available.
Print & Digital Issues of CT magazine
Complete access to every article on ChristianityToday.com
Unlimited access to 65+ years of CT's online archives
Member-only special issues
Subscribe
Maundy Thursday
Maundy Thursday