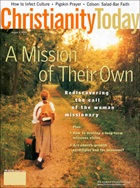 This article is from the August 7 2000 issue. Subscribers can read all of CT's digital archives.
When one broaches the topic of "women in missions," heroic icons like Mary Slessor, Amy Carmichael, Lottie Moon, and Helen Roseveare come immediately to mind. One does not form a picture of Jane Biles, an ordinary homemaker, who sensed a call to mission in 1699. In the book Wilt Thou Go On My Errand? author Margaret Hope Bacon recounts how Jane felt the Lord calling her to return to her native England as a Quaker missionary, but her husband William resisted the idea. Jane submitted to him, but her sense of calling persisted. She sought guidance from the General Meeting of the Ministry of Friends, which told her to pray about it. Months passed and her husband continued to resist. She eventually convinced him to go before the General Meeting with her and the board encouraged them both to wait "for further assurance of the mind of the Lord in it."Jane waited another six months. When the board members met again, they grew convinced that her calling was legitimate and that William's resistance was not, so they gave Jane their blessing to proceed. The next day, William agreed to "give up" Jane to her calling and decided, in fact, that he would join her. This decision seemed spur of the moment to board members, who told him to wait another six months. Jane waited with him. They finally set sail in 1701. The ship's scribe recorded their passage in the log as that of "William Biles and his wife."The story of Jane Biles captures the picture of women in missions today in several respects. First, she was an ordinary homemaker who heard a call. Second, she faced a culture of resistance that pulled her, like gravity, away from the sphere of missions service. Third, while honoring her husband, she did not give up and allowed God to pave ...
1
Our digital archives are a work in progress. Let us know if corrections need to be made.
A Woman's Place