The movement to help the victims of religious persecution in Sudan has taken a new tack—civil disobedience.
The added approach to influencing the United States government to act on behalf of Christians and other Sudanese at the mercy of a militant Islamic regime began with the recent arrest of a leader in the movement and is expected to grow in March.
Michael Horowitz, a senior fellow at the Washington-based Hudson Institute and a driving force behind the campaign against Christian persecution, was arrested February 2 for blocking an entrance to the State Department. His arrest followed by only a day a report in The Washington Post that President Clinton had decided not to supply food directly to the opponents in southern Sudan of the National Islamic Front and the administration is rethinking its economic boycott of the North African regime.
Sudan has been cited as possibly the world's worst perpetrator of religious persecution.
The first arrest of his life came "in protest against cynical and indifferent administration policies towards the victims of a Holocaust in Sudan," Horowitz said in a written statement.
He will help organize protests against the State Department's policy, Horowitz said. Those demonstrations are expected to begin in March, said Faith McDonnell of The Institute on Religion and Democracy. The organizers are looking for church groups willing to participate, including, in each, a person prepared to be arrested, McDonnell said.
"I now believe that standard processes of political discourse will no longer alter the administration's policies towards the Khartoum regime," said Horowitz, who is Jewish. "Similarly 'polite' efforts to awaken State Department policy makers to the evils of genocide were [of] as little value to my people 60 years ago as [they] have been for the people of Sudan."
In the last decade, about 2 million people have died in a civil war between the militant Islamic regime in Khartoum and the rebel forces of the Sudanese People's Liberation Army and as a result of war-related causes. The regime supports raids by its troops of Christian and animist villages, sometimes even of moderate Muslim areas, in the southern and central parts of the country. The soldiers frequently kill men and kidnap women and children to take them back as slaves to the northern Sudan or another country. The troops also burn crops and slaughter livestock. The regime conducts bombing campaigns, with hospitals among the targets. At least 100,000 Sudanese are estimated to have died of starvation last year as a result of the regime's intentional withholding of food aid to its people. From 4 million to 5 million have had to flee their homes. The new approach of some in the movement followed by less than two months an appeal from more than 200 representatives of churches, religious groups, colleges and human rights organizations to Clinton for him to use his voice and authority to help bring about peace in Sudan.
In addition to asking him to support congressional action to send aid directly to the victims of the Islamic regime rather than allowing it to be blocked by Khartoum, the letter requested the president enforce a 1997 executive order imposing economic sanctions against Sudan. The order should be interpreted or amended to block the government-owned China National Petroleum Corporation from "access to U.S. capital markets" as long as CNPC is a partner in a new oil pipeline in the Sudan that provides revenue for the Khartoum regime's military, the letter said. CNPC is seeking a listing on the New York Stock Exchange and an initial public offering of stock.
The letter also called on Clinton to discuss with Canada's prime minister, Jean Chretien, the involvement in the Sudan oil project of Canadian oil company Talisman Energy Inc. Talisman has provided funding, technology and personnel for the pipeline. The letter asked the president to endorse the campaign by pension funds and investors to divest Talisman stock. A week before the report of the White House's reconsideration of its Sudan policy, nine religious leaders wrote more than 200 mutual funds, pension funds and state treasurers urging them to divest stock in Talisman and to refuse to purchase stock in CNPC if it becomes available.
The signers included Richard Land, president of the Southern Baptist Convention's Ethics & Religious Liberty Commission; Charles Colson, Prison Fellowship founder; Nina Shea, Center for Religious Freedom director; Diane Knippers, Institute on Religion and Democracy president; John Busby, Salvation Army national commander; Chuck Singleton, California pastor; Irving Greenberg, Jewish Life Network president; Paride Taban, a Catholic bishop in Sudan; and Keith Ackerman, an Episcopal bishop in Massachusetts.
If the investors refuse their request, it "would cause your pension fund to help underwrite the world's most egregious practitioner of terrorism, deliberate starvation, religious persecution, slavery and literal genocide," the religious leaders wrote. They are "as determined to end the genocide in Sudan as were those who ended apartheid in South Africa, and we are thus determined that Talisman and CNPC, or a related holding company, must be held financially, legally and morally accountable for their present relations with, and support of, the regime in Sudan," the leaders said.
The value of Talisman shares has fallen by more than 20 percent in recent months, according to the letter. This has occurred during the divestment campaign and after news reports of Talisman's involvement in the Sudan, the letter said.
Copyright © 2000 Baptist Press. Used with permission.
Related Elsewhere
Five days after its February 1 news story, " Reassessing the Stance Toward Sudan," The Washington Post editorialized, "The administration should talk to Sudan's government. But it must let it know clearly that sanctions can be lifted only when war and the sponsorship of terrorism both come to an end."
See our recent cover story, " Slave Redemption," and other Christianity Today stories about Sudan:Sudan Releases Jailed Catholic Priests | President Resolves Impasse in Contrived Bombing Trial (Dec. 13, 1999) Christian Solidarity Loses U.N. Status | Slave-freeing organization's rebel spokesman violated U.N. rules (Dec. 14, 1999) Oil Exports Draw Protests | Christians urge divestment from Canadian company (Nov. 15, 1999)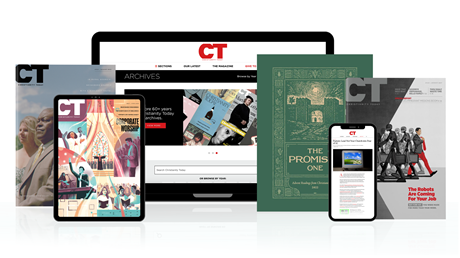 Annual & Monthly subscriptions available.
Print & Digital Issues of CT magazine
Complete access to every article on ChristianityToday.com
Unlimited access to 65+ years of CT's online archives
Member-only special issues
Subscribe
Protest Begins as White House Rethinks Policy on Sudan Regime
Protest Begins as White House Rethinks Policy on Sudan Regime