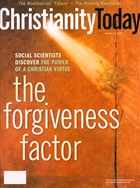 This article is from the January 10 2000 issue. Subscribers can read all of CT's digital archives.
In an age of high-tech publishing, two new low-tech Bibles transform the Word into high art—and high cost.
The Arion Bible, designed by Andrew Hoyem at Arion Press of San Francisco, is printed by hand using a lead type letterpress. The book contains 1,300 pages printed on specialty paper from England, with each page measuring 18 by 13 inches.
But high art does not come cheap. The Arion Bible weighs in at a hefty $8,500 for a leatherbound edition in a leather box. An additional $2,500 buys illuminated letters at the beginning of each chapter. A clothbound version goes for $7,750. Only 400 Bibles will be printed.
But a Bible printed last fall tips the cost scales. The two-volume Pennyroyal Caxton Bible, also printed by letterpress and measuring 16 by 11.5 inches, costs $10,000, or $30,000 for a deluxe edition. A more affordable hardcover trade version is available from Viking Studio for $65.
The Pennyroyal Caxton Bible offers 233 black-and-white engravings from illustrator Barry Moser, known for his dark and sometimes startling images. Moser's engravings reveal human, not idealized, versions of biblical characters. Adam and Eve appear to be African. And Jesus, not blond or blue-eyed, is modeled after a long-haired chef from New York City.
Both printing houses see their Bibles as additions to a select cadre of significant Scripture printings, beginning with Gutenberg's historic Latin Bible, published in 1455 as the first book printed with movable type. The Arion Bible uses the NRSV text, and the Pennyroyal Caxton Bible uses the King James Version.
Related Elsewhere
The Arion Press's page for the Arion Bible is informative, but not much to look at. The Pennyroyal Caxton page, however, is incredibly designed (it may take a while ...
1
Our digital archives are a work in progress. Let us know if corrections need to be made.
New Bibles Carry Hefty Price Tags
New Bibles Carry Hefty Price Tags