Anglican Archbishops from Africa, Argentina, and Australia, come to U.S. in display of dissent Presiding bishops of the Anglican Church from Argentina, Kenya, Uganda, Congo, and Australia were in suburban Philadelphia yesterday to preside at a confirmation service for 70 or so members of the conservative Church of the Good Shepherd. Sounds innocuous enough, but, as Frank Griswold, presiding bishop of the Episcopal Church USA (ECUSA) notes, "There's an ancient principle that bishops do not enter another bishop's diocese without invitation." Bishop Charles Bennison of the Diocese of Pennsylvania attended the service and met with at least one of the other bishops, but apparently didn't extend the invitation. The media correctly note that this isn't about confirmations—it's about the dispute over the ordination of homosexuals and same-sex unions. Bishop Maurice Sinclair of the Anglican Province of the Southern Cone (which comprises Argentina and other South American countries) tells The New York Times that the ECUSA has "innovated in a number of areas [that] exceed the limits of Anglican diversity." A published statement by Sinclair about the confirmation ceremony notes that it is "to provide episcopal ministry and pastoral care in line with the theology and consciences of faithful Anglican Christians whose theological positions are indistinguishable from millions of fellow Anglicans throughout the world. This shared theological position is not respected or tolerated in many parts of ECUSA, especially not in the diocese of Pa." Bennison himself has officiated at an ordination of a homosexual, called the meeting a "canonical crisis" and "a breach of custom and canon and courtesy," but later supported the meeting "to maintain ...
1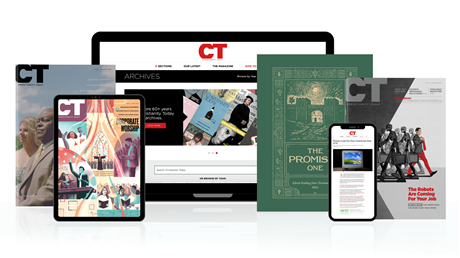 Find hope and historical insight. For a limited time, explore 60+ years of CT archives for free!
Daily devotions from Timothy Dalrymple during this pandemic.
Hundreds of theology and spiritual formation classics from Philip Yancey, Elisabeth Elliot, John Stott, and more.
Home delivery of new issues in print with access to all past issues online.
Join now and get print issues access to archive PDFs.
Global Anglican Leaders Thumb Noses at U.S. Episcopal Church
Global Anglican Leaders Thumb Noses at U.S. Episcopal Church