The symptoms are familiar—bitter rhetoric, divided allegiances, and enmity-edged partisanship— but the scenery has headed North of sunny Florida.
Canadians cast their votes yesterday in a sudden election called by Prime Minister Jean Chretien after five short weeks of campaign recriminations and mud slinging. While the Liberal victory brought few surprises, (the Liberal party has been in power in Canada since 1993 and Chretien was expected to scoop up about 40 percent of the votes), it left in its wake an unsettling precedent of arguing that faith is a disqualification for public service.
Personal attacks are nothing new in rough and tumble campaigns, but the rhetoric advanced in an attempt to discredit Canadian Alliance party leader Stockwell Day was of particular concern to many of Canada's religious leaders. Candidates from each party were smeared: Chretien was accused of giving government favors to friends, members of the Bloc party were pinned "unrealistic isolationists," and the New Democratic Party's Alexa McDonough was called a shrew. But the majority of attacks on Day seemed to center on his faith.
Day was a large motivator in Chretien's decision to call an early election with such short notice. Many believe the Prime Minister was seeking to stall the Canadian Alliance's growing momentum, as well as the former Pentecostal pastor's march toward ministerial candidacy. Only 10 percent of Canadians are evangelicals, so Day's recent victories in Parliament and in leadership of the Canadian Alliance have shaken up the status quo and made many take notice of the candidate who refused to campaign on Sundays in order to worship and rest with his family.
The New Democratic Party's McDonough called Day a "cockroach," but it was unsupported accusations by Immigration Minister Elinor Caplan that Day was a "racist" who engaged in "holocaust-denying" that began a firestorm. Hedy Fry, the Status of Women minister joined Caplan in proclaiming Day's Christian faith an affront to Muslims and Jews. The National Post reports Fry told a rally, "When [Day] said that 'Jesus Christ is the God of the whole universe,' I say that is an insult to every Muslim, Buddhist, Sikh—everybody else who believes in other religions."
Gary Walsh, president of the Evangelical Fellowship of Canada expressed concern over the Fry's assertion that Day's statements of personal belief could be construed as statements of religious intolerance.
"Every faith tradition has fundamental statements of belief that espouse the truth of their faith, "Walsh said. "If everyone one of these beliefs about deity and the world are deemed inappropriate positions all people of faith will be excluded from public life."
Day was also skewered in the press for his belief in creationism when reports circulated that he had given a lecture in 1997 stating that the first men and women were created 6,000 years ago, living alongside dinosaurs.
Preston Manning, the former head of the reform party before Day's ascendance, told a crowd at a rally Friday night that liberals were "willing to believe every lie about Stockwell Day and not willing to believe the truth about Jean Chretien."
The House leader for the Canadian Alliance, Chuck Strahl, told Canada's National Post that "there was a conscious program to elicit hatred" against Day and his supporters.
"I never thought I would see that," Strahl said. "I have worked with these people. They know me, and they know our caucus. I just can't believe it."
Related Elsewhere
Visit the Canadian Alliance site to read up on the coalition's goals or on Stockwell Day, himself.
Read an online chat about Stockwell Day's political views.
Learn more about religion in Canada from the Evangelical Fellowship of Canada.
Recent news coverage of the election includes:
Stockwell Day: Preaching politician—BBC (Nov. 28, 2000)

Liberal Party gets victory in Canada—The Houston Chronicle (Nov. 28, 2000)

Liberal victory a matter of trust—The Toronto Star (Nov. 28, 2000)

Mr. Chretien's triumph—The Montreal Gazette (Nov. 28, 2000)

Spiteful race ends with dire warning—National Post (Nov. 27, 2000)

Canadians Go to the Polls Today—ABC News (Nov. 27, 2000)

Decision day for Canada's voters—The Ottowa Citizen (Nov. 27, 2000)

It's D-Day to make a breakthrough—The Montreal Gazette (Nov. 27, 2000)

Chretien makes no apologies—The Montreal Gazette (Nov. 27, 2000)

Canadian leader in election struggle with himself—The Miami Herald (Nov. 27, 2000)
Previous Christianity Today stories about Canada include:
Pentecostal Shakes up Canadian Politics | Stockwell Day, leader of Canadian Alliance, wins House of Commons seat. (Sept. 9, 2000)

Lawsuits Force Anglicans to Cut Staff and Programs | Abuse allegations cause the Anglican Church of Canada to scale back church support and overseas ministries. (Aug. 25, 2000)

Canada Meeting Gives New Hope for Unity Between Anglicans and Catholics | Churches come closer together, but not close enough to share Eucharist. (May 26, 2000)

Arctic's Anglican Bishop Looks for Priests to Brave the Cold | Nine vacancies in Anglican Communion's largest diocesan territory, but no prospects. (Jan. 27, 2000)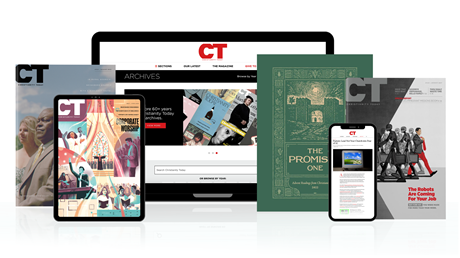 Subscribe to Christianity Today and get access to this article plus 65+ years of archives.
Home delivery of CT magazine
Complete access to articles on ChristianityToday.com
Over 120 years of magazine archives plus full access to all of CT's online archives
Subscribe Now
Liberals Sweep Canadian Elections
Liberals Sweep Canadian Elections