A tired but passionate Reinhard Bonnke delivered his final message Sunday night to 1.6 million Africans at the conclusion of his six-day crusade in Lagos, Nigeria—an event that stands as one of the largest gospel gatherings recorded in modern times.
German evangelist Bonnke preached a fervent yet simple message to the hundreds of thousands of people who stood jam-packed on an 80-acre open field just outside of Nigeria's commercial capital city. Some has arrived at the sight early in the morning in order to stand near the front of the platform. Others said they spent the night on the grounds.
"I am rejoicing because of a rich, rich harvest of souls," Bonnke told Christianity Today last night. Although decision cards are still being counted, the evangelist predicts that well over a million people responded to the call of salvation during the week-long meeting.
Attendance grew throughout the crusade from half a million on Tuesday night to over one and a half million on Sunday evening. According to Bonnke's organization, Christ for All Nations (CFAN), total attendance for the week reached nearly 6 million. Many returned night after night to hear Bonnke speak.
Crediting Billy Graham for showing him that anything is possible with God, Bonnke says that although the crusade's magnitude has overwhelmed him, he expected a great thing to happen. "We had reason to believe we would see a new dimension here in Lagos. I believe we will see even greater things," he said.
Bonnke's vision for Africa began when he was a young missionary serving in Lesotho, South Africa. He often shares of a strong burden that God gave him in those early years to see an "entire continent washed in the blood of Jesus." Bonnke's crusades have grown tremendously lately.
In October 1999 in Benin City, Nigeria, for example, so many came to the first night of his crusade that over a dozen people were killed in a stampede as they tried to exit the field. Security issues and maintenance of the large crowds were closely monitored this week.
Peter van den Berg, vice president of CFAN, said that in 26 years of holding crusades, the Lagos meeting was a monumental event for his team. "This week has been historic—for our own ministry and for God's kingdom," he said.
Ground control
As the numbers swelled toward the crusade's end, so did the intensity of the meetings. After a Saturday morning message, based on the baptism of the Holy Spirit, 80,000 church leaders at the National Stadium grew so out of control that Bonnke's security guards had difficulty directing him offstage.
Hundreds of people rushed to try to touch the evangelist, hoping he would give them power or anointing.
"They want to touch him just like the crowds used to touch Jesus," said Paul Landry, a marketing consultant for CFAN's North American office. "In modern society, it would be like people trying to touch a rock star."
"It's because of the popularity of today's program," explained security guard Austin Omoike. "They need a touch of power. They need to get more from him." Monday Ojo, another bodyguard, said Bonnke himself was affected by the message. "The anointing was on him so much that he was unstable," he said.
Sunday night Bonnke delivered a sermon on the first chapters of Acts—when the apostles received the Holy Spirit. He then told the audience: "Jesus is here with all the fire you will ever need! Raise your voices! Receive the Holy Spirit now!" Thousands in the crowd began wailing, screaming, and crying. Frantically waving their hands in the air, many begged loudly for anointing. Bonnke gave a similar message on Saturday night to 1.3 million people on the crusade ground. Building momentum with the audience, the evangelist instructed the crowd to begin shouting "Alleluia!" until the Holy Spirit entered their bodies. "You are going to speak in new tongues—a language you have never learned," he told them. "It comes from you're heart. Don't be afraid—this is fantastic!"
Victoria Akinola, 30, attended the Saturday crusade and said she was surprised by what she felt. "I feel the fullness of the Holy Spirit in me. I can now speak in tongues. I don't know how, but God did it," she said.
Career change
During both his morning and evening sessions, Bonnke told the crowds that after receiving this new power, many would go on to become evangelists and preachers—a highly regarded profession in Nigeria.
But with the problem of rampant corruption in both secular and religious circles throughout the country, some Christians here worry that people now seeking to preach or lead a church will fall into familiar traps of dishonest ministry.
Success Adeshida, pastor of Potter's House Christian Fellowship Ministry, says that although there are churches on almost every street corner in Lagos, the true gospel is not being preached in most places. "They focus on riches instead of focusing on God," he says. "A church here is a business."
Longtime SIM International missionaries Brian and Elaine Anderson agree. "The joke here in Lagos is, if you fail at business, start a church," Elaine says. Because pastors are so revered here, Adeshida believes that many abuse their power by mismanaging church funds or asking for money to spend on inappropriate things. "It's a sin to be poor in the church," he says, adding that a number of pastors preach a "blessing and prosperity" gospel.
"The focus is that whatever you want—not what you need—you will get," Adeshida says. Adeshida's concern seems to reflect a growing trend among those interested in ministry here. After the Saturday morning church leaders conference, dozens of booksellers lined the streets outside the stadium selling titles such as God's Will Is Prosperity and Seven Secret Success Keys to Church Growth.
Joy Ajoku, 30, is one of many who attended the crusades every night. "God is using him mightily," she said of Bonnke. "I have learned that if you have faith in God, anything you want, you will see it."
Other apprehensions that have surfaced this week revolve around the promise of miracles that Bonnke has extended at the crusades. Elaine Anderson says many Nigerians strongly believe that the ability to experience a miracle lies in the strength of one's beliefs. "The mindset here is that if you don't get a miracle, you don't have faith," she explains.
Yet Elaine says she understands why thousands of people have attended Bonnke's crusades in hopes of experiencing a miracle. "The occult is very real here," she says. They want to see God as powerfully as they see one of their witchcraft doctors."
Healing testimonies
Although occult and other superstitious practices are prominent in Nigeria, many Nigerians came to Bonnke's crusades in search of a miracle for health reasons alone. As the evangelist delivered a healing prayer specifically for the sick each night of the crusade, hundreds of people tried to make their way to the platform to profess miracles. A few made it onto the stage to share. Many more, however, were questioned and then turned away.
"You're going to have a lot of people who are still seeking healing or are in the healing process," explains Rodney Thompson, a Florida doctor who volunteered his services at the crusade.
Thompson says a team of CFAN workers inspects those who say they have experienced a miracle in order to judge who should testify in front of the crowd. "It's not like North America, where you would do a lot of tests," Thompson admits. For the most part, he says, they have to trust the person's word or the testimonies of friends and family members.
Thompson says he has no doubt, though, that many miracles occurred this week—naming off people who claimed to have been healed from tuberculosis, blindness, deafness, and tumors. As word spread throughout the city of such events, many people came with hopes of being healed. Folusho Ojediji, 18, says she came wanting to be cured from the lump she has had in her breast for the last year. "The lump is now gone," she later said after Bonnke prayed for the sick. "I was just shaking. I could not talk. "
Although Bonnke repeatedly told the crowd this week, "Don't miss your miracle," and "All of Nigeria will be healed," the evangelist says he is just doing what Scripture commands by praying for those in need. Fiercely supportive of Bonnke's actions, van den Berg insists: "We don't call ourselves a healing ministry; the miracles are a minor part of our activity. People are given hope—we believe that's available to everyone. Who will get healed, we don't know." Most Nigerians, however, believe Bonnke has the power to heal everyone. On the outskirts of the crusade grounds, enterprising people sold posters featuring Bonnke's photograph that read, "Miracle Time." Others sold T-shirts. "Bonnke is a gift from God," said Sunday Ezennwa, 48, who brought his entire family to the crusade. "The miracles are real—it is how God works."
John Darku, CFAN's director for crusades in West Africa, says he expects this week's crusade to make a lasting difference on the people of Lagos. "If you look at this crowd, some of these people have never been to church before," he said last night. "We expect them to help their nation receive the gospel and spread it to the cities where Reinhard cannot go."
According to van den Berg, the 2,000 local churches that have participated in the crusade will be responsible for getting new Christians plugged into a local congregation. But Adeshida warns that it will take more than achieving larger numbers in Lagos' many churches to make a true difference for God. "A lot of pastors have learned the ability to get a crowd going. It's Christian entertainment, and there's no depth," he says. "The key to Nigeria is not the crowd, but the quality of disciples."
While hundreds of Nigerian pastors now face the challenge of making disciples out of converts, Bonnke and his CFAN team are already planning for another December crusade in the southern Nigerian city of Enugu. Afterwards, they will hold three more crusades in Nigeria this year before moving on to Sudan, Ethiopia, and the Democratic Republic of Congo for additional meetings. "We're cracking away because we feel the urgency," van den Berg says.
An exhausted but determined Bonnke agrees. "This is harvest time," the 60-year-old often says. "And Africa is my destiny."
Related Elsewhere
Christianity Today earlier covered the beginning of Bonnke's crusade in "Bonnke Returns to Nigeria One Year After Tragedy" (Nov. 8, 2000).
Visit the Christ For All Nations (CFAN) English homepage, or check in at the German homepage for news from Nigeria (in German of course.)
There is a short English bio of Bonnke available, or a more detailed account of his life and ministry for those who read French.
Bonnke's plea for more churches to engage in evangelism, "We Must Give Revival to Receive Revival,", also talks about how his ministry began.
Christianity Today covered the deaths of 14 people at last year's Nigerian Bonnke Revival.
Other media coverage of Bonnke includes:
Six Million Attend Bonnke Meetings—Charisma News Service (Nov. 13, 2000)
Islamic Body Threatens Visiting German Preacher—Panafrican News Agency (Nov. 13, 2000)
Zambian President Worships In Synagogue—The Nigerian Guardian (Nov. 12, 2000)
Great Millennium Crusade Kicks Off Today—Post Express (Lagos) (Nov. 8, 2000)
Again, here comes Reinhard Bonnke—The Nigerian Guardian (Nov. 6, 2000)
Bonnke Arrives For Millennium Crusade—The Nigerian Guardian (Nov. 5, 2000)
Assassination Attempt at Evangelist's Mass Rally in Islamic Capital—Charisma News Service(April 25, 2000)
Mass Crusade Continues in Nigeria Despite Crowd Deaths on Opening Night—Charisma News Service
Previous Christianity Today coverage of Nigeria includes:
'Focused, Determined, Deliberate' Destruction | Ecumenical leader calls on Nigeria to deal with religious violence between Muslims and Christians. (Oct. 30, 2000)
Is Nigeria Moving Toward War? | Deadly riots lead to suspension of Islamic law. (March 31, 2000)
Nigeria On the Brink of Religious War | Northern states adopt Islamic law, increasing Christian-Muslim tensions. (Dec. 16, 1999)
Nigeria's Churches Considering Legal Challenge to Islamic Laws | Third state moving toward implementing Koranic laws (Dec. 17, 1999)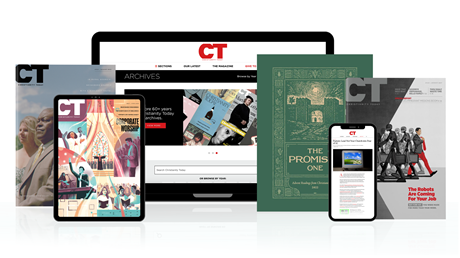 Subscribe to Christianity Today and get access to this article plus 65+ years of archives.
Home delivery of CT magazine
Complete access to articles on ChristianityToday.com
Over 120 years of magazine archives plus full access to all of CT's online archives
Subscribe Now
Looking for a Miracle
Looking for a Miracle