This week's new movies had messages that Christian critics could applaud—Christmas doesn't come from a store, humans shouldn't play God, and honesty is necessary for intimacy—but in each case reviewers felt the movies didn't do much to back up the claims.
What's Hot
Dr. Seuss' How The Grinch Stole Christmas is already a certified hit, posting the highest opening ever for a non-sequel, with $55 million. However, the movie's huge merchandising blitz that helped propel such a debut seemed to strike reviewers as contrary to the book's moral that Christmas doesn't come from a store. "For some reason, this basic philosophy appears to be a bit disingenuous," says Michael Elliott of Crosswalk.com, "coming as it does from a multi-million dollar production which has spared little expense in the telling of what used to be a sweet and simple story." Critics also cringed at the fleshing out of the story in order to reach feature length, including flashback scenes and a tidy motivation for the Grinch to steal Christmas from the joyful Whos. "Why the Grinch is so grumpy?" asks Jeffrey Overstreet of Looking Closer. "Unrequited love, and people laughed at his ugliness. Yep. It's as boring, as unimaginative, and as plain as an After-School Special." The Movie Reporter, Phil Boatwright, complains that the originally sweet and loving Whos are transformed into happily materialistic and morally loose people who even indulge in a key-party. "I suppose the outlandishness of seeing guileless Whoville dwellers participating in such a hedonistic sexual game may be humorous, but it is also a vulgar and cheap gag," Boatwright says. At Beliefnet, Jonathan V. Last finds it repulsive that little Cindy Lou Who is the one who eventually teaches both the Grinch and the Whos what Christmas is all about. "Children's stories that make a fetish of the moral purity of children are headed for trouble of the worst kind," writes Last. "Ron Howard's movie panders to the moral vanity of children and the adults who idolize them." However, there were many critics who enthusiastically recommended the film, despite the breaks from tradition. "No doubt, this Grinch is a family winner and will become a classic in its own right," writes Paul Bicking of Preview. Movieguide calls it "one of the most entertaining family fantasies to come along in quite a while." Jim Carrey earns high praise from most every critic for his turn as the Grinch; many said he singlehandedly makes the movie watchable. "From his hairy green suit and yellow eyes, to his penchant for chewing glass and throwing tantrums, Carrey's who-mazing Grinch steals the show!" says Crosswalk.com's Holly McClure. "Scenes showcasing Carrey's sarcastic wit and his uncanny creativity with pratfalls and physical humor all allow Carrey to do what he does best—improvise!" Focus on the Family's Bob Smithouser praises Seuss' widow, Audrey Geisel, for opposing much of the bathroom humor that was in the screenwriters' first draft, saying "this live-action Grinch is better for her involvement. And as Jim Carrey pictures go, it's downright wholesome." Nevertheless, most Christian critics urged parents to talk about Christ's birth with their kids because this movie presents only "a secularized definition of the true meaning of Christmas" (U.S. Catholic Conference).
Another kid-targeted flick, Rugrats In Paris, fared better with Christian critics, who had more mild quibbles with the content. "As the Rugrats' travels take them from the Eiffel Tower to Notre Dame and everywhere in between," writes Movie Reporter Phil Boatwright, "the world's favorite babies learn new lessons about courage, loyalty, trust and above all, true love. With a clever and poignant story, Rugrats In Paris is colorful and bouncy for little ones, with just enough tributes to other films and sight gags to keep parents from groaning too often." Crosswalk.com's Holly McClure agrees that it's "family entertainment at its best! Funny antics, clever dialogue and cute kids combined with an interesting setting make this adventure one that parents will enjoy along with the kids." The U.S. Catholic Conference is also complimentary, saying "the bright, lively animation and simple story peppered with clever quips create an engaging film." However, Focus on the Family's Jesse Florea says the movie offers nothing but bad role models for kids: "If parents are wanting more of what they see on the Rugrats TV show (plenty of potty humor, disrespectful language and zero discipline), then this movie lives up to expectations. Never is a child scolded for making a mess or reprimanded for being rude." Movieguide straddled the two views, calling it "a fun movie emphasizing morals," but warning that the comic misbehavior "may hinder any parental efforts to try to deter or minimize these things, especially among small children."
What's New
Sci-fi actioner The Sixth Day presents a future in which human cloning is illegal, out of respect for God's sovereignty, but a renegade group of scientists are cloning people anyway, including a very dangerous Arnold Schwarzenegger. Christian critics found the nod to God pleasing, but weren't fond of the rampant violence and the lack of seriousness paid to the cloning issue. "At first, I thought that the movie's heavy-handed exploration of cloning's benefits was meant to be tongue-in-cheek," says J. Robert Parks of the Phantom Tollbooth. "If the movie's saying anything about cloning, it's that it's bad unless we could have two Arnolds." Christian Spotlight guest reviewer Curtis D. Smith agrees that it "squanders a great opportunity to match a real life issue with a compelling story. ... [It] falls flat in just about every way. ... The Sixth Day won't necessarily be the final nail hammered into the action film coffin, but it sure doesn't do much to bolster the floundering genre." Other critics attacked the nonstop violence, which seemed excessive for the PG-13 rating. "It seems that the only difference in the ratings board's mind between an R and PG-13 action film is the number of times the characters use the f-word," complains Steven Isaac of Focus on the Family. "The amount of violence depicted (and even its intensity) doesn't seem to matter much." Preview's John Adair warns view that "constant violence is the most common feature, and includes a fairly graphic scene where people have limbs shot off." However, one lifelong Schwarzenegger fan gives the film a strong thumbs-up. "I can't help it," writes Holly McClure of Crosswalk.com. "I'm an Schwarzenegger fan from way back, and I liked this movie for many reasons, especially the 'playing God' issues it raises about cloning. This may not be his best work, but he still proves that he's got 'it' and delivers true action that won't disappoint Schwarzenegger's fans."
Most Christian critics had tepid responses to Bounce, a romantic drama which pairs a young widow (Gwyneth Paltrow) with the man (Ben Affleck) who exchanged seats with her husband on an ill-fated flight. Those most generous to the film said it contained good lessons about honesty. Jeffrey Overstreet of Looking Closer says that "while it is a rather implausible story, it raises interesting questions about when it is appropriate to protect our loved ones from painful truths and when to let them suffer through it. ... The focus of this story is the importance of honesty in loving relationships." Mainstream critic Maitland McDonagh of TV Guide affirms that interpretation, calling it "a surprisingly complex examination of the personal and professional price of honesty; falsehoods, half-truths, little white lies and self-delusion spur most of the key plot developments, and [director Don] Roos never resorts to platitudes to account for their effects." The entertainment value, though, disappointed many. The Phantom Tollbooth's J. Robert Parks says that "while Affleck and Paltrow are more than adequate—Affleck gives a particularly nice and easygoing performance—the movie sometimes bogs down in its own sentiment." The U.S. Catholic Conference calls it "flat," saying it "plods predictably along with grating soap opera-like dialogue and bland performances." Mary Draughon of Preview labels it "a charming love story," but is bothered by scenes where Affleck's character "cannot stay on the Christian-based AA program because he rejects God," and where his eagerness to hop in the sack "implies sex outside of marriage is acceptable." Michael Elliott of Crosswalk.com was the film's strongest supporter, arguing that the performances from Affleck and Paltrow transcend the premise. "The relationships may on paper appear to be forced or implausible, yet the actors provide so many nuances within their performances that we accept and understand the attraction and the inner conflict each of them are experiencing. ... The dialogue is always crisp, interesting and operates on multiple levels. ... [The story] is tastefully handled and intelligently presented."
What's Noteworthy
DreamWorks recently released Joseph: King of Dreams, a direct-to-video companion to their hit Prince of Egypt, which Christian critics are quite happy with. "Joseph: King of Dreams focuses clearly on God," says Movieguide. "God is given the credit, and even the songs witness to Him. ... The theme is that God knows better than we do because it is God who is at work in our history, thus it is His story, not ours." (When Prince of Egypt came out, several Christian critics questioned the pronouncement that "There can be miracles when you believe," as if the faith of the people caused the miracles rather than God.) What's more, says Movieguide, this is a high-quality production that transcends most direct-to-tape quality. "The animation here is excellent. The dream sequences have a great, beautiful, Van Gogh quality. The music also is superb, with deep, spiritual significance." The film does depart from Scripture from time to time, notes Preview's Paul Bicking. "Compared to the Biblical account, the story has a few flaws as it minimizes some characters and expands on others, such as Asenath. Rather than becoming a model prisoner, Joseph lingers in solitary-like confinement. And his cellmates are there when he arrives, contrary to the source passages. But the focus is on Joseph and his struggle to make the best of bad situations he encounters." Holly McClure of Crosswalk.com praised it for balancing simplicity for children's sake with interest for adults. "The painful situations of his brothers selling him into slavery, Potiphar's wife betraying him, and the joyful reunion with his family are handled in a tender way that children will understand and learn from. ... [But] adults, don't let the fact that it's animated fool you—I enjoyed every minute of this colorful, inspiring story!"
Steve Lansingh is editor of TheFilmForum.com, an Internet magazine devoted to Christian conversation about the movies.
Related Elsewhere
See earlier Film Forum postings for these movies in the box-office top ten: Charlie's Angels, Men of Honor, Little Nicky, Meet the Parents, Red Planet, and The Legend of Bagger Vance.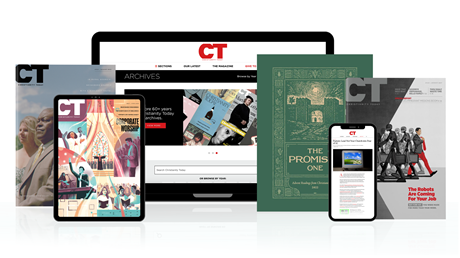 Subscribe to Christianity Today and get access to this article plus 65+ years of archives.
Home delivery of CT magazine
Complete access to articles on ChristianityToday.com
Over 120 years of magazine archives plus full access to all of CT's online archives
Subscribe Now
You're a Wholesome One Mr. Grinch
You're a Wholesome One Mr. Grinch