Each year the joint meetings of the American Academy of Religion and the Society of Biblical Literature (AAR/SBL) attract thousands of academics whose work centers on or circles around religion and sacred texts. Nowadays that work may well entail doubting, for instance, that there is any such thing as religion, not to mention doubting that there is any "coherent self" to experience doubt or belief in the first place. (And who is that figure at the microphone expressing such doubt? Merely the locus of a fragmented, polyvalent, posthuman, and indubitably postmodern parliament of selves.)
The setting this year is Nashville's Opryland, where amid surreal splendors meetings are scheduled, papers are given, job candidates are interviewed, and convention-goers trudge along winding paths and humid grottoes under a vast, domelike canopy, as if enclosed in the dream of a madman with an insatiable appetite for kitsch. Does this faze the assembled throng? Not at all. To be here in the first place you have to be someone who is accustomed to living in textual spaces, for whom extratextual reality is secondary.
Sessions began Saturday morning and continued through midday Tuesday. It is impossible to summarize the range of topics considered and the variety of viewpoints represented. Some who are present brag about never attending a session, but others are tormented by the surfeit of riches. A fascinating AAR session on funerals, death rituals, and the afterlife in Japanese Buddhism is scheduled at the same time as a tempting SBL session on the Decalogue, including a paper by Patrick Miller of Princeton Theological Seminary. And those are just two of many sessions from a single time slot.
The range of religious experience covered at such a gathering is at once exhilarating and staggering. We hear talk all the time about the place of Christianity in a "pluralistic world." At AAR/SBL, that talk is fleshed out. In such a setting, how can a believer avoid reflection?
Certainly "pluralism" is nothing new for Christians, who began 2,000 years ago as a reform movement within Judaism, itself divided internally and at the same time set in sharp distinction from other religions of the ancient world. The distinction rested on an astonishing claim, that the maker and ruler of all things had revealed himself in a special way to one people of all the peoples of the earth. That assertion gave offense then, as it does now.
This claim did not ignore the reality of competing faiths, but it held as a promise a vision of a redeemed world in which, led by the example of this chosen people, the Jews, all the other peoples of the earth—"the nations"—would join in worshiping the one God. Again and again the promise was given.
Is this promise still good? And if so, how will it be fulfilled? Believing Christians have one answer, Jews another. And increasingly there are Christians and Jews alike who resist the claim that has always defined them: the claim, as we have seen, that God uniquely chose one people as the vehicle for his self-revelation (a claim that Judaism and Christianity share, though Christians often seem to have forgotten it) and, for Christians, that God ultimately revealed himself uniquely in the person of Jesus.
Where does the non-negotiable particularity of the God of Abraham, Isaac, and Jacob, the non-negotiable particularity of Jesus, fit in the big world roughly if imperfectly represented in the meeting halls of AAR/SBL? That is not an academic question, nor is it—as some evangelical commentators have suggested—a question that we cannot even allow to be asked, lest it lead to the dilution and finally the abandonment of truth. To ask this question without denying the particularity of Scripture, to ask it, in fact, through Scripture: that's the challenge posed for us.
John Wilson is Editor of Books & Culture and Editor-at-Large for Christianity Today.
Related Elsewhere
Visit Books & Culture online at BooksandCulture.com or subscribe here.
The AAR/SBL Common Projects site has more on the conference, though there's better information about the organizations at the AAR and SBL individual sites.
Books & Culture Corner appears Mondays at ChristianityToday.com. Earlier Books & Culture Corners include:
The Horror! | Joan Didion encounters evangelical Christianity. (Nov. 13, 2000)
Election Eve | Why isn't anyone focusing on those who simply won't bother to vote? (Nov. 6, 2000)
Three Books and a Wedding | Remembering the good news. (Oct. 30 , 2000)
Unintelligent Designs | Baylor's dismissal of Polyani Center director Dembski was not a smart move.(Oct. 23, 2000)
Crying About Wolfe | Is there a scandal of "The Opening of the Evangelical Mind"? (Oct. 16, 2000)
The Light Still Shines | A Harvard-sponsored conference looks at the future of religious colleges. (Oct. 9, 2000)
RU-486 Uncovers a Lie—And It's Not Just About Abortion | Think the abortion pill is indicative of postmodernity? You're wrong. (Oct. 2, 2000)
Pencils Down Part II | Think your vote matters? You poor, misguided fool. (Sept. 18, 2000)
Pencils Down, the Election's Over | According to political scientists, Al Gore has already won. (Sept. 11, 2000)
Humans and Other Animals | How much do we share with the birds of the air and the beasts of the field? (Aug. 28, 2000)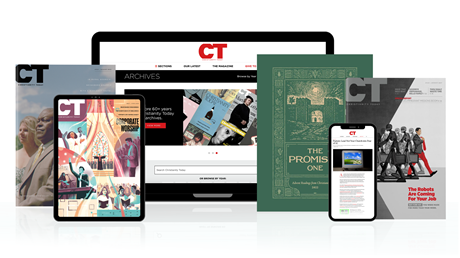 Annual & Monthly subscriptions available.
Print & Digital Issues of CT magazine
Complete access to every article on ChristianityToday.com
Unlimited access to 65+ years of CT's online archives
Member-only special issues
Subscribe
The Promise of Particularity Amid Pluralism
The Promise of Particularity Amid Pluralism