I love lists—Top 10 this, Top 50 that. They're great conversation starters, because they bring out the lawyer in us all. Everyone has opinions on why something should be higher, lower, added, or left off the list entirely.
But too much of a good thing makes it no longer good, and the year 2000 has seen a few too many lists (Christian History's list of the 10 most influential Christians of the twentieth century not being one of the too many). In fact, I wouldn't be surprised if someone is generating a list of the Top 50 moments in twentieth century bonsai.
Nonetheless, 100 Christian Books That Changed the Century (Revell) is a list worth reading. This is not just a list, but a 222-page book that follows the streams of Christian thought, particularly the evangelical variety, over the last 100 years. Written by father and son duo William and Randy Petersen, this easy-to-read volume provides a helpful overview of what Christians have been thinking and doing in the areas of popular culture, missions, apologetics, literature, and theology. They've tried to include a sampling of works from each decade, and unless you're 105 with a killer memory, many of the early books will be new to you and worth getting to know.
Most entries include some information about the author, a description of the book's content, reasons for the book's significance, and a sprinkling of quotes from quotable people. Readers who even merely skim this book will be impressed at just how powerful the written word remains.
In their preface, the Petersens wisely admit that they did not necessarily choose the best Christian books of the century. They also are forthright about their evangelical bias. They acknowledge that their choices are ultimately subjective.
These points aside, their choices reflect a thorough knowledge of what's been going on in (conservative) Christian circles in the last 100 years. They've chosen the obviously powerful books like C.S. Lewis's Mere Christianity, Karl Barth's Church Dogmatics, and Dietrich Bonhoeffer's The Cost of Discipleship. And they've chosen some books that, while contestable as significant in themselves, make the list because of their authors' remarkable lives: Peace with God by Billy Graham, Stride toward Freedom by Martin Luther King, Jr., If by Amy Carmichael, and Justice for All by John Perkins. The Petersens have also picked evangelical favorites like James Dobson's Dare to Discipline, Josh McDowell's Evidence That Demands a Verdict, and Experiencing God by Henry Blackaby and Claude King.
Careful readers will notice that some issues spring up early in the century, then leave the scene, only to resurface later. Examples include end-times speculation/dispensationalism (The Scofield Reference Bible in 1909 and Left Behind by Tim LaHaye and Jerry Jenkins in 1995), spiritual warfare (War on the Saints by Jessie Penn-Lewis in 1912 and This Present Darkness by Frank Peretti in 1987), and worship (Worship by Evelyn Underhill in 1936 and Worship Is a Verb by Robert Webber in 1985). Other important issues that appear multiple times include missions, science, how to interpret the Bible, and apologetics. Evangelicals seem at their best when winsomely defending the faith (Lewis's Christianity, McDowell's Evidence, and Frank Morison's Who Moved the Stone?) and at their worst when quibbling over internal matters like the end times.
The Petersens' work does have its flaws. Their preface is pitifully short and does not address many critical questions. I was left wondering, How do you define a "Christian" book? How do you determine whether a book changed the century or not? What sorts of books are being published in developing nations where Christianity (especially Pentecostalism) is growing rapidly?
In addition, though the authors try to cover themselves with a runners-up list at the end of the book, the absence in the top 100 of works by J.R.R. Tolkien and T.S. Eliot is glaring. And though they rightly include books by authors whose orthodoxy may be questioned but were embraced by at least some evangelicals, they also should have included works by authors of questionable orthodoxy who were rejected by evangelicals, yet who forced them to sharpen their beliefs—people like theologian Rudolf Bultmann and church historian Walter Bauer. Finally, the Petersens tend to emphasize how many copies a book sold rather than examining its impact.
Still, 100 Christian Books That Changed the Century is a worthwhile read and deserves to be on your shelf—next to all the other good lists.
Randy Bishop is assistant editor of Christian Reader and Your Church magazines.
Related Elsewhere
More Christian History, including a listing of events that occurred this week in the church's past, is available at ChristianHistory.net. Subscriptions to the quarterly print magazine are also available.
100 Christian Books That Changed the Century is available from Amazon.com and other book retailers.
See also Christianity Today's list of Books of the Century (Apr. 24, 2000) and HarperCollins' list of The 100 Best Spiritual Books of the Century.
Christian History Corner appears every Friday at ChristianityToday.com. Previous Christian History Corners include:
The Un-Denomination | The Southern Baptist Convention has been historically Un-Conventional. (Nov. 3, 2000)
Soul Crisis at the Conference on Faith and History | Academics gather asking questions like, "What does 'Christian history' actually mean?" (Oct. 27, 2000)
Case of the Missing Relic | A piece of Jesus' cross is stolen from a Toronto cathedral—or is it? (Oct. 20, 2000)
The Politicians' Patron

| Is Thomas More a saintly model? (Oct. 13, 2000)
General Revelations

| Reconsidering Robert E. Lee and Ulysses S. Grant. (Oct. 6, 2000)
Olympia Revisited

| Christianity and the Olympic Games were once competitors, but at other times have been on the same team. (Sept. 29, 2000)
Weighty Matters

| Gwen Shamblin's teachings sound an awful lot like some in the early church—and not in a good way. (Sept. 22, 2000)
In Errancy

| Want to know what's wrong with the Western church? Start with a list. (Sept. 15, 2000)
"Kill Them All"

| The medieval church was deadly serious about eliminating 'heretical' Cathars. (Sept. 11, 2000)
All Together Now

| What qualifies as an ecumenical council anyway? (Sept. 1, 2000)
Soviets, Schism, and Sabotage

| How the government manipulated division in the Russian Orthodox Church. (Aug. 18, 2000)
Sacrifice at Sea

| The story that wasn't in James Cameron's Titanic. (Aug. 11, 2000)
Colonial Soul

| The Cross and The Tomahawk series examines our nation's past from many perspectives. (Aug. 4, 2000)
The Fifth Evangelist

| Johann Sebastian Bach was a musician "who lived the Bible." (July 28, 2000)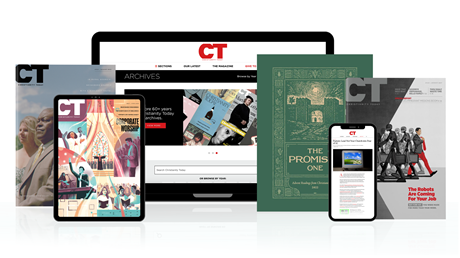 Annual & Monthly subscriptions available.
Print & Digital Issues of CT magazine
Complete access to every article on ChristianityToday.com
Unlimited access to 65+ years of CT's online archives
Member-only special issues
Subscribe
Top 10 Reasons to Read This Book
Top 10 Reasons to Read This Book