Shelly Wift laughingly describes herself as a "recovering witch."A plump woman in her early 30s with frizzy hair, she favors long cotton skirts picked up cheap at incense-heavy Indian shops in Manhattan.
"I'm kind of a cliché that way," she says. "What else would an ex-witch wear?"She used to belong to a coven that met monthly on the Friday closest to the new moon. In 1995 she and several of her fellow witches donned their Halloween finery and headed to (where else?) Salem, Massachusetts. The town is not the site of the witch hysteria that erupted in 1692—that distinction belongs to neighboring Danvers, which was known as Salem Village until 1752—but today's Salem capitalizes on the misconception. Halloween is an especially lively time in Salem, and Wift and her coven went there to meet up with other witches.
It was early in the evening when Wift and her friends were approached by a trio of clean-scrubbed evangelical students."I think they were from Gordon [College]," she says. "They came up to us—it was rather bold if you ask me—and said, 'Excuse me, are you all witches?'"Her friends laughed at the evangelists and moved on, but Wift says she was transfixed by the students' message of faith and hope in Christ. At first skeptical and threatened, Wift could not pass up the chance to defend her right to practice witchcraft."I wanted to tell them that I really didn't need to worship their patriarchal God, and that I would never shove my faith down someone else's throat," she says. "So at first I argued with them. But then they said some really persuasive, powerful things. I found I couldn't argue anymore.
"Wift spent the rest of the night reading the Bible the students left with her, and she took a bus back to New York alone while her friends stayed in Salem. In New York, she found a church and was baptized."I wish I had gotten those students' names," she says emotionally. "I have always wished I could write them a letter to tell them how they changed my life."
Witches ' brew
As a onetime witch, Wift has some advice for students who, though well-meaning, "don't know how to talk Wiccan." In fact, Wift has seen disastrous attempts to witness to witches by Christians who do not know Wiccan basics."I'm sure God uses it all in the long run, but people without any nuanced idea of what Wicca is can say some offensive things," Wift says. She insists that Wicca is not a cult."They don't realize that this is people's religion, and if you want to get through to them, you have to sound respectful and not walk in with uninformed stereotypes about what people believe and why."
While many in the medieval church associated witchcraft with Satan-worship and sorcery, most contemporary witches follow a nature-oriented, polytheistic belief system built around the worship of the Great Mother Goddess.
One Wiccan Web site (www.religioustolerance.org/wic_beli.htm) says that covens aim for a balance of males to females, though men are usually in the minority.
Wift returns to Salem every year to witness to such witches. She is not alone. Last Halloween 140 locals and students from Gordon College and Gordon-Conwell Theological Seminary passed out about 30,000 tracts to costumed revellers. This year, they plan to distribute 50,000. Former witch Bob Benoit returns every year to delight people with music and spread the gospel of Christ.
Ken Steigler, pastor of Salem's Wesley United Methodist Church, calls this "invitational evangelism." Steigler notes that Salem's Haunted Happenings celebration has grown from October 31 to the Halloween weekend to the entire month. He offers Holy Happenings as an alternative.
Area evangelical churches began holding concerts of prayer near Halloween 13 years ago, with some lasting from 6 p.m. until 6 o'clock the next morning.
This year's Holy Happenings will be even more spectacular. Rita Springer, a singer with Vineyard Ministries, will visit Salem for four days of Halloween ministry, and John Polce, a Roman Catholic singer, will entertain and evangelize. Steigler hopes to reach at least 1,000 people during Halloween week, and expects 500 to attend Wesley United Methodist's service on Halloween Eve itself.
In addition to tourists, he says, three types of people come to Salem during Halloween season: partygoers seeking a carnival experience, dabblers in witchcraft, and committed witches who regard Halloween as their sacred day."They go off in their covens and have a very serious celebration," Steigler says. "But this is not a city taken over by Wiccans and pagans. It is also a city with a Christian community, and we want to say to all of these groups, whether you are dabbling in witchcraft or are a witch of many years, we love you, and we welcome you."
So Wesley United Methodist, a church of about 265 members whose sexton was a witch for 42 years before becoming a Christian, opens its doors to provide prayer as well as apples, soda, and coffee. Last year the busiest time was between 10 p.m. and 1 a.m., when hordes of drunken kids who needed bathrooms, phones, and other care flooded in."If 10 people go away from Salem thinking, 'There is a church that welcomed me, that loved me, even with all my amulets and all my stuff,' then all of it is worth our while," Steigler says.
A haunting industry
As strong as the Christian witness in Salem was last year, some local observers estimate that it used to be even greater. "There was a fairly strong Christian movement here, major attempts to save people and to oppose the rise of Wiccans," historian Tad Baker says of 1992, the tercentenary of the Salem witch trials. "I think that has died down somewhat now."Baker, who teaches at Salem State College, says half a million people visit during the Halloween season."Salem makes a huge profit on the martyrdom of good people," he observes with evident distress. "Remember that no one who confessed to being a witch died. Only those good Christians" who refused to say they had participated in diabolical activities were executed.
Though witchery is a major industry in Salem, not everyone is happy about it, and evangelicals are not the only ones who wish Salem's witchy ways would abate. "The current mayor campaigned on toning down Haunted Happenings so that we don't become the witch capital of the world," Baker says. "But if you spend Halloween here, you see that's not easy to accomplish."Wift concurs. "It's a tough place to take a strong stand for Christ, because some of the powers that be in the town are opposed to it."
If Christians managed to root out witchcraft from Salem, Wift says, the town's tourist economy would wilt. Even some local Christians, she suspects, are at best ambivalent about the evangelistic outreach at Halloween. "They think it detracts from the town's main attraction, that faith is fine as long as it doesn't interfere with that."
Indeed, Wift ran into hostility on her night of witnessing during Halloween 1999. One woman, clad in legendary witch's garb from black pointy shoes to a black pointy hat, sought her out. The woman, who identified herself as a local, said she did not practice Wicca—in fact, she was a churchgoer. But she fingered Wift as an interloper, even correctly guessing that she hailed from New York.
"There are plenty of people you can spread your message to down there," the local fumed. "You don't understand what Salem is about. This is not about worshiping Satan, it is about celebrating our civic heritage—and, incidentally, it's how we stay afloat, both our identity and our economy." The black-clad, broomstick-toting woman suggested, in language that was none too polite, that Wift should take her witness back to New York and not return to Salem until she had all of Manhattan bowing at the foot of the cross.
Not all of Wift's encounters were so discouraging. One young witch, apparently no older than 13, sat and chatted. "But why do I have to pray to a male God?" the girl protested. "And why does God care what name I use for him, whether I use Jesus or Mother Earth?"As Wift deftly explained why it makes all the difference if Jesus was who he said he was, the girl grew quiet. She even held Wift's hand.
How the girl spent the rest of Halloween—returning home curious to read the Bible or delving back into her compendium of goddess tales from around the world—is unknown, but Wift was sure that somewhere the girl understood the difference between crying out to Mother Earth and reaching out to Jesus.
Related Elsewhere
Sidebars related to today's lead story " Good News for Witches" include " Witnessing to Witches" and " A Wicca Primer." Witnessing tips from a pagan? This Wicca practitioner wants to share a few pointers with Christians. The Modern World of Witchcraft by Craig Hawkins is a good overview of what Wiccans believe. It originally ran in the Christian Research Journal.In " The Wicca That Never Was" The Utne Reader explores the real story behind the world's newest "ancient" religion.Read the Watchman Fellowship's Wicca Primer.Don't miss Christianity Today's feature " The Bewitching Charms of Neopaganism" from November 1999.Other related CT stories include:Is Halloween a Witches' Brew? | Or have Christians been spooked out of celebrating a part of their rich tradition? (Oct. 5, 2000) Hallowing Halloween | Why Christians should embrace the "devilish" holiday with gusto—and laughter. (Oct. 5, 2000) Wiccans Practice on U.S. Bases | (July 12, 1999)
Have something to add about this? See something we missed? Share your feedback here.
Our digital archives are a work in progress. Let us know if corrections need to be made.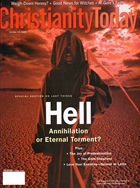 This article is from the October 23 2000 issue.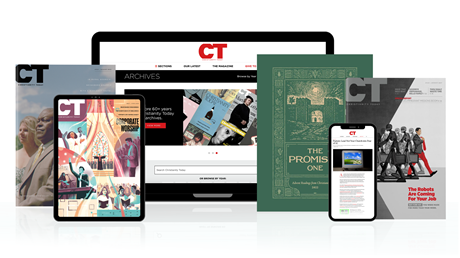 Subscribe to Christianity Today and get access to this article plus 65+ years of archives.
Home delivery of CT magazine
Complete access to articles on ChristianityToday.com
Over 120 years of magazine archives plus full access to all of CT's online archives
Subscribe Now
Good News for Witches
Good News for Witches