"I think we ought to do everything we can to tolerate and accommodate whatever kind of relationships people want to enter into," the Republican vice-presidential nominee said in last night's debate. As the New York Post's Rod Dreher notes, "Coming from a Republican vice-presidential nominee, that's a bombshell. … Add that to both Bush and Cheney's weak responses on the RU-486 question, and social conservatives this morning have to be feeling shell-shocked by the men leading the party they thought was their home."
"The time had come to disassociate ourselves from a denomination that had drifted from its Anglican roots," says Tim Smith, rector of Christ Church in Mobile. The Mobile Register reports, "The vote—251 for leaving and 29 for staying—came after 10 hours of debate Saturday and Sunday." The church will join the Anglican Mission in America. See also news from the Associated Press, Crosswalk's ReligionToday, and The Advocate.
Since Christianity Today noted Ty Inc's lawsuit against HolyBears in an editorial last year, it's time for a belated update. The two settled their differences in August. HolyBears had to redesign its bears and issue a letter of apology, but can sell older bears until they run out (creating what is sure to be a frenzy for the infringing "collector's items"). The apology is worth the read: "We begin this letter of apology with an admission. Beanie Babies bears were very much in the forefront of our minds when we got into this business. … At the time, we were not aware of Ty's copyrights, and we now realize that we started with some designs that looked very close to the appearance of Ty's Beanie Babies bears. … We were also wrong in making statements about our dismay with Ty filing its lawsuit against us. … It was never Ty's intent or desire to stop the spread of God's Word, and it was wrong of us to have said otherwise. We have asked for and have generously received Ty's forgiveness for our actions and our false statements about Ty's filing its lawsuit against us. We sincerely apologize for our misstatements and hope you will find it in your heart to forgive us as Ty has so graciously done." But the judge's decision to deny an injunction against HolyBears, signed back in May, also has its gems: "Stuffed toy bears have long been with us, as have bean bag toys. … We have no reason to doubt that the heads, ears, bodies, arms and legs of Beanie Baby bears have some modicum of originality. These bears are not, however, the David statue or War and Peace. Plaintiff's marketing success is not because of the quality and complexity of artistic expression." See more court documents about the case, a HolyBears message board about the settlement, and Christian Retailing's article about the settlement.
Here's the text of a television ad that the conservative organization tried to run in New York: "It is rumored that Hillary Clinton is a lesbian. It is rumored that Hillary Clinton supports homosexual marriage. It is rumored that Hillary Clinton will leave her husband upon taking office. It is rumored that Bill Clinton had an affair with Monica Lewinsky. Sometimes rumors are true." Evil, no? Fox News Channel wanted Martin Mawyer, head of the organization, to discuss the ad on the Hannity & Colmes show, but network president Roger Ailes nixed it because it was way too over the top. The story has appeared in Variety and The Roanoke Times, but you'll have to pay to read the older articles. Otherwise, the gay press, such as The Washington Blade and The Advocate, have coverage. (Lots of links to The Advocate today, huh? There's another one in today's Christianity Todayarticle on John Paulk. Got to give the gay press props for thorough coverage.)
Related Elsewhere
See our past Weblog updates:
October 5 | 4 | 3 | 2
September 29 | 28 | 27 | 26 | 25
September 21 | 20 | 19 | 18
September 15 | 14 | 13 | 12 | 11
September 7 | 6 | 5
September 1 | August 31 | 30 | 29
August 25 | 24 | 23 | 22 | 21
August 18 | 17 | 16 | 15 | 14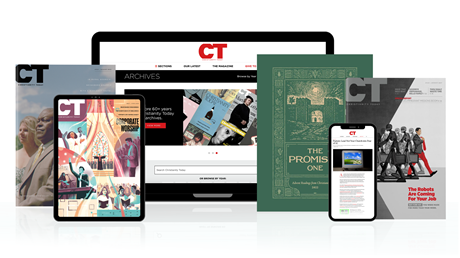 Annual & Monthly subscriptions available.
Print & Digital Issues of CT magazine
Complete access to every article on ChristianityToday.com
Unlimited access to 65+ years of CT's online archives
Member-only special issues
Subscribe
GOP Ticket Seems to Give Thumbs Up to Gay Unions
GOP Ticket Seems to Give Thumbs Up to Gay Unions