Big news out of Toronto this week: a tiny fragment of Christ's cross was stolen from the base of a statue in St. Michael's Cathedral. Monsignor Sam Bianco chose not to call the police, because he doubted they could help, but he has offered amnestry if the thieves repent.
Odd as this caper is, the stranger story is how a church in Toronto—or anywhere—obtained a piece of the true cross in the first place.
Around the year 326, Constantine's 71-year-old mother, Helena, made a pilgrimage to Jerusalem. Constantine had recently killed his wife, Fausta, and Helena's favorite grandson, Crispus, so Helena probably sought spiritual comfort and a respite from imperial intrigue. Whatever her reasons for the journey, she made the most of it, visiting places where Jesus had walked, committing her son to building numerous churches, and engaging in some amateur archaeology. In fact, she thought that she was able to identify every important site from Jesus' life.
Eusebius (c.260-c.340), the "Father of Church History" and a friend of the imperial family, records that one of Helena's goals was to find the tomb where Jesus had been buried. No one could remember for sure where it was, but Helena finally found a Jewish inhabitant of the city who said he had learned the location from his ancestors. The site was hidden under new construction "done by atheists and impious men" and featured a temple of Aphrodite, which Helena ordered torn down. Underneath she found a cave. She notified Constantine, and he told the bishop of Jerusalem to construct a church over the sepulchre, sparing no expense.
According to accounts written some decades after Helena's death in 333, however, Eusebius completely missed the real story. Later fourth century reports from Christian writers like Socrates (not that Socrates) and Hermias Sozomenus state that Helena found three crosses in the tomb, along with Pontius Pilate's trilingual inscription. To determine which cross had been Christ's, the bishop of Jerusalem brought in a dying woman to lie on all three. The one that cured on contact was declared the true cross. Helena kept some pieces at the site and sent the rest to Constantine, together with nails from the cross, which he used in the bit for his war horse.
Of course, this tale waves several red flags. Eusebius gives detailed accounts of Helena's discovery of the tomb and of the church built over it, but he doesn't mention the crosses. Constantine doesn't mention them in any of his numerous letters, either. Furthermore, Roman crosses weren't victim-specific; they were typically stockpiled for later use. And why would Christ's followers have buried the crosses of the two thieves?
Fortunately for those who venerate relics, authenticity is a relatively minor concern. Because the relic trade—and it was a big business—dates to at least the fourth century (long before carbon dating and DNA tests) and peaked in the notoriously superstitious Middle Ages, it would be impossible to investigate the provenances of all relics currently in circulation. Instead, the Catholic church gives the benefit of the doubt, though it has for some time insisted on verification by a bishop wherever possible.
According to the Catholic Encyclopedia, the church has never "pronounced any particular relic, not even that commonly venerated as the wood of the Cross, as authentic; but she approves of honor being paid to those relics which with reasonable probability are believed to be genuine and which are invested with due ecclesiastical sanctions." Apparently this uncritical stance is safe because the stakes are low: "On the one hand no one is constrained to pay homage to the relic, and supposing it to be in fact spurious, no dishonor is done to God by the continuance of an error which has been handed down in perfect good faith for many centuries."
So it's OK to continue an old error—just don't steal it.
Elesha Coffman is associate editor of Christian History.
Related Elsewhere
More Christian History, including a listing of events that occurred this week in the church's past, is available at ChristianHistory.net. Subscriptions to the quarterly print magazine are also available
The Toronto Star's article, "Relic Thief Likely Doesn't Know What He Has," is still available online.
The Catholic Encyclopedia has fascinating entries on relics and the True Cross.
The Christian History Institute, which founded Christian History magazine (it's now owned by Christianity Today International) also has an article about Helena and her search for the cross.
More on the True Cross is available from TemplarHistory.org (a site devoted to the Knights Templar) and Britannica.com.
Christian History Corner appears every Friday at ChristianityToday.com. Previous Christian History Corners include:
The Politicians' Patron | Is Thomas More a saintly model? (Oct. 13, 2000)
General Revelations | Reconsidering Robert E. Lee and Ulysses S. Grant. (Oct. 6, 2000)
Olympia Revisited | Christianity and the Olympic Games were once competitors, but at other times have been on the same team. (Sept. 29, 2000)
Weighty Matters | Gwen Shamblin's teachings sound an awful lot like some in the early church—and not in a good way. (Sept. 22, 2000)
In Errancy | Want to know what's wrong with the Western church? Start with a list. (Sept. 15, 2000)
"Kill Them All" | The medieval church was deadly serious about eliminating 'heretical' Cathars. (Sept. 11, 2000)
All Together Now | What qualifies as an ecumenical council anyway? (Sept. 1, 2000)
Soviets, Schism, and Sabotage | How the government manipulated division in the Russian Orthodox Church. (Aug. 18, 2000)
Sacrifice at Sea | The story that wasn't in James Cameron's Titanic. (Aug. 11, 2000)
Colonial Soul | The Cross and The Tomahawk series examines our nation's past from many perspectives. (Aug. 4, 2000)
The Fifth Evangelist | Johann Sebastian Bach was a musician "who lived the Bible." (July 28, 2000)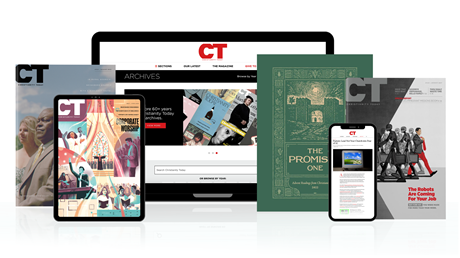 Subscribe to Christianity Today and get access to this article plus 65+ years of archives.
Home delivery of CT magazine
Complete access to articles on ChristianityToday.com
Over 120 years of magazine archives plus full access to all of CT's online archives
Subscribe Now
Case of the Missing Relic
Case of the Missing Relic