The Christian Web site has cut nine employees from its staff, and is relocating its music channel offices from Nashville, heart of the Christian music industry, to the company's main offices in Chantilly, Virginia. "Although a few of the displaced Nashville employees were given the opportunity to relocate to Virginia, reports CCM Update, "an insider said it's not likely any will do so, leaving the actual management of the music channel unclear." Neal Joseph, vice president/general manager of Crosswalk.com's entertainment area, quit in July and has not been replaced. The company's Chief Operating Officer quit last week. Here's a telling paragraph from the CCM Update article, noting that Crosswalk isn't the only site with troubles: "Crosswalk competitors—though they came later to the game—have also struggled. In July, ichristian.com was sold to Christian Book Distributors after struggling financially. OnePlace.com has announced layoffs over the past two months and, according to an inside source, ibelieve.com recently laid off a dozen employees and is soliciting extra investors. Musicforce wrestles with its identity as its parent company, Gaylord Entertainment, continues to vocalize its disappointment in former CEO Terry London's Internet acquisitions."
The Tallahassee lawyer says he will continue Family Research Council's pushes against abortion and taxes, but wants to add emphasis on issues like adoption (he and his wife are adoptive parents), health care, elderly care, and judicial activism. He tells The Washington Times he was recommended for the position by Charles Colson. For more on Connor, see his page at the Florida Constitution Revision Commission, an NRA article asking members to thank Connor for his anti-gun-control votes during his work for the commission, an article Connor wrote for The Florida Bar News on merit retention for trial judges, and a book edited by R.C. Sproul in which he wrote one of the chapters.
The Tribune has a 2,200-word article examining Paul's words, "Wives, submit to your husbands as to the Lord." Not that there's much in the article that Christianity Today readers haven't read a million times before, but it's interesting to see the Tribune's approach. Unfortunately, the article reads the same as hundreds of other religion columns: regular church attendees saying they're just trying to follow the Bible on one side, and magisterial scholars on the other. A woman identified as a mother of two says, "I really feel that being a submissive wife is a highly esteemed position for women to be in." Then that's followed up by Don Browning, director of the Religion, Culture and Family Project at the University of Chicago Divinity School, saying all ancient religions are patriarchal. Tracy Dzwilewski, simply identified by age and hometown, says, "It's not just the man putting down his foot. The husband answers to Jesus. He's trying to do what Jesus would do." Then Dr. Nada Stotland, chairwoman of psychiatry at Illinois Masonic Medical Center, responds, "The ultimate danger of the interpretation of Scripture [as counseling female submissiveness] is domestic violence." Louie Parker, Christianity Today International's director of marketing production, is also quoted in the story: "Such a big thing is made out of, 'Women, submit to your husband.' But the Scripture says in the next verse, 'Men, treat your wives better than you treat yourself; love your wives as much as Christ loved the church and gave up for her … It's women submitting to their husbands, husbands submitting to their wives, and submitting together to Christ." There's also a sidebar saying " women defer to men all the time, some women say, not out of religious conviction but out of habit."
John Bryden wants to make Christmas a national holiday rather than a statutory holiday based on religious observance to "enable those people who are not Christians to celebrate Christmas with the rest of Canadians." As expected, religious leaders are concerned. "Very often you hear the complaint that Christ has been taken out of Christmas, and it's sort of absurd—consider the first half of the word—that an act of Parliament could suddenly say that is no longer part of it," says William Kokesch, communications director for the Canadian Catholic Conference of Bishops. Even Jewish leaders are skeptical. "People are already free to enjoy the holiday as they see fit," says Manuel Prutschi, spokesman for the Canadian Jewish Congress. "So why unnecessarily stir up Canada's multicultural and multi-faith pot?"
Wheaton College, which dropped its Crusader mascot in April because of "how offensive the image of the Crusades is to large portions of the world," will announce a replacement Saturday at the dedication of a $13.5 million sports and recreation center.
Related Elsewhere
See our past Weblog updates:
September 26 | 25
September 21 | 20 | 19 | 18
September 15 | 14 | 13 | 12 | 11
September 7 | 6 | 5
September 1 | August 31 | 30 | 29
August 25 | 24 | 23 | 22 | 21
August 18 | 17 | 16 | 15 | 14
August 11 | 10 | 9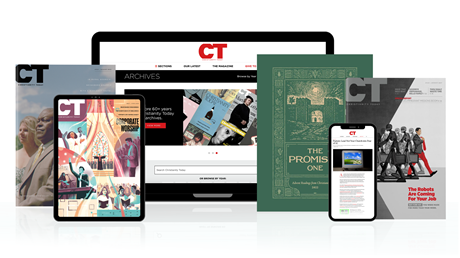 Annual & Monthly subscriptions available.
Print & Digital Issues of CT magazine
Complete access to every article on ChristianityToday.com
Unlimited access to 65+ years of CT's online archives
Member-only special issues
Subscribe
As Crosswalk.com Cuts Staff and Closes Office Other Christian Web Sites Flounder Around It
As Crosswalk.com Cuts Staff and Closes Office ...