BBC's theological consultant on Son of God rips miniseries
N.T. (Tom) Wright is attacking the BBC's £1.5 million ($2.15 million) documentary series on the life of Jesus, Son of God. That wouldn't necessarily be news—many people are criticizing the miniseries, which concludes Easter Sunday—but Wright, the Canon Theologian of Westminster Abbey, was one of only two theological consultants on the project. In the program, Wright says, Jesus is portrayed as "a politically correct social worker." "There was plenty wrong with the wealthy and oppressive aristocracy," Wright tells London's The Daily Telegraph, "but Jesus's movement was far more than another center-Left protest march. He was saying that God's new day was dawning and that now everything was going to be different. Unfortunately, the BBC didn't want to know about that. Their audience wouldn't understand it, they said. But without it, they won't understand the rest either." The Telegraph notes, "The comments from the canon, who was one of two consultants relied on by the BBC to add academic weight to the series, will embarrass the corporation." Gotta love the British penchant for understatement. (See Weblog's earlier discussion of Son of Godhere.)
Speaking of the Son of God in Great Britain, The Telegraph also reported this week that Richard Holloway, the former primus (leader) of the Scottish Episcopal Church, says he doesn't believe that Jesus was anything more than "an extraordinary man." "If people could really understand that the nature of religion is this wonderful mythic, symbolic, poetic system about deep truth, then they would relax," he said in an interview with Lesbian and Gay Christians magazine. "But we claim that you have to get into your head certain convictions about historical events, that are in a sense irrelevant." As the Telegraph notes, Holloway has never been the Church's biggest defender of orthodoxy, having "advocated marriage ceremonies for gays … admitted trying the drug cannabis, and … taught that even paedophiles should receive greater understanding for what they do." And that's just a partial list. But this is the first time, apparently, that he's "denounced the Church's teachings or questioned its future with such vigor." How, um, Spongian of him.
African leaders declare war on homosexuals
Namibian President Sam Nujoma is urging local leaders to identify gays and lesbians in their communities so that they can be arrested, reported The Namibian this week. "Traditional leaders, Governors see to it that there are no criminals, gays and lesbians in your villages and regions," he said. "We in Swapo (South West African Peoples' Organization) have not fought for an independent Namibia that gives rights to botsotsos (criminals), gays and lesbians to do their bad things here." The request shows that he was totally serious when he said a few weeks ago that all homosexuals would be arrested, imprisoned, and deported from the South African country. The Wall Street Journalnotes in an editorial that Nujoma is not alone. "This follows on recent comments by other African leaders that homosexuals are a 'scourge' (Kenya's Daniel arap Moi), and 'lower than pigs and dogs' (Zimbabwe's Robert Mugabe). Similar vitriol from Zambia and especially Uganda. 'I have told the [police] to look for homosexuals, lock them up and charge them,' said Yoweri Museveni, the newly re-elected leader of that country." Ironically, during all this, South Africa (which borders Namibia and Zimbabwe) is trying to make itself into one of the world's top gay tourism destinations.
Persecution:
Higher education:
Related Elsewhere
See our past Weblog updates:
April 4 | 3 | 2

March 30 | 29 | 28 | 27 | 26

March 23 | 22 | 21 | 20 | 19

March 16 | 15 | 13 | 12

March 9 | 8 | 7 | 6 | 5

March 2 | 1 | February 28 | 27 | 26

February 23 | 22 | 21 | 20 | 19

February 16 | 15 | 14 | 13 | 12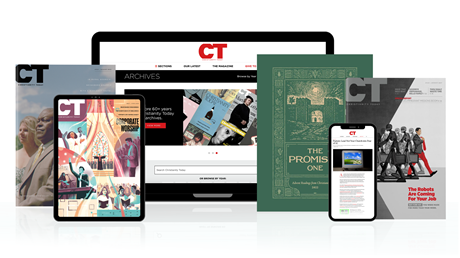 Annual & Monthly subscriptions available.
Print & Digital Issues of CT magazine
Complete access to every article on ChristianityToday.com
Unlimited access to 65+ years of CT's online archives
Member-only special issues
Subscribe
You Know Your Documentary Is Bad When Your Consultant Shreds It
You Know Your Documentary Is Bad When Your Consultant Shreds It