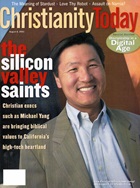 This article is from the August 6 2001 issue. Subscribers can read all of CT's digital archives.
Do not remember the former things, or consider the things of old. I am about to do a new thing;now it springs forth, do you not perceive it?
Isaiah 43:18-19a (NRSV)
Here below to live is to change, and to be perfect is to have changed often.
J. H. Newman, Essay on Development
Dislocation, with all its risks, is surely preferable to stagnation, which is the temptation when we cling too powerfully to what we have. When we do that, growth ceases. This is living death.
Ralph McAfee Brown, Creative Dislocation—The Movement of Grace
The status quo can never be totally accepted by one who has an eschatological vision.
Charles Curran, Theology Today
We have to feel the universe at once as an ogre's castle, to be stormed, and yet as our own cottage, to which we can return at evening.
G. K. Chesterton, Orthodoxy
Getting things done [institutionally] is like elephants mating: It is done at a high level, accomplished with a great deal of roaring and screaming, and takes two years to produce results, which usually fall to the ground with a thud.
EMC Weather Vane
Be not afraid to go slowly; Be only afraid of standing still.
Japanese proverb
If you're not making mistakes, you're not taking risks, and that means you're not going anywhere. The key is to make mistakes faster than the competition, so you have more chances to learn and win.
John W. Holt Jr., Celebrate Your Mistakes
Reasonable people adapt themselves to the world. Unreasonable people attempt to adapt the world to themselves. All progress, therefore, depends on unreasonable people.
George Bernard Shaw, Quoted in Sojo Mail (Sojourners Online)
Be not the first by whom the new is tried. Nor yet the last to lay the old aside.
Alexander Pope, from "The Essay on Man"
A generation is the primary agent ...
1
Quotations to Stir Mind and Heart
Quotations to Stir Mind and Heart