The earliest known inhabitants of the region we call the Holy Land (bounded by the Jordan River, the Mediterranean, Lebanon, and the Sinai Peninsula) were the Canaanites. Under Joshua's leadership, the Hebrews conquered Canaan around 1250 B.C. Over the centuries, the land's rulers have included the Egyptians, Assyrians, Babylonians, Persians, Greeks, Seleucids, Romans, Fatimids, Sljuks, the Crusaders, Saracens, Mamelukes, and—after the Ottoman Empire victory in 1517—Turks.
The first Zionist immigrants moved to Palestine in 1878 to form an agricultural colony. An Israel-friendly Britain took over Palestine during World War I, promising Zionist immigrants "the establishment in Palestine of a national home for the Jewish people." When hostility between Arabs and Jews erupted, the British-appointed Peel Commission, after exhaustive research, declared that Arabs and Jews could never coexist peacefully; it recommended dividing Palestine into a small Jewish state, a much larger Arab state, and a British-governed neutral state. When Israelis accepted the plan and Arabs did not, the British made plans to abandon Palestine. A timeline of events since:
1948
Zionist leader David Ben-Gurion declares Israel a state and the first Arab-Israeli war erupts as Lebanon, Syria, Transjordan, Egypt, and Iraq invade the new country.
1967
During the Six-Day War, Israel takes the Sinai and Gaza from Egypt, the Golan Heights from Syria, and the West Bank and Jerusalem from Jordan.
1973
Egypt and Syria strike Israel on Yom Kippur, Israel's holiest fast day.
1979
During negotiations led by President Jimmy Carter at Camp David, Israel agrees to return the Sinai to Egypt in exchange for Egypt's recognition of Israel.
1982
Israeli armies invade Lebanon and force the Palestinian Liberation Organization out of Beirut.
1988
Jordan gives up the West Bank in favor of the Palestinian people.
1993
Secret negotiations in Norway result in the Oslo I Agreement. Israel's Prime Minister, Yitzhak Rabin, and Palestinian Liberation Organization Chairman Yasser Arafat agree to allow Palestinian autonomy in the Gaza Strip and West Bank's Jericho, and later in other areas of the West Bank.
The treaty did not address Palestinian statehood, the return of Palestinian refugees, termination of Jewish settlements, and Israeli occupation of East Jerusalem. Nevertheless, each party agreed to enforce U.N. Security Council Resolutions 242 and 338: Israeli forces would withdraw from Arab territories Israel seized in the Six-Day War; Arab states would recognize Israel's statehood and right to security.
1994
Israel and Jordan sign a peace treaty in which Jordan gains control of Muslim holy sites in Jerusalem. Israel withdraws from Jericho and the Gaza Strip.
1995
The Oslo II Agreement, signed in Washington, spells out a plan for Israeli forces to withdraw from six Arab cities and 400 villages in the West Bank by early 1996.
1995-2000
Both sides break the peace agreements: Israel fails to withdraw from the West Bank and the Palestinians fail to move against guerrilla activity.
July 2000
Camp David II talks end with no agreement as Yasser Arafat refuses to accept Israel's peace conditions.
Sept. 28, 2000
Ariel Sharon, leader of Israel's right-wing opposition, visits the Temple Mount, a site holy to both Jews and Muslims.
Related Elsewhere
Be sure to read Christianity Today's related article "The Peace Regress | What's behind the current outbreak of hostilities in the Holy Land?"
The Israel, Palestine, Jordan Confederation provides links to historic agreements like the Oslo Accords and the Wye River Memorandum.
View a map of territories in the Oslo Agreements through 1999.
Visit the official homepage of the Palestinian National Authority.
Read more about Ariel Sharon and his role in the current conflict at CNN.com. You can also learn more about Yassar Arafat and Yitzhak Rabin.
Previous Christianity Today stories about conflict in Israel and Palestine include:
Christmas in Palestine: Hunger and War | Starvation threatens Palestinian villages if U.N. aid continues to be delayed, Vatican official warns. (Dec. 13, 2000)
Between the Temple Mount and a Hard Place | Palestinian Christians want both peace in their villages and justice for their Muslim brothers. (Dec. 5, 2000)
Lutheran Bishop's Appeal from Jerusalem | Religious leader's letter requests prayer for Christians, Jews, and Palestinians in troubled region. (Nov. 10, 2000)
Latin Patriarch tells Israel to Surrender Lands to Palestinians | Catholic leader says Israel will never have peace unless it "converts all of its neighbors to friends." (Nov. 1, 2000)
Fighting Engulfs a Christian Hospital in Jerusalem | Lutherans call conflict on their hospital grounds "an affront" to humanitarian purposes. (Oct. 16, 2000)
Preparing for Pilgrims | Religious rivalry complicates millennial planning. (June 14, 1999)
How Evangelicals Became Israel's Best Friend | (October 5, 1998)
Have something to add about this? See something we missed? Share your feedback here.
Our digital archives are a work in progress. Let us know if corrections need to be made.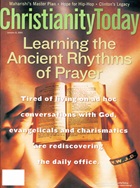 This article is from the January 8 2001 issue.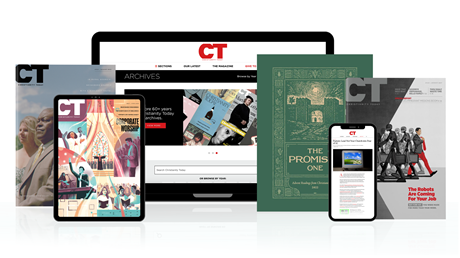 Annual & Monthly subscriptions available.
Print & Digital Issues of CT magazine
Complete access to every article on ChristianityToday.com
Unlimited access to 65+ years of CT's online archives
Member-only special issues
Subscribe
Conflict in the Holy Land: A CT Timeline
Conflict in the Holy Land: A CT Timeline