Not far from the Texas ranch of George W. Bush after the November election, a sign at First Baptist Church read, "Crawford, Texas, home of President George W. Bush, Maybe." For the next few weeks, the eight words of First Baptist pastor Mike Murphy condensed countless hopes and fears of 276 million Americans concerning the election. In the end, Bush's victory in Florida over Vice President Al Gore gave him the Electoral College, but not the national popular vote.
In early December, though, Florida's Christian conservative politicians, known in the state legislature as the "God squad," had developed a behind-the-scenes plan to turn maybe into certainty. Led by House Speaker Tom Feeney, Religious Right legislators had tangled in times past with the Florida Supreme Court over school choice, abortion, racial quotas, the death penalty, and the teaching of yoga in public schools. So, in the face of the state court's early rulings for Gore, Feeney declared, "The House is prepared to act."
But the U.S. Supreme Court ruled that Florida election recounts were unconstitutional and brought the election struggle to a close. Gore then conceded the election.
Bush's victory is clear, but his mandate is far from certain. This unsettling reality is due to the type of campaign he ran as well as the difficulty of leading a divided country.
Solid support
During his presidential campaign, Bush rode a powerful wave of Republican dominance in Texas as his springboard to national office. Bush campaign manager Karl Rove contrasted Bush's success with the days when "in east Texas, they said they hunted Republicans." One of the keys to Bush's victory was his solid base of support from evangelicals. They cast over one of three votes that Bush received, according to several national polls.
Bush, however, downplayed hard-core Religious Right issues, including his opposition to abortion and homosexuality, while also holding onto support from evangelicals. Angry at President Clinton, hungry for a White House victory, and unable to coalesce on any viable alternative to Bush's candidacy, the Religious Right became the silent majority of the Bush coalition, which included both social and political conservatives. For his part, Bush occasionally reassured small gatherings of Christian leaders that his presidency would not forsake the agenda of social conservatives. In Texas politics, Bush had simultaneously proclaimed faith-based social initiatives while ushering some of the movement's divisive advocates out the door.
Bush won a resounding re-election victory in the 1998 Texas elections, while "candidates with potential to upset his apple cart had their heads lopped off without Bush getting directly involved," according to Texas political conservative David Guenthner. Bush then was free to set an agenda that would salve the Religious Right's wounds without his being forced to take high-profile and nationally unpopular stands.
Practiced in winning on the promise of "compassionate conservatism" and unity politics, Bush brought an amiable persona to his national campaign. But late in the election game, African-American civil rights leaders and entertainers portrayed the Republicans as "Klansmen in suits," and some African Americans swung back into the Democratic fold.
Furthermore, the Bush campaign's miscalculations also led to a nearly fatal complacency in Florida. Gore's coalition of trade unions, urban residents, African Americans, and the potent support of Californians proved strong enough to win the popular vote, but not enough for the 270 electoral votes needed to win the presidency. Bush's victory was cobbled together with voting blocs of evangelicals, Catholics, and other churchgoers, married couples, men, and small-town residents, according to national exit polls.
Plums of victory
Almost immediately after Bush's too-close-to-call victory, evangelicals in Congress were holding education sessions on how to read and use "the plum book," a compilation of more than 3,000 positions that an incoming president may appoint. By late November, some candidates for presidential appointments launched campaigns to garner endorsements. For example, one former congressman sent evangelist Bill Bright, founder of Campus Crusade for Christ, a complete portfolio of letters and vita with a request for an endorsement.
While many people had lists of best appointments, the protracted court battles stalled their consideration. "It will be next September before they get around to considering people at my level," lamented one evangelical in Washington.
Some of the first signs of the new administration's nature will be what kind of executive orders Bush issues. When Bill Clinton took office, his first orders—issued during the annual Washington March for Life—reversed President George H. Bush's policies on abortion and sexual orientation.
"I think a lot of people should take a look at what President Bush will do through executive action," says Rich Cizik of the National Association of Evangelicals. "There you will see the willingness of a new Bush administration to reverse Clinton policies. It will not come just through the budget and legislative proposals."
One senior Republican congressional aide says House leaders told Bush that they would like the new President to revive the executive order prohibiting federal foreign aid for proabortion programs and to eliminate federal funding for human embryo research.
The Bush staff sounded out Religious Right leaders about structuring a White House Office of Faith-based Action. Such an office, modeled on the work of Texas gubernatorial staffer Don Willet in systematically making the Texas government user-friendly for religious organizations, would replace the old Office of Liaison that threw religious groups together with other interest groups.
Bob Woodson, head of the National Center for Neighborhood Enterprise, urged Bush "to use the White House as a bully pulpit to bring attention to leaders of faith-based organizations that have improved the lives of people [such as] drug addicts."
Some would also like to see such an office to test the relative effectiveness of the faith-based and therapeutic approaches. Such a test would also be a challenge to churches to get more effectively involved with helping the poor.
"It is a $24,000 question whether faith-based groups are ready to take this on. It is an amazing cultural moment that we have a man likely to become President who wants the nation to rethink our approach to church-state issues," said Joseph Loconte of the conservative Heritage Foundation before the election was resolved. "It is a moment for people of faith to step up to the plate and enter onto the secular turf."
Focus on religious freedom
"I am deeply interested in the persecuted abroad," says Bush national security adviser Condoleeza Rice. "After all, I am a Christian too." Rice, 45, was a Russia expert on the National Security Council during the elder Bush's presidency and was better known for her attention to strategic conflict than for her interest in human rights. Still, while serving as provost at Stanford University, Rice found time to devote to local charity programs helping poor youth. Rice says she strongly recognizes the importance of recent efforts to support religious freedom abroad.
Possible Secretary of State Colin Powell has also been trying to extend his hand to evangelicals. Emerging from a meeting on faith-based initiatives in Philadelphia, he turned to a group of evangelicals to say, "I'm on your side. Let's work together."
Evangelicals have been wary of Powell because of his support for abortion rights. However, one person close to the State Department's career leaders believes that Powell "will want to keep the conservative Republicans happy wherever he can," including appointments to the new Human Rights Commission and the Ambassadorship for Religious Freedom.
A tax cut first?
It appears the new President will have to deal right away with an economic slowdown that started in the last months of the Clinton administration. One evangelical congressman has urged Bush to tell the nation immediately that "the economic cupboard is bare."
The priority on the economic issue might appear to give substance to fiscal conservatives' claim that Bush did best when he abandoned his "compassionate conservative" rhetoric in favor of red-meat promises of tax cuts. Yet it appears that both candidates had a sincere and winning appreciation for the spiritual and moral dimensions of social and political life. The Gore campaign featured the dramatic choice of Joseph Lieberman, an Orthodox Jew, and open discussion of the importance of faith.
Indeed, some Bush staffers have told ct that fiscal measures to revive the economy could include eliminating the marriage tax penalty, a measure strongly desired by the Religious Right. Though the nation is sharply divided, many observers say there was a broad consensus between both candidates about many issues.
"The division means it will be difficult to accomplish great goals," says Bill Wichterman, a senior staffer to conservative Congressman Joe Pitts (R-Pa.), "but we can keep running the ball downfield. We just won't get the long passes now."
Related Elsewhere
Don't miss Christianity Today's editorial on the election: "The Evil of Two Lessers."
More religious spin on the election is available from Beliefnet and World magazine.
Other media coverage of the Supreme Court's ruling can be found at Yahoo's full coverage area.
Other Christianity Today coverage of the 2000 election includes:
Bush's Call to Prayer | After Al Gore's concession, evangelical leaders unify around faith-based initiatives, morality, and prayer as the incoming Bush administration gears up. (Dec. 14, 2000)
Books & Culture Corner: Election Eve | Why isn't anyone focusing on those who simply won't bother to vote? (Nov. 6, 2000)
Books & Culture Corner: Pencils Down Part II | Think your vote matters? You poor, misguided fool. (Sept. 18, 2000)
Anniversary of Church Shootings Serves as Reminder for Bush | Presidential candidate promises to battle religious bigotry in wake of Texas tragedy. (Sept. 15, 2000)
Books & Culture Corner: Pencils Down, the Election's Over | According to political scientists, Al Gore has already won. (Sept. 11, 2000)
A Presidential Hopeful's Progress | The spiritual journey of George W. Bush starts in hardscrabble west Texas. Will the White House be his next stop? (Sept. 5, 2000)
A Jew for Vice-President? | Joseph Lieberman's Torah observance could renew America's moral debate. (Aug. 9, 2000)
Bush and Gore Size Up Prolife Running Mates | Will abortion stances play an influential role in Vice Presidential selection? (July 17, 2000)
Gary Bauer Can't Go Home Again | Internal survey at Family Research Council says 'partisan' leader unwelcome. (Feb. 8, 2000)
Might for Right? | As presidential primaries get under way, Christian conservatives aim to win. (Feb. 3, 2000)
God Bless America's Candidates | What the religious and mainstream presses are saying about religion on the campaign trail and other issues. (Dec. 10, 1999)
Conservatives Voice Support for Bauer (Nov. 15, 1999)
Bush's Faith-Based Plans | Bush argues that private religious organizations can partner successfully with government. (October 25, 1999)
Can I get a Witness? | Candidate testimonies must move beyond piety to policy. (August 9, 1999)
Republican Candidates Court Conservatives Early, Often (Apr. 4, 1999)
Reconnecting with the Poor | If people are hurting, it's our business. (Jan. 11, 1999)
Have something to add about this? See something we missed? Share your feedback here.
Our digital archives are a work in progress. Let us know if corrections need to be made.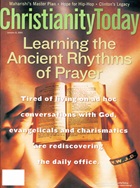 This article is from the January 8 2001 issue.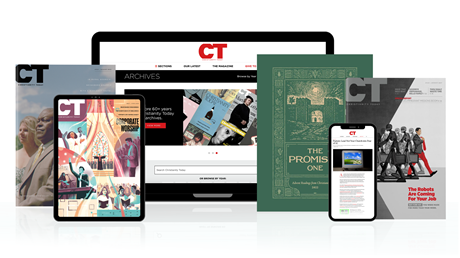 Subscribe to Christianity Today and get access to this article plus 65+ years of archives.
Home delivery of CT magazine
Complete access to articles on ChristianityToday.com
Over 120 years of magazine archives plus full access to all of CT's online archives
Subscribe Now
The Bush Agenda
The Bush Agenda