Son of a Preacher Man: My Search for Grace in the Shadows
Jay Bakker with Linden Gross
HarperSanFrancisco, 224 pages, $23
How could Jay Bakker, the chubby-faced cherub on his parents' PTL television show, become the tattoo-bedecked man on the cover of Son of a Preacher Man? And how could this young man have survived the national humiliation of a religious scandal that he did not cause?
The story Bakker tells is a sobering warning about the deep wounds Christians can inflict by shunning our fellow believers who fall into sin.
Bakker was a mere 12 years old when scandal sent his father's PTL empire into a meltdown. Both his parents, already the subjects of widespread mockery, became pop-culture icons of the supposedly universal hypocrisy among TV evangelists.
What does a 12-year-old boy do in such soul-crushing circumstances? In Bakker's case, the boy becomes an addict for several years, eventually embraces Christianity as his own, develops a street ministry to other shell-shocked young people, and still walks with emotional and spiritual wounds that do not appear thoroughly healed.
More than once, young Bakker sits in congregations anonymously and hears Christian leaders make cheap jokes about his parents. "Don't worry," Bakker quotes one smiling youth pastor telling his charges. "I'm not going to pull a Jim and Tammy Bakker on you and try to steal all your money." Bakker confronts the pastor afterward, only to be hurt more: "He never even apologized, which only reinforced my feeling that the church had completely rejected my family and turned its back on us."
Bakker describes his fury on learning that his imprisoned father planned to meet with Jerry Falwell in an effort at reconciliation. "This was the man who destroyed my father, who took everything he had, who destroyed my life," he writes. Still, young Bakker eventually relents and joins his father in meeting with Falwell. His description of exchanging forgiving words with Falwell does not ring with themes of reconciliation:
"I just want to let you know that I forgive you," I said. "I forgive you for what you've done to my family, and I want you to forgive me for hating you all these years, for the hate that has lived in my life."
"Thank you for forgiving me," [Falwell] replied. "Forgive me for what you may think I have done or might have done to you."
That conversation gave me peace in my heart for the first time in years. He did not say what I wanted to hear, but forgiving him was freeing.
More dramatically, Bakker describes his desperate efforts to campaign for his father's parole, and of how only one of Bakker's brother TV evangelists, his onetime nemesis Jimmy Swaggart, rose to the occasion. "[Swaggart's] willingness to overlook their theological differences and even their past conflicts taught me a lot about restoration," Bakker writes.
Bakker tends to draw overly broad conclusions about the church and to get in over his head on theological questions. He writes, for example, that churches should not "kick people out for saying a few cuss words or smoking a joint or getting angry. We've got to trust God in their lives. Anything less is conditional love, when we really serve a God who loves us unconditionally."
And he exaggerates the pledges required by True Love Waits, then dismisses that chastity movement as doing evil: "People think of the Antichrist as some six-horned beast that's going to come and take over the world. But having 30,000 kids in a stadium signing contracts saying that they will never sin again [True Love Waits participants actually promise no such thing] embodies the spirit of the Antichrist, a spirit that is alive and well right now in the American church." (Bakker might want to brush up on Jesus' warnings about ascribing too much to Satan.)
Bakker comes across as an impulsive young man who still takes too many relatively slight offenses as widespread persecution of the Bakker family. Considering how much time can heal wounds, Son of a Preacher Man would be a stronger book if Bakker were a decade older. Still, this book is a record of far more than Jay Bakker's personal grievances. It is a moving account of how the most broken and despised people play crucial roles in the countercultural Kingdom of God, and reminds us that godly discipline is one matter; spreading opprobrium for years after a scandal is another.
Related Elsewhere
Jay Bakker's Revolution Outreach is a part of Safehouse Ministries.
Read Echo magazine's "Getting Their Fix", about Bakker's ministry in Atlanta.
The Cincinnati Enquirer also examined his mission and pastoral approach.
Canada's National Post has also taken an interest.
Rolling Stone's article about Bakker appeared in their September 16, 1999 issue and is available in print only.
For all those interested, here's a site offering a close-up of Bakker's tattoos. It's not as good as these two photos of Bakker alone and with his dad.
Previous Christianity Today articles about the Bakker's include:
Tammy Faye, Gay Icon | A new documentary rescues the former PTL star's reputation, especially in the homosexual community. (Oct. 4, 2000)
The Re-education of Jim Bakker | Back on the streets, this fallen televangelist is preaching good news to the poor and predicting an asteroid-studded Second Coming. (Dec. 7, 1998)
Part of the Truth | Jim Bakker's memoir leaves some important questions unanswered. (Dec. 9, 1996)
Bakker: Falwell Was 'Totalitarian' | (Dec. 9, 1996)
Bakker Bios | Jim, Tammy Faye Describe Downfall (Nov. 11, 1996)
Have something to add about this? See something we missed? Share your feedback here.
Our digital archives are a work in progress. Let us know if corrections need to be made.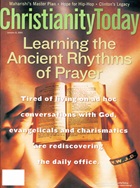 This article is from the January 8 2001 issue.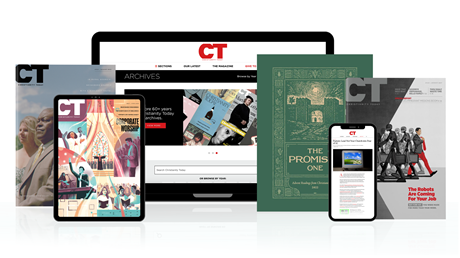 Subscribe to Christianity Today and get access to this article plus 65+ years of archives.
Home delivery of CT magazine
Complete access to articles on ChristianityToday.com
Over 120 years of magazine archives plus full access to all of CT's online archives
Subscribe Now
Semi-Amazing Grace
Semi-Amazing Grace