true
Preacher, preacher, fifth-grade teacherYou can't reach me, my mom can't neither
You can't teach me a godd— thing cause
I watch TV, and Comcast cable
And you ain't able to stop these thoughts
FROM "CRIMINAL" BY EMINEM
Things on my mind, where do I begin?It's easier to sin, but it hurts my heart
I'm really tryin' to win, so where do we start?
FROM "READY TO MEET HIM" BY DMX
On Thursday nights in Tampa, Florida, 200 teenagers descend upon Club X, a loud and lively hangout occupying the second floor of what used to be a four-story office building. The billiards and foosball tables, exposed overhead pipes, and spacious common area make it an attractive spot for kids to mingle, play, and dance. Live rap music blares through large speakers onstage, sending funky, pulsating rhythms through the room. On this night, the music sounds as raw and edgy as anything from Snoop Dogg or Puff Daddy. The teams of young rappers come with a variety of monikers: Prophetic Preachas, N-4-Red, The Elect, Rezarekted Elementz, B.J., Eternal Rhythm. Listen closely to their riffs:
I called my family my people who
live with me,
Snuck out of the house, went to
parties, and got high with me
Thought anytime I was in trouble
they would lie for me
But I already had a Friend who had
died for me.
These kids aren't rhyming about money, misogyny, and mayhem but the perils of a life without Christ. And Club X is not a nightclub but a youth outreach sponsored by Without Walls International Church, a 10,000-member congregation that has made headlines in Tampa for its innovative ministries. The performers at the mike tonight are teenagers who came to Christ through the ministry of Without Walls and are now praising God in the language they speak best. "Most of the raps are based on the Word; there's no fluff," says Robert Mallan, the young pastor who oversees Club X and other programs from his church's Millennium Generation youth ministry. "They're basically talking about their life experiences, rapping their testimonies."
Eleven-hundred miles up the East Coast in New York City, about 1,300 teen and pre-teen youth pour into Club Life each Tuesday night to sing and dance to hip-hop music with Christian lyrics. Like the kids in Tampa, they walk and talk hip-hop: their clothes are baggy and imprinted with designer logos (FUBU, Tommy Hilfiger) and their conversation is sprinkled with street idioms ("phat," "the bomb," "homey"). But, as at Club X, the focus here is Jesus.
Mark Gibbs, a pastor who leads the music department at Metro Ministries, which hosts Club Life, says the hip-hop bells and whistles are a means to drawing kids in to hear the Word. "We provide exciting music and present it not as a forbidden music but with positive lyrics to the popular beats."
Club X and Club Life are just two examples among a slew of growing youth ministries that are unashamedly embracing hip-hop culture. At churches across America, the hip-hop nation is setting up camp in the kingdom of God and bringing its own streetwise sensibility to the task of proclaiming the Good News of Christ.
Oops, here it is
It has been two decades since the Sugar Hill Gang charted hip-hop's first top-40 hit with the festive "Rapper's Delight." Since then, the music has worked its way into the national jukebox, with artists like Run D.M.C., MC Hammer, Beastie Boys, Will Smith, Queen Latifah, and Dr. Dre ushering it into the mainstream a little more with each song and video.
Early on some wrote it off as a harmless novelty genre that would soon fade into the annals of cultural gaffes (think disco). But now it's clear: hip-hop—in its various forms and manifestations—is here to stay.
Perfected in the late '70s by blacks and Latinos in the South Bronx, hip-hop's musical roots are found in jazz, black gospel, reggae, and rhythm and blues. Its genesis incorporated four major elements: deejaying (sampling and creating music and rhythm using multiple turntables), emceeing (performing poetry and lyrics in spoken-word style), b-boying (breakdancing and rhythmic movement), and tagging (creating graffiti art, usually on public edifices).
Hip-hop is not easy to pigeonhole. It's not just about a style of music but a lifestyle. In addition to rap and other urban sounds, it encompasses fashion, language, art, and attitude. It's not a homogeneous subculture but a diverse supraculture transcending ethnic, geographical, and artistic boundaries. Indeed, it ain't just a "black thang."
According to The Source, a leading hip-hop magazine, 70 percent of rap and hip-hop music is purchased by white consumers, and it has recently outsold both rock and country to become the nation's top-selling format of popular music. Internationally hip-hop is a rising force as well. It can be heard and observed just as easily in Paris, Belgrade, and Tokyo as in New York, Los Angeles, and Atlanta.
The past few years have been a watershed period for hip-hop. By the late '90s, an entire generation had been raised in a world where hip-hop has always been around. In 1999 Time devoted a cover story to it, and Lauryn Hill became the first hip-hop artist to be awarded a Grammy for album of the year. Last year, ABC's Nightline broadcast a three-part series on the pervasiveness of hip-hop culture. Most youth today, both Christian and non-Christian, are regularly exposed to hip-hop's influence. Mainstream corporations have recognized its value to reach young consumers worldwide. Advertisers, TV shows, and movies targeting youth regularly exploit its sights and sounds to lucrative effect.
At a recent church conference in Spearfish, South Dakota, Kevin Turpin, an African-American pastor from Chesapeake, Virginia, was surprised to see how hip-hop culture had influenced the youth worship service in a region where very few ethnic minorities live. "It's [hip-hop] even in South Dakota," he said.
Eugene Rivers, the Boston-based pastor and public intellectual, says hip-hop has become the cultural voice of a generation of youth.
"Hip-hop's got more of a lock on youth culture than ever before," said Jesse Washington, editor of Blaze magazine, in a Los Angeles Times interview. "Urban kids set the trends, then suburban kids follow en masse." Kevin Powell, a writer and cultural critic, is the guest curator of the Brooklyn Museum of Art's groundbreaking exhibit "Hip-Hop Nation: Roots, Rhymes & Rage." In an interview with Time.com, he was not reticent in his appraisal of hip-hop's influence: hip-hop, he said, "is the most important youth culture on the planet."
A bad rap
Though hip-hop has achieved a secure place in popular culture, its colorful styles and poetic whimsy also come with a dark, disturbing element. For many parents and youth leaders, much of today's most popular rap/hip-hop music sets off moral alarms.
Sisqo, a popular singer, hit it big last year with "The Thong Song," a sexually explicit tune about women dancing "all night long" clothed in—you know what. Eminem, the white rapper whose CDs have broken sales records, has become the latest poster boy for pop-music infamy. His songs, laced with hateful profanity, find the young man fantasizing about killing his wife and raping his mother.
Gerald Durley, pastor of Providence Baptist Church in Atlanta, the southern capital for the hip-hop music industry, says too much of rap music preaches sex, violence, and the degradation of women. "It perpetuates negative stereotyping of the black community and is not positive for the broader society either," he says. Durley, a social activist who has been instrumental in the fight to curb liquor stores and porn clubs in Atlanta, regularly challenges teens to beware of the harmful messages being delivered through their favorite music. "They often say to me, 'It's the beat we listen to, not the words,' but that's a deceptive thing," he says. "I don't tell them what they should or shouldn't listen to, but I do tell them to watch out for the power of subliminal suggestion and the ways those rap messages are detrimental to their spiritual growth."
In fact, much of hip-hop music promotes values that the church has struggled with since the first century, like materialism and hedonism. Flashy clothes, jewelry, cars, and other material possessions are common staples in bet and MTV videos. Combine that with the sex-driven content in many songs and videos, and you have a genre dominated by worldliness and sensuality. Consider the breathless, trash-talking bravado of rappers Juvenile and Lil' Wayne from the song "Rich Niggaz":
Loud pipes, big rims
Nigga, that's my life
When I pull up at the club, sorry
that's my night
I know a lot of haters probably sayin'
that that's not right
Well, my diamonds so much bigger
So, that's my life
Or the cold and detached recklessness of Dr. Dre and others on "Let's Get High":
Yeah—I just took some Ecstasy
Ain't no tellin' what the side effects
could be
All these fine b—s equal sex to me
Power and control are also infused in hip-hop, most evident in the subgenre commonly referred to as "gangsta rap." The gangsta style began in the late 1980s with artists like N.W.A. (Niggaz With Attitude) and Ice-T expressing rage and hostility to a funky beat. When N.W.A. released "F— Tha Police" in 1988, it reflected the sometimes bitter relationship between African-American men and cops. Indeed, much of early gangsta rap was truculent but insightful social commentary. Throughout the 1990s, however, the genre became increasingly grim, promoting gangs, guns, and violence as symbols of power, culminating with the shooting deaths of stars Tupac Shakur and the Notorious B.I.G. Perhaps more than any other music to date, hip-hop has demonstrated a troubling cycle of art imitating life and, in turn, life mimicking the art.
Many pastors, black and white, are deeply disturbed by much of the music produced by hip-hop artists and are exasperated by their own children's attraction to it. Edwin Rucker, pastor of The City of Refuge Church of Virginia, was familiar with hip-hop but not concerned about it until he found several rap CDs under his son's bed. Rucker, a no-nonsense dad who grew up in an inner-city area racked with drugs and violence, worried about the negative effects rap might have on his son. "What we find is that our kids are basically living in two cultures," he says. "The one culture is the church, and they do that to appease us as parents, but when they are with their other friends, their demeanor is totally different. They can take one hat off and put on another."
A nation in search of community
A year ago, we organized a conference on "Hip-Hop Culture and the Church" for Regent University. More than a hundred people attended, and the Associated Press reported on the event. Newspapers across the nation ran stories on the conference. Later, one distraught Regent alumnus who did not attend the conference wrote us, asking, "Will allowing this type of conference promote systems that are contrary to our core values?" The conference was designed to be a constructive forum for exploring hip-hop and how it might help us minister more effectively, but just the mention of the term sends up red flags for many Christians.
Like rock before it, hip-hop provokes our suspicions. Many Christians wonder if a music and culture that so brazenly glorifies sex, violence, and vice can proffer anything redemptive. Still, mixed in with the nihilism and carnal excess are recurring themes of doubt and helplessness that might offer clues about the spiritual yearnings of a generation.
DMX (Dark Man X) produces music that is mostly filled with violence and sexuality, but several of his songs hint at the young rapper's desire to find peace with God. In his 1999 cut "Ready to Meet Him," he raps, "[T]he real war is to follow the law of the Lord/Lord you left me stranded/And I don't know why/Told me to live my life/Now I'm ready to die." Ja Rule, in his song "Life Ain't a Game," declares, "Take my life, take my mind/Take my heart, take my soul/Take my cash, take it all/But save me."
Many critics overlook hip-hop's deeper meanings because they don't like the musical style, says Bobby Hill, founder of Vanguard Ministries, a church-networking group in Chesapeake, Virginia. "We often confuse the content and the wineskins," says Hill. "We should be conservative fundamentalists when it comes to content and liberals when it comes to containers."
Even in contemporary Christian music (CCM), an industry swift to adopt the latest secular music styles, record labels have been cautious in marketing hip-hop. Though hip-hop records regularly hold a majority of the top spots on the Billboard charts, one must scan far down the list to find hip-hop artists on the Christian sales charts. Popular artists like Kirk Franklin, Jon Gibson, and dc Talk have helped open the doors wider, but hardcore Christian rappers—artists like the Gospel Gangstaz, T-Bone, and GRITS—are still vying for widespread CCM acceptance.
Into this treacherous terrain have come creative ministries like Club X and Club Life. Their mission is not to condemn the ugly aspects of hip-hop, but to use it to shine a light on the message of the gospel.
"Hip-hop culture provides an alternate community for those who feel disconnected," says Eugene Rivers, keynote speaker at the Regent hip-hop conference. He adds that in a fragmented world, where many youth feel disenfranchised and do not have enough responsible adult role models, hip-hop provides acceptance and identity. Rivers listens to hip-hop music with his 15-year-old son, and they talk about the lyrics and what the Bible has to say about them. Similarly, since discovering his son's stash of rap music, Edwin Rucker engages him in heart-to-heart dialogue about music, his son's friends, and his son's motivation to "fit in." He has also learned to occasionally insert hip-hop lyrics and phrases into his sermons: "You should see [the youth] pay attention when I speak their language."
Keepin' it real
"A key for effectively connecting with the hip-hop generation is understanding their values," says Harry Young, who leads a parachurch youth ministry in Virginia. Young, a Harvard Business School graduate, was rising through the ranks of management in the entertainment industry when he felt called to minister to youth. He started a nonprofit media organization called Youth Entertainment Studios (yes) and built a studio in an economically depressed area of Chesapeake. Each summer Young runs mentoring camps for inner-city youth. The camps teach kids video and television production skills and Christian values.
The mantra of hip-hop culture, Young says, is "keepin' it real." Sugarcoated or superficial answers to complex problems are shunned. He adds, "Hip-hop music promotes a brutal honesty and sometimes vulgar description about the blight of urban areas, the confusion and exasperation of many youth, and the inability of social institutions, including the church, to deal honestly with the needs of youth."
Hip-hop presents the purest form of rebellion on the market today, even for suburban kids. Through rap music, suburban teens can experience the excitement of "thug life" and feel like they are part of an oppressed group without having to live in the neighborhoods from which the music emanates. What's more, the hip-hop subculture is an attractive community to youth who have suffered broken families. It has been well documented by now that the driving force behind Eminem's vicious rants against women, authority, and the world in general is a sad upbringing without a father.
The hip-hop culture's passion for honesty must spill over into the ministries that want to reach out to this diverse generation. At Regent's hip-hop conference, Kwami, a 29-year old hip-hop artist and producer, said that for Christians to engage the hip-hop generation, we must be willing to acknowledge our own shortcomings and sacred cows that hip-hop artists point out. Rappers, he said, believe that preachers' collecting money is just as materialistic as the implicit message on many of their music videos. Likewise, for them, the highly publicized extramarital affairs of prominent ministers are seen as no different than the hedonism depicted in some hip-hop music.
From hippie to hip-hop
Many church leaders today are convinced that the dominant middle-class, evangelical culture developed over the past 50 years no longer appeals to a generation that has come of age in the 1990s world of gangbangers and Def Jams. So some Christian ministries are beginning to join forces with efforts like Club X, Club Life, and Harry Young's yes to reach the hip-hop masses. Congregations such as Word of Life Church in Honolulu, Phoenix First Assembly of God, and New Beginnings Christian Center in Portland, Oregon, are engaging hip-hop youth culture just as the early church ministered to Dionysians, Stoics, and Epicureans, and as contemporary foreign missionaries evangelize unreached people groups in other countries.
In the early '70s, the hippie-driven Jesus Movement was nourished by, among other ministries, southern California's Calvary Chapel, which embraced young artists like Chuck Girard, Larry Norman, Andráe Crouch, Phil Keaggy, and The Second Chapter of Acts. Calvary Chapel's pastor, Chuck Smith, and other leaders of the movement engaged hippie culture, allowing Christian teens and young adults to express their relationship with God through music, street drama, coffeehouses, communes, and the flower-power fashions that were the style of the day.
The Jesus Movement may be a useful model for how we can approach today's hip-hop generation. The Christian coffeehouses of the '70s became modern-day Mars Hills where youth could experience a biblical message within their own cultural context. In the 21st century, ministries like Club X and Club Life may become the new venues where youth can hear and embrace the transforming message of the gospel.
"Our use of rap and hip-hop is just the milk of getting people to the meat of discipleship and biblical truth," says Club X's Robert Mallan.
Got milk?
William J. Brown is dean of the college of communication and Benson P. Fraser is a professor of communication at Regent University in Virginia Beach, Virginia.
Photography by Guy Gerard
Related Elsewhere
Be sure to read Christianity Today's related story, "What Rap Does Right."
Visit Without Walls International Church's Web site, which lists more than 100 ministries besides Club X.
Metro Ministries sponsors a similar hip-hop night, as part of Club Life.
For a variety of perspectives on hip-hop visit the What Is Hip Hop Directory which has contributions by everyone from Grand Master Flash to Afrika Bambaataa.
Read more about Vanguard Ministries networking goals at their Web site.
Learn more about the projects and philosophy of Young's Youth Entertainment Studios.
Some other churches using hip-hop as part of their youth ministry are Word of Life in Honolulu, Phoenix First Assembly of God, and New Beginnings Christian Center in Portland.
Read more about hip-hop groups like Trinitee, Kirk Franklin, Gospel Gangstaz, GRITS, and T-Bone from CCM Magazine. CCM also features an article about Christian Hip Hop.
Have something to add about this? See something we missed? Share your feedback here.
Our digital archives are a work in progress. Let us know if corrections need to be made.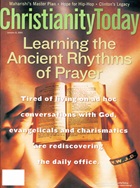 This article is from the January 8 2001 issue.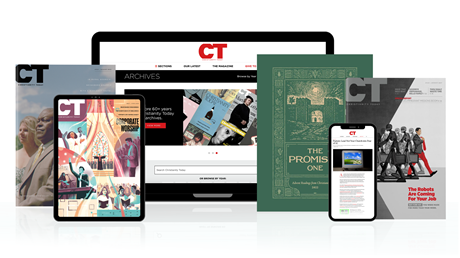 Subscribe to Christianity Today and get access to this article plus 65+ years of archives.
Home delivery of CT magazine
Complete access to articles on ChristianityToday.com
Over 120 years of magazine archives plus full access to all of CT's online archives
Subscribe Now
Hip-Hop Kingdom Come
Hip-Hop Kingdom Come