Billy Graham To Miss Bush Inauguration
A shunt in evangelist Billy Graham's brain, implanted last summer and readjusted last month after it malfunctioned, is malfunctioning again. He's going back into the hospital to have it removed entirely, which means he'll have to miss giving the invocation at George Bush's presidential inauguration. "I consider it a great privilege to have been invited by President-elect Bush to participate in his inaugural ceremony," Graham said in a press release. "I love and respect his entire family very much, and regret that I am not able to join them for this special occasion." It would have been his ninth presidential inauguration, and the first he has missed since Jimmy Carter's. Neither the press release nor the Associated Press give any detail about what removing the shunt—inserted to relieve Graham's hydrocephalus—will mean for the evangelist's health, or if he will be undergoing alternative treatments.
Another look at Bush's religion
"While Graham was the obvious first choice for his inaugural invocation, Bush's choice of preacher to deliver the benediction may say more about the role of religion in his administration," says the San Francisco Chronicle. The Rev. Kirbyjon Caldwell, an African-American preacher and businessman from Houston, has pioneered a "blend of private enterprise and tax-supported, faith-based charity [that] is the kind of social service program Bush hopes to encourage over the next four years." The article also quotes Bob Edgar and the Acton Institute's Robert Sirico about Bush's faith and faith-based initiative, as well as noting John Ashcroft's support of such "charitable choice" reforms. Meanwhile, Canada's Globe and Mail notes that one of Bush's key advisers on strengthening faith-based charities, Marvin Olasky, won't be going to Washington for the inauguration.
Speaking of Ashcroft …
If you start reading now, you might be able to read all the stories about John Ashcroft in today's papers before tomorrow's confirmation hearings. But probably not. One of the better stories appears in both The Miami Herald and The Kansas City Star, rounding up religious conservatives' and critics' views of Ashcroft. Also quoted is Wheaton College political science professor Lyman Kellstedt, who notes that a lot of the fuss over having a religious conservative in a high-level cabinet position is absurd. "Not to appoint any of them to a Cabinet position, it strikes me like having a Democratic Cabinet and there being no blacks," he says. "Of course, you're going to have some. They're the ones who are supplying the votes." Meanwhile, the Los Angeles Times reports that Ashcroft will make "no apologies for his sharp-edged conservative positions" and "has no intention of distancing himself from his record."
Other articles of interest:
See our past Weblog updates:
January 12 | 11 | 10 | 9 | 8

January 5 | 4 | 3 | 2

December 29 | 28 | 27

December 22 | 21 | 20 | 19 | 18

December 15 | 14 | 13 | 12

December 8 | 7 | 6 | 5 | 4

December 1 | November 30 | 29 | 28 | 27

November 22 | 21 | 20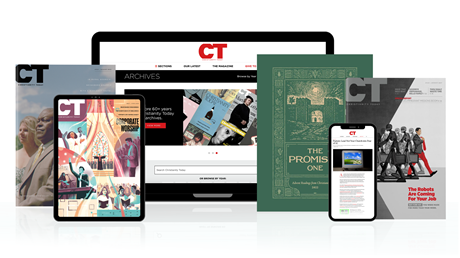 Subscribe to Christianity Today and get access to this article plus 65+ years of archives.
Home delivery of CT magazine
Complete access to articles on ChristianityToday.com
Over 120 years of magazine archives plus full access to all of CT's online archives
Subscribe Now
Graham's Brain Shunt Fails, Evangelist Will Miss Inauguration
Graham's Brain Shunt Fails, Evangelist Will Miss Inauguration