Zambia's health minister, Enoch Kavindele, has warned local clergymen that, if the spread of AIDS in his country is not halted soon, "the prospects of pastors preaching to empty churches are very high."
Kavindele's warning is directed at church leaders who won a bitter fight this week against government television advertisements promoting the use of condoms to fight the spread of HIV infection.
According to a recent report compiled by the Resident Doctors Association of Zambia (RDAZ), at least 1 million of Zambia's population of 9 million citizens are infected with HIV. Most of those affected are aged between 15 and 49.
Church leaders interviewed by ENI said that the advertisements, some of which feature school students talking about the use of condoms, were in fact contributing to the spread of the disease by endorsing casual sex.
Ignatius Mwebe, a priest and spokesman for the Roman Catholic Church, said: "The advertisements are justifying casual sex using a condom, [suggesting] that you can have sex anyhow so long as you have a condom.
"The people being used in the advertisements are so young that they should not have anything to do with sex at their age," Mwebe said.
He added that it would be helpful if the advertisements simply gave factual information about the dangers of AIDS.
The Christian Council of Zambia (CCZ) said in a statement that the advertisements had "moved from AIDS prevention, which can only be achieved through abstinence, to allowing people to have sex anyhow. This is basically business for those selling condoms."
Joshua Banda, a pastor and vice-national superintendent of the Pentecostal churches in Zambia, told ENI: "The advertisements are promoting the wrong moral values." The emphasis in the advertisements was on marketing condoms rather than halting the disease, he said. However, he explained that he did not support a "blanket ban on condoms. What we are against are lopsided anti-AIDS messages that don't give a positive alternative to casual sex."
Another pastor, Thomas Lumba, who is executive director of the Evangelical Fellowship of Zambia, said: "People should be told to avoid casual sex. After all, condoms are not 100 percent safe."
Health minister Kavindele has rejected calls for the advertisements to be removed from national television. "The messages have been very effective," he said of the advertisements. "The point is being driven home."
He told a press briefing that abstinence, the alternative proposed by clergy, was not viable. People, young and old, were having casual sex, he said.
"The church is blind in one eye because this issue of abstinence cannot easily help reduce Aids infections. We have to use all media available to drive the point home," the health minister said.
In turn, church officials warned that if the advertisements were not withdrawn they would consider seeking a meeting with President Frederick Chiluba, who told a political meeting last week: "I don't believe in condoms myself because they are a sign of weak morals on the part of the user."
Kavindele said recently that it was very expensive to care for those suffering from Aids. On average it cost $500 a month to care for each patient.
The proportion of hospital beds across Zambia occupied by HIV/AIDS patients rose from 7 percent in 1989 to 25 percent in 1999. Zambia has more than half-a-million orphans who have lost one or both parents to AIDS-related illnesses.
Related Elsewhere
Other news coverage of Zambian churches' fight against the ads includes:
Donors Query Zambia After AIDS Campaign Is Pulled — Reuters (Jan. 12, 2001)
Controversy Over Condom Usage Deepens In Zambia — PanAfrican News Agency (Jan. 10, 2001)
Zambia Pulls AIDS Campaign After Church Opposition — Reuters (Jan. 10, 2001)
Zambia forced to withdraw Aids ads — (South Africa) Independent (Jan. 10, 2001)
Sue Makers Of Condoms, Minister Advises — Times of Zambia (Jan. 10, 2001)
Zambia axes safe sex ads — BBC (Jan. 10, 2001)
Anger at Zambia anti-Aids ads — BBC (Jan. 9, 2001)
Disgusted Parents Win Round Against Advertisers — Panafrican News Agency (Jan. 9,2001)
Church opposes Zambia's anti-AIDS campaign — Reuters (Jan. 8, 2001)
Yahoo!'s full coverage area on the Africa AIDS epidemic (separate from its full coverage areas of AIDS research, and AIDS/HIV news) includes links to daily news stories, resourceful Web sites, editorial and opinion pieces published in the mainstream media, audio and video articles, and more.
Christianity Today interviewed Debbie Dortzbach, a missionary nurse in Africa, about the AIDS epidemic last year. The article, 'Sexual Revolution' Speeds Spread of HIV Among Africans appeared last February.
Previous Christianity Today articles about AIDS in Africa include:
Mandela, De Klerk, and Tutu Join to Fight AIDS | South Africa's men of peace call for end of silence and stigmatization. (Dec. 14, 2000)
'Have We Become Too Busy With Death?' | As 4,900 people die each day from AIDS, African Christians are faced with the question. (Feb. 4, 2000)
Books & Culture Corner: An Open Letter to the U. S. Black Religious, Intellectual, and Political Leadership Regarding AIDS and the Sexual Holocaust in Africa (Jan. 24, 2000)
Africa: Fidelity Urged to Fight AIDS (July 12, 1999)
I Am the Father of an AIDS Orphan (Nov. 17, 1997)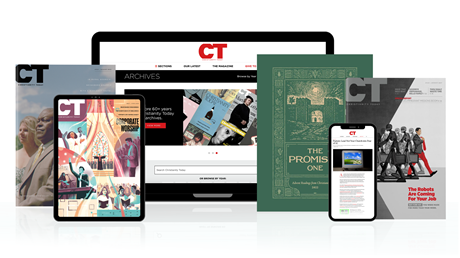 Subscribe to Christianity Today and get access to this article plus 65+ years of archives.
Home delivery of CT magazine
Complete access to articles on ChristianityToday.com
Over 120 years of magazine archives plus full access to all of CT's online archives
Subscribe Now
Zambia's Churches Win Fight Against Anti-AIDS Ads
Zambia's Churches Win Fight Against Anti-AIDS Ads