Patrick Henry's book The Ironic Christian's Companion records a scene of wonderful irony. His mother-in-law, saying grace before a meal in which she meant to ask God to "make us ever mindful of the needs of others," asked God instead to "make us ever needful of the minds of others." The more I thought about it, the more I liked her prayer.
Evangelicals in particular have not always acknowledged their needfulness of others' minds. I remember church deacons in 1963 distributing If America Elects a Catholic President, a scary booklet by a prominent evangelical author. Well, America did elect John F. Kennedy, who, contrary to prophecy, did not follow orders issued directly from the Vatican.
America's best-selling nonfiction book of the 1970s was Hal Lindsey's The Late Great Planet Earth. Reading that now brings me more chuckles than fear; the world has changed, but not necessarily in the way Lindsey foretold.
In the 1980s evangelicals on national radio programs fed the AIDS hysteria by warning that HIV could be passed by mosquito bites or contact with toilet seats. In 1999 some evangelical publishers made a fortune on scary predictions about Y2K. Others kept forecasting an economic meltdown during the greatest boom ever. I wonder, is there no place for public apology or at least sheepishness? What would happen if every evangelical institution that profited from scaremongering agreed to place all those profits in a fund to relieve Third World debt?
Such notable evangelical "bloopers" demonstrate the point Mark Noll made in his book The Scandal of the Evangelical Mind. Few question evangelicalism's passionate heart, and even critics envy its methodology and results, but the evangelical mind may be the movement's weakest link.
Visiting the Marion Wade collection on the campus of Wheaton College, I was struck by a further irony: the British luminaries (C.S. Lewis, G.K. Chesterton, Dorothy Sayers, George MacDonald, Owen Barfield, J.R.R. Tolkien, Charles Williams) honored there could not serve on the faculty of Wheaton, being disqualified by behavior, unorthodox doctrine, or Roman Catholic affiliation. I consider it a healthy sign, though, that Wheaton, a bastion of evangelicalism, recognizes it is "ever needful of the minds of others."
In my own pilgrimage, I have often looked outside the boundaries of evangelicalism for spiritual nourishment. Jews and liberal scholars best help me understand the social milieu in which Jesus lived. Catholics like Thomas Merton and Henri Nouwen enrich my faith; modern seekers such as Anne Lamott and Patricia Hampl enliven it. Vaclav Havel and Alexander Solzhenitsyn teach me more about politics and morality than most representatives of the Religious Right. And I gain a sense of worship reading Loren Eiseley and Chet Raymo that I have not found among evangelical scientists.
Dispensational Lessons
The same week I read Patrick Henry's ironic book, I also read Richard Mouw's irenic The Smell of Sawdust. As might be expected from the president of Fuller Seminary, Mouw makes a strong case for education. He counters objections ("But the fields are white unto harvest! The task is urgent!") with a fine analogy. The emergency room of a hospital is also an environment of great urgency, with lives at stake. Yet you want the doctors and technicians there to have the best training and preparation available. Knowledge matters as much as speed.
Rather unexpectedly, Mouw looks back with nostalgic appreciation on his own fundamentalist background. Certainly, he gained a solid grounding in the Bible. Long before hearing of Mother Teresa, he saw Christians lovingly embrace the homeless in inner-city rescue missions. And even intellectually, the fundamentalists of his childhood stimulated a lifelong interest in theology.
Mouw takes up Mark Noll's main whipping boy, dispensationalism. Its late-19th-century advocates stirred up their own version of Y2K fears, predicting the 20th century to be a time of wars, famines, and natural catastrophes. Meanwhile, liberal theologians, confident in progress, saw the kingdom of God expanding during "the Christian century" to virtually eliminate war, poverty, and injustice. Mouw muses, "Now I ask: who had a better sense of what was going to happen in the 20th century? It seems obvious to me that Protestant liberalism was simply wrong in its predictions, whereas much of the dispensationalist scenario was vindicated."
In a healthy spirit, Mouw reminds me of an important truth: It is possible to remain needful of the minds of others without falling captive to them.
Related Elsewhere:
Christianbook.com offers The Ironic Christian's Companion, The Late Great Planet Earth, The Scandal of the Evangelical Mind, and The Smell of Sawdust.
Christianity Today has published two excerpts from Richard J. Mouw's The Smell of Sawdust: one on accepting evangelicalism's fundamentalist history and another on Christians' relationship to Jews.
Article continues below
Yancey's columns for Christianity Today include:
Replenishing the Inner Pastor | Churches should take greater interest in their shepherds' spiritual health. (May 14, 2001)

Beyond Flesh and Blood | I used to disdain biblical talk of "invisible spirits." No more. (Mar. 27, 2001)

God at Large | A look around the globe reveals a God as big as we want him to be. (Jan. 31, 2001)

Humility's Many Faces | Everyone I've looked up to has shared one trait. (Dec. 4, 2000)

Getting a Life | The most fully alive persons are those who give their lives away. (Oct. 16, 2000)

To Rise, It Stoops | How parenting mirrors the character of God. (Aug. 29, 2000)

Lessons From Rock Bottom | The church can learn about grace from the recovery movement. (July 11, 2000)

Chess Master | God brings victory even from our bad moves. (May 15, 2000)

My To-Be List | What I learned from a 50-year spiritual checkup. (Apr. 3, 2000)

Would Jesus Worship Here? | Across the world, God moves in mysterious ways. (Feb. 7, 2000)

Doctor's Orders | Why should I care if my doctor is unhappy? I'm not his psychiatrist. (Dec. 2, 1999)

Getting to Know Me | In most ways important to God, I had failed miserably. (Oct. 25,1999)

The Encyclopedia of Theological Ignorance | In view of the mess we have made of crystal-clear commands, I tremble to think how we might act if some doctrines were less ambiguous. (Sept. 6, 1999)

Writing the Trinity | Robert Farrar Capon rightly mocks Christians who conceive of the persons of the Trinity as players on the sidelines taking turns at substitution. (July 12, 1999)

Can Good Come Out of This Evil? | "I am so angry with you! I too am an outcast, but I didn't kill anyone. I would have been your friend." (June 14, 1999)

The Last Deist | We need more than a just watchmaker who winds up the universe and lets it tick. (Apr. 5, 1999)

Why I Can Feel Your Pain | The "politically correct" movement often positions itself as an enemy of Christianity. Ironically, the gospel contributed the underpinnings that make the movement possible. (Feb. 8, 1999)
Have something to add about this? See something we missed? Share your feedback here.
Philip Yancey
Philip Yancey is editor at large of Christianity Today and cochair of the editorial board for Books and Culture. Yancey's most recent book is What Good Is God?: In Search of a Faith That Matters. His other books include Prayer (2006), Rumors of Another World (2003), Reaching for the Invisible God (2000), The Bible Jesus Read (1999), What's So Amazing About Grace? (1998), The Jesus I Never Knew (1995), Where is God When It Hurts (1990), and many others. His Christianity Today column ran from 1985 to 2009.
Previous Philip Yancey Columns:
Our digital archives are a work in progress. Let us know if corrections need to be made.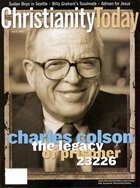 This article is from the July 9 2001 issue.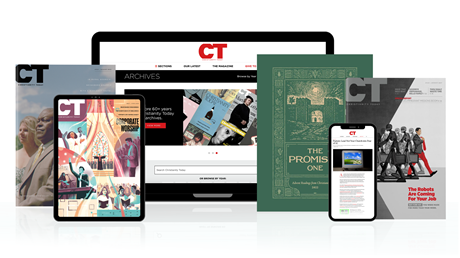 Subscribe to Christianity Today and get access to this article plus 65+ years of archives.
Home delivery of CT magazine
Complete access to articles on ChristianityToday.com
Over 120 years of magazine archives plus full access to all of CT's online archives
Subscribe Now
The Back Page | Philip Yancey: Strengthening Our Weakest Link
The Back Page | Philip Yancey: Strengthening Our Weakest Link