A group of Catholics in the state of Karnataka in southern India are publicly demanding that the next bishop appointed in the state be a "pure Kannadiga," a native speaker of Kannada, the state's principal indigenous language.
Members of the Karnataka Catholic Christian Kannada Forum (KCCKF) carried large crosses as they held a dharna (sit-in) at the gates of Archbishop's House in Bangalore, the state capital. The protest was held on May 18, the 76th birthday of Archbishop Ignatius Pinto, who is due to retire soon and has submitted his resignation letter to Rome.
"There are eight [Catholic] dioceses in Karnataka. But, we do not have even a single Kannadiga bishop," KCCKF president J. R. Pereira said. "The Kannadigas are treated as second-class members in the church. And [the Kannada language] gets the least priority even in church services."
The forum wrote to the Vatican in April demanding "the appointment of a mother-tongue Kannada-speaking priest as the archbishop of Bangalore". The forum also staged a demonstration outside the office of the chief minister of Karnataka, S. M. Krishna, and asked him in a memorandum "to interfere" in a "question of injustice to local language, local culture and the life of the local people".
However, Pinto said that the Kannadiga campaign was the work of only a "handful of people". Despite media reports, there was "no language row" in the archdiocese, and 99 percent of the people "do not have any complaints".
The issue at stake was not about language, the archbishop said. Rather the campaign was "part of a power struggle" by some priests and other people "to pressure the Vatican" as it chooses a new archbishop.
Pereira said a majority of the one million Catholics in the state were Kannadigas, but Pinto said the figure was exaggerated. For example, of the 350,000 Catholics in the Bangalore archdiocese, not even 10 percent were Kannadigas. The Catholic communities speaking Tamil, Konkani and Malayalam as their mother tongue were bigger, Pinto said.
"What is most important is that all the bishops are from the state and Kannada speaking [even if is not their mother tongue]. We hold services in Kannada as well as in Konkani, English, Tamil and Malayalam, according to the ratio of the people in each parish speaking the language," said Pinto.
Describing the campaign for a Kannadiga bishop as "mischievous," he said: "It gives an impression to outsiders that local Catholics are being dominated by outsiders. There is no such divide here."
Pinto alleged that the protests were "instigated" by a few priests trying to make a "distinction that only those with Kannada as their mother tongue are 'Kannadigas.'"
"The church cannot accept such a parochial stand." However, he said he was "not against a Kannadiga bishop as and when the Vatican decides, but not under this kind of pressure tactics."
Father I. Anthappa, president of the Kannadiga Priest Council which supports the campaign, refused to comment on the issue. "When the matter is in the Supreme Court [the Vatican], I do not want to speak to the lower court [the media]," he said.
Related Elsewhere

The Times of India reported on a pro-Kannada protest at a Catholic mass that led to 84 arrests.
Previous Christianity Today articles on India include:
India Election Results Rattle Ruling Nationalists | Hindu BJP "getting irrelevant day by day" say rivals. (June 13, 2001)

Militants Blamed for Death of Three Missionaries in India | 5,000 attend funeral, Catholic schools close in mourning. (June 7, 2001)

Churches Adopt Entire Villages in Devastated Gujarat to Help the Homeless | Charities aim to meet basic needs after January's western India earthquake (June 7, 2001)

Communist-Backed Orthodox Priest Loses Election for Kerala Assembly | Nooranal's electoral campaign annoyed some Christians with support of Communists (June 7, 2001)

Despite Tensions, Indian Churches Agree to Talks With Hindu Groups | Mainline churches will join talks, but other Christians say "partisan" meeting is dangerous. (Apr. 11, 2001)

Christians Help Overlooked Villages | Many Christian agencies are still doing earthquake relief among India's poorest victims. (Apr. 5, 2001)

In Southern India, Orthodox Priest Has Communist Support in State Election | Popular priest says he's independent despite strange bedfellows, but many Christians are wary. (Apr. 4, 2001)

Christians Call for India's Prime Minister and Government to Resign in Wake of Scandal | Web site releases tapes of party president taking bribes from men posing as arms dealers. (Mar. 22, 2001)

India Relief Abuses Rampant | Radical Hindus hijack supplies in quake intervention. (Mar. 20, 2001)

In Orissa, You Must Ask the Government If You Want to Change Religion | Christian church leaders say they're trying to ignore the controversial law, but police aren't doing the same. (Mar. 12, 2001)

New Delhi Conference Condemns 'Immense Suffering' in Caste System | National Campaign for Dalit Human Rights plans to appeal to United Nations. (Mar. 9, 2001)

Weblog: Take Up Arms Against Missionaries, Says Hindu Leader | Clouds darkening over India (Mar. 6, 2001)

Churches Angry that Indian Census Ignores 14 Million Christian Dalits | Only Hindu, Sikh, and Buddhist members of "untouchable" caste being counted. (Mar. 2, 2001)

Churches Have Not Worked to End Dowry Practice | India's women are seen as less valuable than men in a society that supports bride burnings and "suicide." (Feb. 20, 2001)

India's Christians Face Continued Threats | We must preach what we believe in spite of Hindu pressure, says Operation Mobilization India leader. (Feb. 15, 2001)

India's Quake Survivors Need Counseling | Earthquake survivors are desperate for more than material aid, Indian bishop warns. (Feb. 9, 2001)

Quake Rocks Hindu Hotbed | Agencies appeal for funds to aid victims. (Feb. 8, 2001)

Politician Who Saw God's Hand in Gujarat Quake Forced to Resign | Civil aviation minister had told Christians that quake was God's judgment against persecution of Christians. (Feb. 5, 2001)

Militant Hindus Assault Christians | Persecution of religious minorities stirs Christian outrage against government inaction. (Jan. 31, 2001)
Article continues below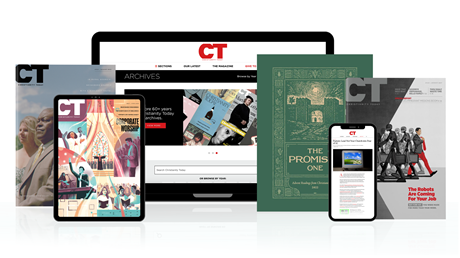 Subscribe to Christianity Today and get access to this article plus 65+ years of archives.
Home delivery of CT magazine
Complete access to articles on ChristianityToday.com
Over 120 years of magazine archives plus full access to all of CT's online archives
Subscribe Now
Catholic Protesters Make Language an Issue in Choice of Indian Bishop
Catholic Protesters Make Language an Issue in ...