Negative references to the life of Christ and his family in a book by a Sikh author have drawn protests from the tiny Christian community in the state of Punjab in northern India.
Christians staged a protest dharna (sit-in) in Amritsar—the holiest city for Sikhs—near the border with Pakistan on 19 May. The protesters demanded that the state government arrest the author, Satnam Singh, within 15 days and confiscate all copies of the book, Guru Nanak Dev Ji Jeevan Ate Mukti Marg (Life and Liberation Path of Guru Nanak).
Guru Nanak was the founder of Sikhism, the majority religion in Punjab. Less than one percent of the state's 23 million residents are Christian.
Vidya Sagar, a Church of North India pastor based in Ludhiana in Punjab, said "Christians in Punjab consider this book to be an attempt not only to hurt the sentiments of the Christian community but also to disturb the centuries-old harmonious coexistence of the Sikhs and the Christians."
"We want the government to initiate a high-level inquiry to find out the instigating forces behind this scandal before it is too late."
Following the Christian protests, the book's author, a lawyer about 70 years old, was arrested on May 19 and released on bail on May 22 after being charged on three criminal counts, including use of "derogatory language" against a religious community and "disturbing communal harmony." The case will come before the court later this month.
But this has not satisfied Christian leaders.
Though the book's front cover shows a portrait of Guru Nanak, and the book itself deals mainly with Sikh religious beliefs, it also contains what a Church of North India bishop described as "highly objectionable and derogatory language about Jesus Christ and the whole Christian community."
Bishop Pradeep Kumar Samantaroy, of Amritsar, said the book depicted Jesus as "an illegitimate child thrown into an open stable by his mother Mary who wanted the child to die of the cold weather to hide her shame. He survived because of the warmth given by the sheep."
Samantaroy has officially complained to India's National Commission for Minorities, to the National Council of Churches in India (NCCI) and to other church organizations.
Pointing out that the book also describes the crucifixion of Christ as a punishment for his "immoral" relations with Mary Magdalene, Samantaroy said the author "sees Christians as satanic people without morals who drink and dance nude in clubs and convert masses through allurement."
"The writer's blatant, insulting and defamatory language and interpretation used for Jesus Christ whom the Christians consider their Lord and Savior has sent shock waves throughout the whole Christian community," the bishop said in an appeal for Christian solidarity to suppress the book.
Samantaroy said that arresting the author "is not enough. We want the book to be banned and the copies available on the market to be seized. We are waiting for the 15-day ultimatum to be over [before taking further action]."
The bishop said that Christians in Punjab, including his own church members as well as Catholics, Methodists and Salvation Army members, would fight "against the attempt to defame Christ and us."
Daniel B. Das, an official of the CNI's Amritsar diocese, said there were two versions of the controversial book, the first dated November 1999 and the other April 2001. The 1999 edition contained the "defamatory" passages, but the 2001 version did not.
"We have reasons to believe that both the editions were printed and distributed simultaneously and different dates have been used to confuse the public and to avoid accountability," Das said.
According to Das, the author told reporters that he had offered an "unconditional apology" for offending Christian sensibilities. But at the same time he claimed he had material to prove whatever he had written. "He told me also that he has evidence provided by a Christian to substantiate what he has written about Christians," said Das.
"This is not the language of a sincere man," Samantaroy said.
Related Elsewhere

ReligiousTolerance.org has a description of Sikhism's history and beliefs.
An online biography of Guru Nanak Dev (from a Sikh perspective) follows the founder from his Pakistan birth in 1469.
Gospelcom''s Apologetics Index archives news articles about Sikhism and other topics.
Previous Christianity Today articles on India include:
Militants Blamed for Death of Three Missionaries in India | 5,000 attend funeral, Catholic schools close in mourning. (June 7, 2001)

Churches Adopt Entire Villages in Devastated Gujarat to Help the Homeless | Charities aim to meet basic needs after January's western India earthquake (June 7, 2001)

Communist-Backed Orthodox Priest Loses Election for Kerala Assembly | Nooranal's electoral campaign annoyed some Christians with support of Communists (June 7, 2001)

Despite Tensions, Indian Churches Agree to Talks With Hindu Groups | Mainline churches will join talks, but other Christians say "partisan" meeting is dangerous. (Apr. 11, 2001)

Christians Help Overlooked Villages | Many Christian agencies are still doing earthquake relief among India's poorest victims. (Apr. 5, 2001)

In Southern India, Orthodox Priest Has Communist Support in State Election | Popular priest says he's independent despite strange bedfellows, but many Christians are wary. (Apr. 4, 2001)

Christians Call for India's Prime Minister and Government to Resign in Wake of Scandal | Web site releases tapes of party president taking bribes from men posing as arms dealers. (Mar. 22, 2001)

India Relief Abuses Rampant | Radical Hindus hijack supplies in quake intervention. (Mar. 20, 2001)

In Orissa, You Must Ask the Government If You Want to Change Religion | Christian church leaders say they're trying to ignore the controversial law, but police aren't doing the same. (Mar. 12, 2001)

New Delhi Conference Condemns 'Immense Suffering' in Caste System | National Campaign for Dalit Human Rights plans to appeal to United Nations. (Mar. 9, 2001)

Weblog: Take Up Arms Against Missionaries, Says Hindu Leader | Clouds darkening over India (Mar. 6, 2001)

Churches Angry that Indian Census Ignores 14 Million Christian Dalits | Only Hindu, Sikh, and Buddhist members of "untouchable" caste being counted. (Mar. 2, 2001)

Churches Have Not Worked to End Dowry Practice | India's women are seen as less valuable than men in a society that supports bride burnings and "suicide." (Feb. 20, 2001)

India's Christians Face Continued Threats | We must preach what we believe in spite of Hindu pressure, says Operation Mobilization India leader. (Feb. 15, 2001)

India's Quake Survivors Need Counseling | Earthquake survivors are desperate for more than material aid, Indian bishop warns. (Feb. 9, 2001)

Quake Rocks Hindu Hotbed | Agencies appeal for funds to aid victims. (Feb. 8, 2001)

Politician Who Saw God's Hand in Gujarat Quake Forced to Resign | Civil aviation minister had told Christians that quake was God's judgment against persecution of Christians. (Feb. 5, 2001)

Militant Hindus Assault Christians | Persecution of religious minorities stirs Christian outrage against government inaction. (Jan. 31, 2001)
Article continues below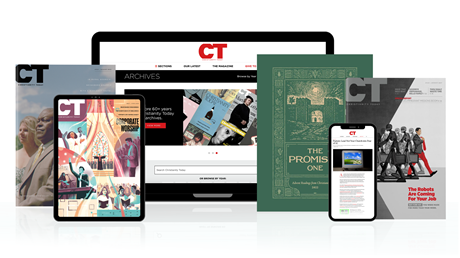 Annual & Monthly subscriptions available.
Print & Digital Issues of CT magazine
Complete access to every article on ChristianityToday.com
Unlimited access to 65+ years of CT's online archives
Member-only special issues
Subscribe
Christians Say Sikh Book Threatens Centuries of Harmony Between Faiths
Christians Say Sikh Book Threatens Centuries of ...