On his first morning as prison chaplain at "the Walls" (i.e., the Huntsville Unit, the Texas prison famous for housing the state's death chamber), Jim Brazzil received a call from the warden, who casually said, "By the way, there's an execution tonight." Since then, Brazzil has witnessed the executions of 146 people. More than 400 others wait on death row.
Brazzil served several Baptist churches in Texas for 25 years before becoming a prison chaplain in the Texas Department of Criminal Justice seven years ago. Reading Henry Blackaby's Experiencing God while on tour of Ukrainian prisons in 1992, he came upon the author's teaching that God invites you to join him where he is already at work. He went home determined to go into prison work, though the move meant a 50 percent cut in salary. Though recently assigned to serve prisons in the state's northern region, Brazzil still accompanies every condemned prisoner at his death. Standing beside the gurney where the prisoner lies, Brazzil places a hand on his leg—the last human touch the person feels.
Do you feel that how you deal with an execution has changed over the years?
When I first started doing this, I wanted to know everything I could about every offender. His crime, his background, his past record, details about the victim. But the further I got into it, the more I learned most of that really didn't make any difference. Most of the time it got in the way. Now I try not to listen to their history. I just want to be with the person one-on-one, not with any kind of agenda—the way I would with anyone close to death, someone dying in a hospital or at home. I just want to bring them the peace of God.
Death row has recently been moved to a different facility, though executions are still carried out at the Walls. At what point do you get involved?
A day or two before the execution date, I go out to the unit and visit with them. I try not to get too close too quick, but I already know some of them. I've had some in Bible studies. They all know who I am. They're always very serious then, and I'm real honest with them. I tell them straight up where we are with this, and I try to love them where they are. If they approve, I call their family ahead of time and talk to them.
What about the families?
On the actual day of the execution, I stay with the prisoner from the time he or she is brought in to the Walls that morning till the time they are either executed that evening or receive a stay. We just do whatever he feels like. If he wants to pray, we pray. If he wants to talk, we talk—about what is up to him.
I meet with them too, that day. We have a chaplain who stays with the family, and another chaplain for the victim's family who come to witness the execution.
How are you received by the inmates?
Generally I have been received wonderfully. There've been a few who were antagonistic. But I've been in the death chamber with every one of them. I've never had one of them turn me down.
Have you ever witnessed the execution of a believer?
Oh, yes. [Brazzil reaches for a worn, brown Ryrie Study Bible and opens it to the back flyleaves, which are covered with handwritten notes.] These are all written by executed offenders. Nearly every one of them talks about the peace of God. Karla Faye Tucker's was the first message, and it was such an amazing testimony—she was so bold with her faith.
I didn't even know she'd written it till later. She asked to borrow my Bible, and I handed it to her while I went to see the warden. She gave it back when I returned, not saying any more about it. Then the next day, while I was working on her funeral, I picked my Bible up and flipped it open. There was her message.
Do believers face execution any differently from others?
I've never asked anybody to write in my Bible, but lots of them ask if they can now. It gives them peace and comfort to know what the others have felt and thought.
Without a doubt. Of course, there are different levels of faith. One fellow who had been on death row 24 years told me, "Man, I have the peace that passes understanding." And I could see it in his eyes. His last words on the gurney were, "Warden, send me home." Then some have a faith, but they go in there and they're trembling, visibly shaking. Then you see those who are absolutely terrified. And you see some who are filled with hate and anger, and the defiance is there.
The man executed after Karla Faye Tucker, Steven Renfro, said he wanted to die because he felt as if his death would make up for what he had done.
Yes, Steve was very nervous the day of the execution, pacing up and down the cell. Finally he said to me, "What do you suppose Karla Faye was thinking along about this time?" And I said, "Well, I can show you." So I opened the Bible and showed him what she had written in my Bible. That seemed to calm him considerably. And he asked if he could write something, too.
Do the inmates on death row get to talk to one another much?
Not much, not at the new unit. It has solid steel doors instead of bars, so all the communication they have is to yell at each other when they're out on the rec yard or passing through the halls.
They are hungry for touch. I remember praying with this one inmate while he was receiving the Lord. I held out my hands to take his and said, "Well now, let's just pray."
And he said, "What? You want to hold my hands?"
I said, "Yes. Let's just pray." Then he started crying. I said, "I'm sorry. I didn't mean to offend you."
Were any of these people believers before they committed murder?
"No," he said, "you didn't offend me. It's just the first time in 16 years that somebody's reached out to me in love."
Yes. Most of those would say it was a crime of passion; that's their excuse. They had become Christians at an early age but had drifted away and gotten in with the wrong crowd.
A lot of them, the impact of what they've done doesn't hit them till they're in the county jail. That's where they hit rock bottom. So many offenders do, not just death-row offenders. That's why I believe that county jail ministry is absolutely imperative.
The soberness and cruelty of that environment, the reality of the crime he's committed, and the reality that he may be spending the rest of his life behind bars—or even be executed—brings him to full awareness of his humanity.
Do you think it would make a difference in the criminal justice process if Christians got involved?
It begins to work on them very quickly. I had one fellow tell me, "I cannot wait to be executed. Chaplain, for 16 years I've woken up every morning seeing the faces of the people I killed. In the morning, I won't have to do that."
Very much. It would make a difference in the family; it would make a difference to the victim, the offender, and to the community. We can take a man through all kinds of prison ministry workshops and Bible studies, education programs, and substance-abuse programs, but the first thing a man who's been incarcerated is going to do is go back to a wife or to a family, and they've not had anybody minister to them.
What are the chances of a condemned murderer being rehabilitated and restored to society?
Just because a man is on death row doesn't change the opportunity for God's grace to work in him. Some of them have already been redeemed and restored. I have been with a number of offenders who have given their hearts and their lives to God with a love that has changed their lives dramatically.
How are the families of the inmates affected?
Some offenders out in the general population did not get the death penalty, and certainly they have been rehabilitated. You know, there are so many offenders who have committed murder but who have plea-bargained out, or the prosecutor has gone for a life sentence instead of execution. Many of those, their hearts and lives have been changed completely.
In every way—physically, financially, emotionally, spiritually. There are many nights when I've stood in the chamber with my hand on a man's leg, and looking in from the room right next to me is the man's mother or father or wife and children. You see the pain; you see the sorrow; you see the grief, the fear.
You look into the room next to them, and you see the victim's family standing there—sometimes stoically, sometimes defiantly, always extremely sober. It's an intense moment.
You see the contrast between the two sets of people. One group has been dealing with this every day for 12, 15, even 20 years: The pain, the hurt, the grief, the sorrow. All the things that came from the horrible death of their loved one. They have come all this journey and they're looking for something that's going to help them move on to the next stage.
Do you meet with the victim's family?
This other family, though, are just beginning their grief process. They've had the pain of the trials, the media blitzes, the defamation of their lives, the incarceration, the hate letters. And now on top of that will be the death of a loved one. So now they are dealing with the same thing that the other family has been dealing with all this time.
Generally I see the victim's family at their request or at the offender's request, with their permission. In other words, the offender will give me a message to deliver to the victim's family, to tell them how sorry they are for all they've brought on them. I've probably had 15 or so such requests. Generally, the victim's family wants to hear it.
Do they generally believe it?
No.
After the execution, does the victim's family have a feeling of vindication or closure?
Sometimes. One lady said once, "I think I can go home tonight and sleep really good." Sometimes they walk out feeling nothing.
Have you received any criticism for ministering to people on death row?
You'd be surprised at the number of letters I get from both sides of the issue with every execution. Some say, "How could you be a part of the system that is so cruel and be a member of a murder team? How can you call yourself a man of God and participate in something like this?" I open up the next letter and it says, "How could you waste your time and energies and breath on a scumbag like that?"
What is your relation as a clergyman to the state institution?
So I get bombarded from both sides, but I've learned that the one I have to live with is the one I go to bed with every night. That's how I deal with it, just to remember that I'm serving God. And the best way I can serve God is just to love people.
I get my paycheck from the state of Texas, but I am endorsed by the Southern Baptist Convention. I don't separate my job as a chaplain from my ministry. I am called to be an extension of the church here. As a chaplain, you deal with evangelical Christians, Roman Catholics, Muslims, Wiccans, Buddhists, Satanists—all are in the prison populations. I've dealt with Druids on death row.
How can Christians get involved with the criminal-justice process?
If the church sits by and does nothing, then we have done nothing but endorsed the crime and all its consequences. Let me give an actual example, a true story: We had a young man who grew up in a family that was active in one of the largest churches in Dallas. In prison, he changed his religion to Druidism. The day of his execution, he had his Druid priestesses here, one of them his spiritual adviser. His parents came, and I met with them. It was very difficult working my Christian faith around his Druid faith, which had to be respected as his choice.
At the end of our meeting, the mother said, "Chaplain, my husband and I have decided to become Druids ourselves." I asked why. She said, "When my son was arrested and was in the county jail, not one person from my church went to visit him. Not one person from my church called me to say they were praying for us. During the trial, not one person came to the courthouse to give us their support. After his sentence, not one person called him or me. For the 16 years my son has been on death row, he's received not one birthday card, not one Christmas card, not one letter from our church. The only time my church called me was this morning to ask about arrangements for the funeral. But the Druids are here today, and so that's why I think we'll change. Because at least they care."
If only our churches would get active, say, in reaching out to law-enforcement people who are also devastated by these crimes—to give encouragement and spiritual support. Or even support the people who have to go in and clean up the crime scene. Or have a man or woman to go to the county jail to love a son or daughter who has been arrested, just be with them—that's significant. To let them know that they're not alone and that God's love makes the difference. Let's not be the churchgoers who pass by on the other side of the street when the chips are down.
Virginia Stem Owens lives and writes in Huntsville, Texas. Her most recent book is Looking for Jesus (Westminster John Knox).
Karla Faye Tucker's inscription in Brazzil's Bible
Chaplain/Jim
THANK YOU for bringing the love & fellowship of Jesus to me as I was preparing to go be face to face w/Him. You, my precious brother, are hand-picked of God, because of the compassion in your heart, to minister to those who have to walk this road. May the grace and peace of God continue to cover you in a mighty way all of your days!
I love you in Christ
Your Sister, Karla Faye
Ps. 16:11
Virginia Stem Owens has written several articles on death and dying for Christianity Today and our sister publication Books & Culture. They include:
Thanksgiving at Fair Acres | A meal with my mother and other nursing-home residents opened a small crack in their stony detachment, and gave a brief glimpse of the kingdom of heaven. (CT, Nov. 17, 2000)

Death and Texas | How a self-styled "Community Conversation" turned into an anti-conversation carried on by an anti-community. (B&C, Nov/Dec. 2000)

What Shall We Do with Mother? | Poll your friends over fifty. Most of them are already wrestling with this question. (B&C, Jul/Aug 1999)

Grave Matters | I shouldn't have let my parents talk to those funeral salesmen unchaperoned. (B&C, Mar/Apr 1999)

Karla Faye's Final Stop | How my hometown deals with being the execution capital of the world. (CT, July 13, 1998)

Good Friday | Part two of "The Great Reversal" (CT, March 17, 1989)
Brazzil was one of the main voices in "Witness to an Execution," a National Public Radio documentary.
The Washington Post has a series of photos on "Life and Death Row in Texas." Among the photos are shots of Brazzil and his Bible.
The Associated Press and Baptist Standard have both profiled Brazzil. PBS's Frontline interviewed him for a documentary on the death penalty.
Earlier Christianity Today articles about capital punishment include:
Religious Leaders Condemn Sentences in Two High-Profile Crimes | Catholics, Episcopalians scrutinize execution of Timothy McVeigh, life imprisonment of Lionel Tate. (Apr. 30, 2001)

Victims' Kin Oppose Execution (Mar. 1, 1999)

Karla Faye's Final Stop | How my hometown deals with being the execution capital of the world. (July 13, 1998)

Conservatives Rethink Death Penalty | (April 6, 1998)

Editorial: The Lesson of Karla Faye Tucker | Evangelical instincts against her execution were right, but not because she was a Christian. (April 6, 1998)
See also FaithWorks magazine's recent package on evangelicals and the death penalty.
Have something to add about this? See something we missed? Share your feedback here.
Our digital archives are a work in progress. Let us know if corrections need to be made.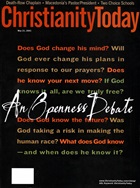 This article is from the May 21 2001 issue.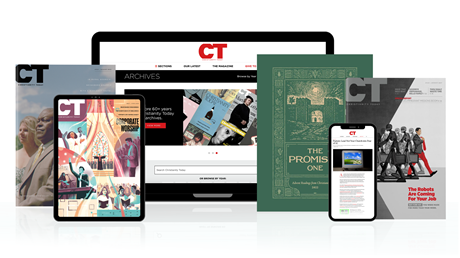 Annual & Monthly subscriptions available.
Print & Digital Issues of CT magazine
Complete access to every article on ChristianityToday.com
Unlimited access to 65+ years of CT's online archives
Member-only special issues
Subscribe
Watchman on the Walls
Watchman on the Walls