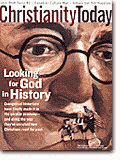 Looking into Christian History
I find it appalling that Christian historians can write from a providential perspective only when dealing with religious history ["Whatever Happened to Christian History?" April 2]. All history demonstrates the hand of God at work.
God expects us to discern his ways. Moses chided the Israelites for their lack of perception, for not having "a mind that understands or eyes that see or ears that hear" (Deut. 29:3-4). Jesus excoriated the people of his day who could interpret physical, weather-related signs but not the meaning of current events (Luke 12:56).
Granted, our perceptions of God's ways must be tempered by a "perhaps," and we must look deeper than what is apparent. But inserting "perhaps" is not the same as refusing to speak. And certainly there are some instances where the hand of God is readily discernible, such as:
• The influence of Christians, especially their prayers, in bringing about the successful, mostly bloodless, Romanian revolution.
• The way God turned one of the worst attacks of Satan—the Holocaust—into a tool for his purposes, for it provided world sympathy and a large population influx, two essential factors for the establishment of an Israeli state.
• God's use of the blood of the early Christian martyrs, and their more recent brothers and sisters, to fuel the spread of his kingdom.
The article demonstrates what is wrong with much of academia. To acquire the necessary credentials, scholars have had to immerse themselves in a thoroughly worldly milieu. Sadly, their immersion in this secular, often antisupernatural worldview may so have infused them with its values, they have lost the ability to discern God's hand at work, and perhaps the courage to say so when they have.
Moses gained his insight by seeking it, when he prayed on Mount Sinai, "Teach me your ways" (Ex. 33:13). Perhaps these hesitant historians would profit from following his example.
Linda McMillen Stern
London, Kentucky
Tim Stafford's question about "providential" history is theologically perilous. Using his definition, I see God's Word revealed in the Bible as "providential" history. The writers of the Bible were inspired by God to record God's interpretation of his interaction with mankind.
To suggest that a historian today should engage in writing "providential" history is misguided because it would be limited to human interpretation of God's dealings with humanity, which would require more than good scholarship—it would require divine understanding and knowledge.
Christian history can be a useful tool, just as general revelation is, in demonstrating the existence of God for those who have been regenerated. But a Christian history will never convince the unregenerate of God's providential dealings with mankind. God's Word alone has the power to change people's minds and affections—not our research, scholarship, or insightful prose.
Steve Bolin
Oklahoma City, Oklahoma
As a professional historian who has spent four decades in the academic world, I found "Whatever Happened to Christian History" profoundly disturbing. It opens with a patently erroneous statement ("Thirty years ago, evangelical Christians could claim perhaps one prominent American historian") and goes steadily downhill from there.
If the reporter who cobbled together these interviews had bothered to telephone me, I could have given him the names of five or six respected evangelical scholars who held positions in research universities then, and several others who were in the early stages of their careers.
To fault responsible evangelical scholars for working within the canons of their discipline instead of writing "providential" history borders on irresponsibility. Why not condemn medical doctors for practicing scientific medicine instead of faith healing?
Richard V. Pierard
Professor Emeritus of History,
Indiana State University
Beverly, Massachusetts
In an otherwise outstanding article on "Christian history," Tim Stafford writes, "you cannot get graduate training in history at any evangelical school." As a Ph.D. graduate (1993) in American church history of Fuller's Center for Advanced Theological Studies, I take umbrage at his comment. Not only has Fuller had an outstanding Ph.D. program for years, it is my understanding (and experience) that entrance requirements are more rigorous than most secular doctoral programs.
In addition, the excellence that is required to sustain and complete the program is at a level above most institutions of any sort. Calvin College also has a fine Ph.D. program.
Phil Corr
Eaton, Colorado
More than one evangelical seminary offers excellent graduate training in history. Trinity Evangelical Divinity School, for example, offers an M.A. in church history, as well as Th.M. and Ph.D. degrees with concentrations in historical theology. Similar degrees are offered at Regent College, Gordon-Conwell, and Concordia Seminary (St. Louis), to name a few.
Though these programs are limited to religious history and historical theology, they do teach students the rigorous canons of historical inquiry on a graduate level. This correction aside, Tim Stafford does well to grasp that the dream of Carl Henry and others for an evangelical Christian university equipped to support research and graduate study in a variety of disciplines remains a hope largely unfulfilled.
David A. Michelson
Deerfield, Illinois
(Signed by six other graduate students at Trinity Evangelical Divinity School)
I read with surprise the claim that "no Christian tradition can be more out of synchrony with academia than Nazarene holiness." I suppose this could be taken as negative criticism of general academia, but it strikes me more as a deliberate negative criticism of the Wesleyan/holiness tradition's intellectual viability.
I am curious how Stafford came to this conclusion. A look at the current and past historical, biblical, theological, and philosophical academies reveals that Church of the Nazarene scholars are active participants. Admittedly, they are fewer than those of other denominations, which is no surprise given our small membership.
Perhaps Stafford refers to pockets of anti-intellectualism within the Church of the Nazarene. While a percentage of the denomination's membership could probably be labeled anti-intellectual, my hunch is that it is not much different from that of most evangelical denominations.
Tim Stafford replies:
Furthermore, denominational scholars and leaders from the movement's inception have self-consciously shunned fundamentalism. How does Stafford substantiate his claim that "no Christian tradition can be more out of synchrony with academia than Nazarene holiness"? Why was such a comment allowed in print?
Thomas Jay Oord, Ph.D.
Eastern Nazarene College
Quincy, Massachusetts
(Signed by another 48 scholars)
Peace to Richard Pierard, whose contributions to his fellow evangelical historians are well known. I would quibble with him whether the five or six "respected historians" he has in mind were necessarily prominent, which Webster's defines as "notable, leading, eminent." I mean no disrespect. However one numbers them, there are undoubtedly a good many more prominent evangelical historians today than there were 30 years ago. I certainly do not "fault responsible evangelical scholars for working within the canons of their discipline," though some do.
I thank Phil Corr and David Michelson for bringing to my attention evangelical graduate programs in historical theology and church history. The point stands that these programs train few if any history professors in major universities.
Thomas Oord has mistaken my comment on Nazarene holiness and academia. I meant not to denigrate Nazarene scholarship, but to point out that ideas such as holiness find little place in the modern university. It is a tribute to Timothy Smith that he was able to thrive with his faith and theology undiluted in such an uncongenial environment.
History and Competence
In "How to Serve Time" [April 2], Preston Jones is so true in revealing that much of popular Christian history today is mythical. He wrote that "scholarly incompetence with a Christian face on it is still incompetence." I believe it is not only incompetence but a hindrance to the gospel.
When Christians distort history to make America look much more Christian than it was, it makes Christians today look stupid. The world knows that most of our Founding Fathers were deists and not Christians, and it doesn't help the gospel to turn deist quotes from the past into supposed proclamations of the truth of Christianity.
Paul M. Cooper
Terre Haute, Indiana
In the introduction to "How to Serve Time," I quote James Joyce and attribute the citation to his A Portrait of the Artist as a Young Man. In fact, the quotation comes from Joyce's Ulysses.
I am grateful to Joyce scholar Hope Hodgkins for pointing this error out to me.
Preston Jones
Dallas, Texas
Killer Schooling
Those of us who are Christians know full well that the only effective means of solving the problem of gun violence in our nation's schools is a radical change of heart for those who commit such aberrant acts ["Church, State, and Columbine," April 2], but the role of simulated murder in video games is not given enough attention.
They provide a unique element, perhaps not fully recognized—the virtual-reality experience of shooting other people, blowing their heads off, seeing them fall and bleed, and having the thrill of brutally destroying the enemy.
It is also recognized that skill in the manipulation of the video-game trigger controls probably develops expertise in the aiming and shooting of a handgun. We now know that the two killers from Columbine were adept video-gamers. Shooting to kill in video games may have inoculated them to the moral and legal consequences of such dastardly behavior.
Furthermore, it might even have provided the "trigger" to actually go through with the sadistic thrill of killing others to alleviate their own problems. We must recognize that there is a small minority of our student population who are susceptible to the deleterious influence of video games, along with the lack of parental control, the ready availability of handguns, bullying, feeling isolated from one's peers, and the negative effects of television and films.
But it is the depraved human heart that is the root cause for brutal behavior. This universal condition, along with the other factors mentioned above, has culminated in the many recent acts of gun violence and killings in our nation's schools.
Edwin A. Hollatz
Professor of Communication, Emeritus
Wheaton College
Wheaton, Illinois
Fundamental Baptist Figures
At the end of the report on the death of Dr. Jack Hyles ["Megachurch Pastor Jack Hyles Dead at 74," April 2], you made the statement that "there are over 300 independent Fundamental Baptist churches nationwide."
Surely there are more than that, as there are more than 7,000 such churches that support over 1,000 missionaries through Baptist International Missions.
All told, we could easily say there are more than 10,000 independent Fundamental Baptist churches in the United States.
Jim Lilley
Baptist International Missions Inc.
Chattanooga, Tennessee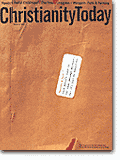 Pornographic Patterns
I first encountered the enticement of pornography ["Tangled in the Worst of the Web," March 5] at an early age when forbidden sex was easily available in the form of what were called "Eight Pagers." But I underestimated the power of porn to hook until after I studied counseling and began to listen to many men, both lay and clergy, who had become involved in anonymous sex in a regular and compulsive dependent manner.
During my years in the '60s and '70s as dean and counselor at a large university, I worked with numerous students who used porn recreationally and a few who got hooked. After joining the staff of a large evangelical church, we birthed a ministry to those struggling with sexual problems and saw every imaginable type of issue, problem, and perversion. Almost every one involved visual, anonymous, impersonal, individual sex.
Over the years, however, I noticed some patterns. Men rarely get hooked on porn unless there is also an accompanying inner, emotional pain. In the CT example, we read that the young pastor Scott was neglected, isolated, and rejected as a young man. His marriage was a disaster, and his inner life was a mess. He was angry, frustrated, bitter, and hostile.
It has been my experience that this is true in almost every case of compulsive porn use. When counseling a man involved in porn, it takes me little time to focus upon the heart rather than the eyes. Yes, the eyes must be averted, but a heart change must precede that. This is why those programs that focus on the externals rarely succeed. They violate the law of the heart as outlined by the Master Counselor.
In most cases, the need to deal with anger, resentment, bitterness, and condemnation is also critical to success. True inner healing will always include confession, repentance, acceptance of forgiveness, forgiving others, releasing judgments, and blessing enemies. No final deliverance will be realized without the long, hard work of the spiritual disciplines, the mercy and grace of God, and godly counsel (Rom. 2:24).
Dr. Gary Sweeten
Lifeway Counseling Centers and
Lifeway Ministries Inc. International
Cincinnati, Ohio
More Mouw
I enjoyed Richard Mouw's "The Chosen People Puzzle" [March 5], especially his criticisms of dispensationalism's blind spots on practical issues. But Mouw seems to criticize only popular attitudes without dealing with more scholarly dispensationalist views, such as those held by Harold Hoehner or H. Wayne House.
First, Mouw rightly remarks that "some dispensationalists [fail] to take a strong stand against anti-Semitism. … At the very least, their theology of Judaism has not regularly manifested itself in active efforts to eradicate anti-Semitism." But he could also have pointed out how some Reformed thinkers—e.g., reconstructionists like the late R. J. Rushdoony—have adopted a replacement theology that has led to attitudes of anti-Semitism.
Walter Kaiser defines replacement theology as the declaration that "the church, Abraham's spiritual seed, has replaced national Israel in that it had transcended and fulfilled the terms of the covenant given to Israel, which covenant Israel had lost because of its disobedience." This view is also popularly held to imply that national Israel has no future role in the plans of God.
Correction
Second, Mouw is right to criticize dispensationalists who argue that national Israel alone would always have exclusive rights to the covenant blessings. But there are other dispensationalists, such as Hoehner, who hold to a position similar to Mouw's. In this view, the covenant blessings belong to Abraham's seed, which includes believing Gentiles (Gal. 3:26-29) and believing Messianic Jews (Rom 2:28-29).
Michael Pollack
Philadelphia, Pennsylvania
John Stott has not sold the Hookses, his home on the coast of Wales, as CT reported ["Pottering and Prayer," April 2]. Stott has donated the home to Langham Trust, which supports his worldwide ministry. He continues to use his private apartment at the Hookses for writing and remains responsible for its use and renovation during his lifetime. CT regrets the error.
Contacting CT
Letters to the editor must include the writer's name and address if intended for publication. They may be edited for space or clarity.
E-mail:cteditor@christianitytoday.com
Mail: Letters, ct, 465 Gundersen Drive, Carol Stream, IL 60188
Fax: 630.260.8428
Advertising:ctiad@christianitytoday.com
Address changes, subscriptions:ctifulfill@christianitytoday.com
Customer service Web site:http://www.christianitytoday.org/myaccount/
Have something to add about this? See something we missed? Share your feedback here.
Our digital archives are a work in progress. Let us know if corrections need to be made.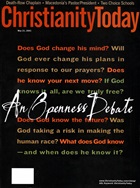 This article is from the May 21 2001 issue.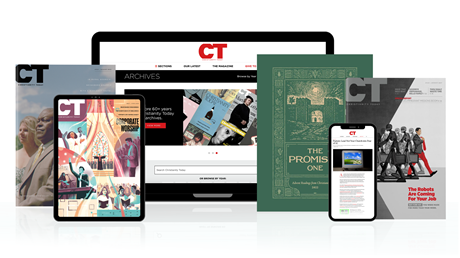 Annual & Monthly subscriptions available.
Print & Digital Issues of CT magazine
Complete access to every article on ChristianityToday.com
Unlimited access to 65+ years of CT's online archives
Member-only special issues
Subscribe
Letters
Letters