Jerry Falwell touched a live wire of American grief and anger when he opined that the terrorist strikes of September 11 were God's judgment against the nation's sins of decadence and secularism. Falwell's 700 Club remarks were an easy target for his critics, but he was hardly alone in trying to find theological meaning in the horror. Many Christians said the terror strikes represented God's "removing a covering of protection" from the United States as judgment for national apostasy, as if America enjoyed a spotless record of righteousness until the 1960s.
At the other end of the theological spectrum, repentance is at best a bizarre concept. Oprah Winfrey baldly pronounced during an interfaith prayer service at Yankee Stadium that each victim of the terror strikes instantly became an angel. We sympathize with the impulse to find comfort in such thoughts. But a "salvation by sudden death" clause is facile and theologically reckless. It is the equivalent of telling grief-stricken parents that a drunken driver killed their 8-year-old daughter because "God needed another angel in heaven."
Speculation about the reasons for the terror strikes also has been popular on the political left, which has suggested that America somehow deserved to suffer because of its wealth, its support of Israel, its militarism, or simply for its being a superpower.
Let us recognize, then, that pinning blame on others is a natural (if hazardous) part of grieving the more than 6,000 victims of the terrorist strikes. But let us begin thinking about real repentance.
As Jesus himself observes (Luke 13:1-5), these frightening reminders of our mortality are ideal times to get right with God. Our repentance should begin not with the broadest possible picture (How have other people made America deserve this?) but with a painful, redemptive focus on our own sins. Some of us may be so crippled by the shame of our sins that we are loath to admit them to our spouse or our closest friend. As with all our sins, however, God knows of them, and knows why we surrendered to their power. He is also eager to forgive them through the holy blood of Jesus.
Here's a simple way, drawn from the traditions of Eastern Orthodoxy, to make repentance real in your post-September 11 life. Whenever you're tempted by fear of death, by rage toward those who conspired in or committed these atrocities, or by a desire to blame someone, anyone, for the pain, pray this instead: "Lord Jesus Christ, Son of God, have mercy on me, a sinner."
Related Elsewhere:
Jerry Falwell made well-publicized comments on Pat Robertson's 700 Club that the Sept. 11 attacks were God's judgment on pagans, abortionists, feminists, gays, lesbians, and the ACLU. He soon apologized—a few times. Coverage of his comments include:
Falwell blames liberals, gays, judges for terror — Pittsburgh Post-Gazette (September 17, 2001)

Faith can heal, but it can also spawn hatred — The Orlando Sentinel (September 16, 2001)

Wisdom, idiocy from the pulpit — The San Francisco Chronicle (September 15, 2001)

U.S. 'Secular' Groups Set Tone for Terror Attacks, Falwell Says — The New York Times (September 14, 2001)

God Gave U.S. 'What We Deserve,' Falwell Says — The Washington Post (September 14, 2001)

U.S. Department of State's international information programs has an online photo gallery from the Yankee Stadium prayer service led by Oprah Winfrey. Read CNN's coverage of the event.

For Christianity Today, Frederica Mathewes-Green wrote that God promised calamity would follow disobedience—"so why are we quick to dismiss judgment as a reason for the September 11 attacks?"
World magazine publisher Joel Belz argued that wickedness always carries a big price tag. He later backed away from his comments.
Christianity Today columnist Charles Colson wrote that if September 11 was a wake-up call, it was meant for God's people.
Christianity Today essays and analysis following September 11 include:
Rally Round the Flag | America may not be God's chosen nation, but it does have a mission that churches can support. (Nov. 7, 2001)

Wake-up Call | If September 11 was a divine warning, it's God's people who are being warned. (Nov. 5, 2001)

Judgment Day | God promised that calamity would follow disobedience. So why are we quick to dismiss it as a reason for the September 11 attacks? (Sept. 25, 2001)

Now What? | A Christian response to religious terrorism. (Sept. 21, 2001)

To Embrace the Enemy | Is reconciliation possible in the wake of such evil? (Sept. 21, 2001)

After the Grave in the Air | True reconciliation comes not by ignoring justice nor by putting justice first, but by unconditional embrace. (Sept. 21, 2001)

Taking It Personally | What do we do with all this anger? (Sept. 14, 2001)

A Wake-Up Call to Become Global Christians | The deadly attacks on America will provoke many responses, but Christians are commanded to love our neighbors. (Sept. 12, 2001)

God's Message in the Language of Events | In the face of evil, we must focus on keeping our hearts right. (Sept. 11, 2001)above all else.

When Sin Reigns | An event like this shows us what humans are capable of becoming—both as children of darkness and of light. (Sept. 13, 2001)
Have something to add about this? See something we missed? Share your feedback here.
Our digital archives are a work in progress. Let us know if corrections need to be made.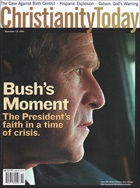 This article is from the November 12 2001 issue.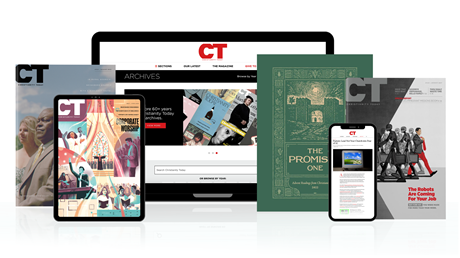 Subscribe to Christianity Today and get access to this article plus 65+ years of archives.
Home delivery of CT magazine
Complete access to articles on ChristianityToday.com
Over 120 years of magazine archives plus full access to all of CT's online archives
Subscribe Now
Blame Game
Blame Game