Robertson wants to take CBN to China

Pat Robertson is in Beijing to try to get more of his Christian Broadcasting Network programs on the country's state-run television. "I hope that something positive will come out of the meeting," he tells the Associated Press. "We are seeking to see more programming for television get on the national broadcaster that would convey positive moral values that Chinese leaders support." He's also trying to expand his charities and other operations in the country—CBN already has 28 staff stationed there. Pat's support of China's one-child policy doesn't seem so out of place now, does it?
Speaking of Christianity's Ted Turner, Robertson has finally responded to Washington Post columnist Colbert I. King's repeated attacks (1 | 2 | 3 | 4) on his dealings in Liberia. "None of it is true," he says. "There is no money to the Liberian government, no money to Charles Taylor, no money for diamonds, or any corollary diamond interests … in fact, nothing except the fantasy of your writer." Robertson does admit, "According to its mining concession, [Robertson's mining operation] Freedom Gold will make available to the government of Liberia sometime in 2004 to 2006 shares which will be illiquid until such time as the company is taken public." Robertson then goes on to declare Liberia a wonderful country: "Freedom Gold has … found freedom of religion, freedom of movement, freedom of expression, and what appears to be a judiciary dedicated to the rule of law. It is clear that the Clinton State Department urged upon the United Nations sanctions against Liberia which will only serve to deepen the poverty and misery of the people." Funny, but the Bush administration agrees with those sanctions, saying in its most recent human rights report, "The Government's human rights record remained poor, and there were numerous, serious abuses in many areas." In fact, just about the only people who are saying there's great freedom in Liberia are Robertson and Taylor.
ACLU offers help to Falwell

The American Civil Liberties Union of Virginia is offering to help the Baptist minister in his lawsuit against Virginia. The state won't let Falwell's Thomas Road Baptist Church expand into a new sanctuary because no church is allowed to own more than 15 acres in a city, though cities can make an exception for up to 50 acres. No church is allowed to own more than 250 acres in a county. "We agree with your position that such laws discriminate against religion in both purpose and effect, in flagrant violation of the First and Fourteenth Amendments to the United States Constitution," wrote ACLU legal director Rebecca K. Glenberg in a letter to Falwell. The minister and his son have accepted the ACLU's offer to file a friend-of-the-court brief. "We definitely appreciate the offer and we're hoping that other groups will support us, especially church groups," said Jerry Falwell Jr.
Holy Land Experience has yet another battle

Orlando's Holy Land Experience, a Christian theme park, just can't catch a break. Every two months or so, somebody's attacking it. First there were rumors that it was targeting Jews for conversion. Then Jews complained that it was putting Torah scrolls on display in its antiquities museum. Now it's fighting its county on taxes. The county says the park is "predominately a profit-making activity" and "is not being used for religious purposes." Thus, it can't claim nonprofit status and must pay property taxes. Park creator Marvin Rosenthal has enlisted the American Center for Law and Justice in his battle. "We find it terribly inconsistent that the Orlando Science Center charges approximately the same amount for admissions, charges for parking, has a gift shop and it has a tax-exempt status," he tells The New York Times. "If you teach science, you get a tax exemption, but if you teach about God, you don't. That's discrimination." Rosenthal also says the park may not break even this year, as attendance has been down since the September 11 attacks.
More articles
Church and state:
Persecution:
Interfaith relations:
Pop culture:
Related Elsewhere
See our past Weblog updates:
November 16 | 15 | 14 | 13 | 12
November 2 | 1 | October 31 | 30 | 29
October 26 | 25 | 24 | 23 | 22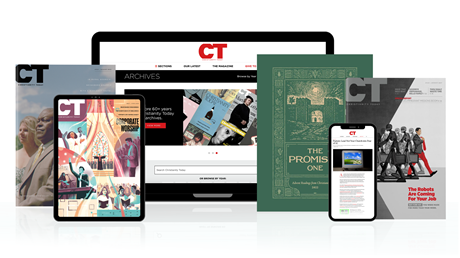 Subscribe to Christianity Today and get access to this article plus 65+ years of archives.
Home delivery of CT magazine
Complete access to articles on ChristianityToday.com
Over 120 years of magazine archives plus full access to all of CT's online archives
Subscribe Now
Pat in Bed with Thugs
Pat in Bed with Thugs